In theory, the words, "family" and "holiday" should never be used in the same sentence. If ever there was an oxymoron, "family holiday" is it. In the days before children, a holiday was a holiday. You could stay up all night, and sleep all day.
When we think of our own childhood holidays, we remember the fun we had eating ice creams, building sand castles with our siblings, and having the undivided attention of our parents.
Teenage holidays bring memories of ill-fated romances, sun burn, boat parties, too much sangria and a few other things that we would rather forget.
Honeymoon couples have fond memories of long romantic days on pink Caribbean beaches, and balmy nights sipping cocktails under the stars.
For most parents, the overwhelming memories of early holidays with babies and toddlers will be of screaming children, and unparalleled levels of stress. Away from their routine, even previously angelic children seem to turn into miniature devils, which shamelessly have tantrums at every turn.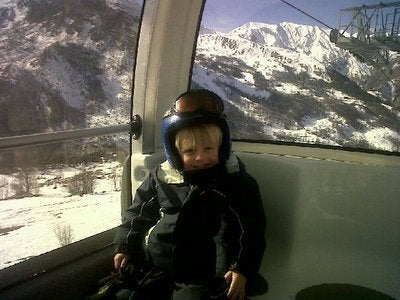 And then there's the stress of having to remember to pack ridiculous amounts of paraphernalia, from the portable potty, to the lullaby light-show which is necessary to induce even the briefest of sleeps. That's not to mention the time when you had to "Fed Ex" the favourite cuddly toy which had inadvertently been left behind on the child's bed at home.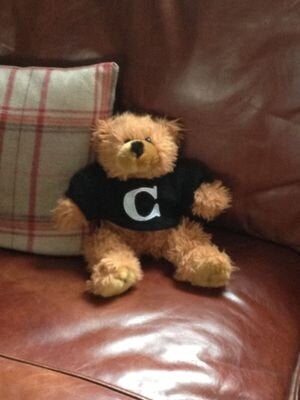 If your alarm manages to awake you from your sleep deprived coma, and you actually make it to the airport on time, you will by now be feeling very smug. It's important to enjoy that euphoric feeling while you can, because it won't be long before you realise that you can't lie in the sun enjoying all inclusive alcohol, listening to music, and reading a magazine all day. The sudden realisation that you are going to be deprived of basic adult pleasures for the rest of your life will stay with you from day one.
Taking your offspring on a skiing holiday can be an even more daunting prospect. There are so many things to consider. What if they hate the cold? What if they hate skiing? What is the best age to start? What if they never become an Olympic champion? What if you spend all of that money and it all goes horribly wrong? The most important consideration will be the available childcare facilities, which can of course make a big difference to the success of the whole trip. Let's look at the options:
Some hotels and chalets, especially at the luxury end of the market will be able to organise a private nanny to look after your children. The advantage of this is that you will be able to ski all day without being restricted by the opening times of the crèche or ski school and your child will be cared for in the comfort of your own accommodation by the same familiar face each day. It is important to choose a reputable company where all of the nannies have suitable qualifications, have been CRB checked, and come with excellent references.
Some of the luxury ski chalet operators even offer a children's concierge service, where all of your childcare needs will be taken care of. As well as arranging a private nanny for you, they can also arrange for for all of your favourite brands of essentials such as nappies, milk and baby food to be delivered to the chalet prior to arrival.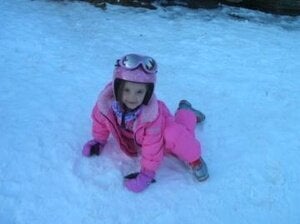 Some hotels and chalets will offer a crèche facility where your children will be cared for during certain hours. They may be able to escort older children to ski school. The disadvantage of using a crèche facility is that if your child becomes ill, they will probably not be able to return to the crèche facility until they are no longer infectious, which could potentially put an end to your own skiing. You can be sure that when children from all corners of the world converge in a confined space they will be more than happy to share their bugs, even if they don't want to share their toys.
Crèche and ski school combined.
Some resorts will offer childcare facilities within their ski schools which means that your little ones will be able to enjoy ski lessons for part of the day as well as some indoor and outdoor play. Lunch and snacks will normally be provided.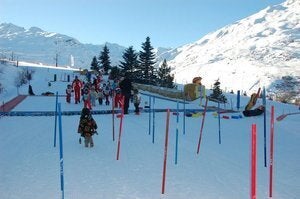 Taking willing grandparents who maybe no longer wish to ski to help with the childcare is also a good option. It is important to choose a resort which is suitable for non-skiers if you expect them to push baby around the resort all day.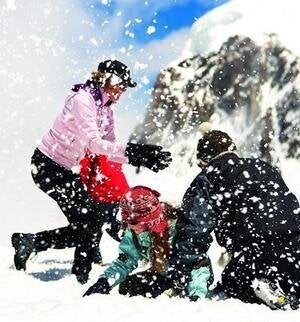 It is important to get the balance right depending on the ages of your children. You might need to be a little patient and experiment with the different options until you get it right. Obviously their requirements will change as they get older. Before you know it they will be able to ski with you, and might even become better skiers than you in very short space of time.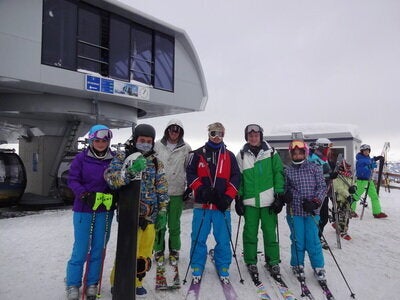 The family ski trip is something that all generations can enjoy. If you start your child skiing at a young age it will always be something that you can do as a family well into the future, even when they have grown up and left home. They may prefer to go on a cheap and cheerful summer holiday to some hideous destination with their friends, but they will probably still be keen to come on the annual family ski trip... as long as you are paying...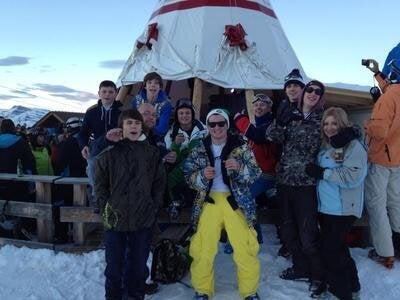 Photos supplied by: Clare Meaney, Ceri Tinley and Gaynor Galnan.
Related