I am searching for a lost album. I don't mean 'lost' in the sense of being an undiscovered treasure (though it certainly is that), I mean it literally. The master tapes for Pamela Polland's Have You Heard The One About The Gas Station Attendant? from 1973 have apparently vanished. Help me find them! I have just used an exclamation mark, one of the most distasteful crimes a writer can commit. But the album deserves it. Not only is it one of the best works I've ever heard, but I'm in no doubt that others would like it too. It's by afore-mentioned singer/songwriter Pamela Polland (musos will know who Pamela is, the rest will catch on in time) and was recorded for Columbia Records in the early 1970s. It features an all-star studio cast, including Elton John's band and producer, as well as backing vocals from Joan Armatrading and an appearance by Taj Mahal. Pamela's songwriting throughout is visionary and expansive. It has to be heard to be believed.
Let's go back a bit. Let me introduce you to Pamela, in case you don't know who she is. Pamela is one of my dearest friends. Since 1998, she has been with me through every pratfall and resurgence. There is nothing about my life I don't disclose to her and, possibly, vice versa. Rarely have I met someone who exudes such magic and whose personality is unmistakably like a fresh, dripping slice of sunshine. It's a friendship that I do my best to cherish. Pamela and I became pals after I found her 1972 album in a Notting Hill record shop many years ago, and dropped her a line to say that I liked it. Bit by bit our correspondence became more personal until we'd established a certifiable friendship that only grows. As I said, Pamela knows everything about me; the drugs, the prostitution, the hard times, the good times, the desperation. There is nothing I don't tell her. I love Pamela Polland.
Her place in music history cannot be overstated. She's a genuine Los Angelina. Her career began when she was accompanied by Ry Cooder in the 1960s, still in her teens. By the end of that decade, she had made her first album as part of the duo Gentle Soul (Epic Records). Pamela went on to join Joe Cocker's Mad Dogs and Englishmen tour and then forged an intermittent solo career. There is almost no one she hasn't worked with and she is held dear by all those fortunate enough to cross her path. And we are fortunate. I cannot imagine a life without Pamela. When I'm down, Pamela's positivity and fortitude are a lifeline. As is her wit. In 2003, I had the pleasure of sitting at my upright piano and singing directly to her one of the songs from her first solo album in the intimate setting of my living room.
So, back to the lost masterpiece... following the release of her first album for Columbia Records, Pamela found herself in an enviable position for a recording artist. Clive Davis (a name now forever associated with Whitney Houston) told her to come up with a list of her favourite producers. The first album, on which Pamela accompanied herself on piano and guitar, had been a solid effort, but with sales of around 25,000, it had not been enough of a success to make her a name in the living rooms of America. This time, things would be different. Pamela was ready to make a statement as profound and personal as Laura Nyro's New York Tendaberry or Joni Mitchell's Blue. High on Pamela's list of dream producers was Gus Dudgeon, who'd already made his name with David Bowie and Elton John. He said 'Yes'.
Pamela was swiftly dispatched to London, recording at Trident Studios in Soho while living in Covent Garden. Recording her second solo album was an experience of unadulterated joy for her. "Gus was wonderful. So funny, intelligent, generous and a true lover of music. He had a great sense of humour and an amazing ability to inspire". And, as a consequence of sharing the same producer, Pamela met Elton John and found him to be a charming and kind figure totally removed from the frowning, petulant curmudgeon constantly lampooned by the tabloids. "I got to go to his house a couple of times. He was incredibly gracious and real. He was actually very kind to me for a few years after I left London, letting me in backstage when heʻd play the Bay Area arenas. One of my fave memories of Elton is when he gave Gus a Rolls Royce for Gusʻs birthday. How many people would be so generous?".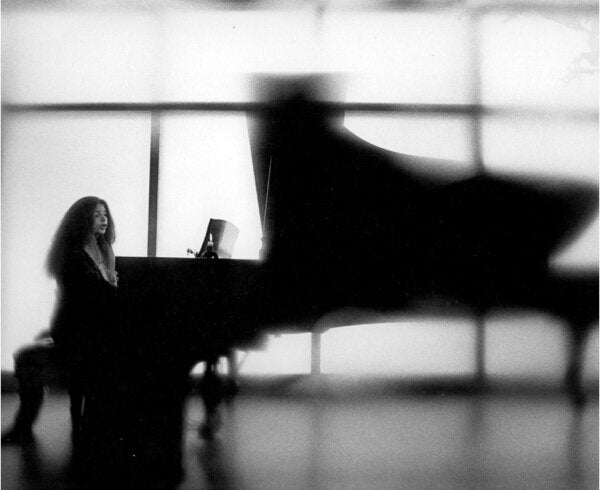 Pamela with producer Gus Dudgeon
But what we haven't touched on yet is how it was Pamela's songwriting that elevated the album to an inspired level. Something had given her a shot in the arm and Have You Heard The One About The Gas Station Attendant? was an incredible step forward. In case you're wondering, the curious, long title of the album pertains to one of its tracks, a love song to a gas station attendant on whom Pamela had a crush. Whereas the previous year's eponymous album was very good - a sort of Carole King/Laura Nyro-ish confection - the second album was brilliant. No longer did Pamela sound like anyone else. No more a follower; now she was all leader. It begins with The Refuge - an uptempo pop song about blissful escape in Mexico, with wonderful backing vocals. Things only get better from this point. From the intimate reflection of You Stand By Me to the exquisitely cosmic closer, The Clearing, in which Pamela finds herself at the fount of all wisdom and in possession of the meaning of life, there is not a single misstep. It's a piece of work which even has discarded tracks that are as good as the retained ones.
Then things went wrong. Just as the album was ready to be released, Clive Davis, who had championed Pamela at every turn, was fired for misuse of company funds. He reemerged with the Bell and Arista labels and the rest is history. But Pamela suddenly found herself unassisted and with no one fighting her corner. After three years of trying to release the album through other labels, she and her manager surrendered. Today, if you visit iTunes or any other digital retailer, you can find Pamela's first album, which was simply entitled Pamela Polland. It is very good, but it is not the masterpiece. Furthermore, the earthy photography seems to downplay rather than emphasise her good looks. Get it anyway. There are other great recordings by her, such as Heart of the World, a lovely work of New Age Pop that fans of Beth Nielsen Chapman would enjoy. You'll also see her newest album, Hawaiianized, on which Pamela rearranges her favourite songs with ukelele accompaniment. But the album that makes Pamela every bit the equal of Laura Nyro, Bob Dylan, Janis Ian and Joni Mitchell is not there. If you want to listen to it, you need to dig a little deeper.
"I have, in my possession, a half track tape of the final mixes. I had it transferred to DAT about 15 years ago, because I knew the tape would deteriorate. My lawyer tells me that if Sony canʻt produce the masters, they wouldn't be able to take me to court if I decided to release the album, but at this point, Iʻm not sure who would care. Itʻs hard to get anyone to purchase new music these days, so Iʻm not sure who would want to buy an album thatʻs forty years old. I have the music available for listening on my website. Itʻs slightly 'hidden', but anyone who really wanted to hear the project could find it with a little searching around my site". With typical charm, Pamela ends our conversation by saying, "Thank you for the opportunity to tell this strange tale". I can't help thinking it should be the other way around. It is Pamela, through her mystical and earthy songwriting, who has told my tale. I did some investigating of my own. I contacted the Gus Dudgeon estate. Nothing turned up. I contacted Sony/BMG UK. The people were very pleasant but could not help. The next step is to contact Sony/BMG USA. I'm just glad to have written about the album. To me and others fortunate enough to be in our band, Pamela is one of life's stars. From the maximum kilowatt eyes to the lovely singing voice that needs no pitch-correcting software, she is everything a singer/songwriter should be.
Related