When I wrote about my friend Pamela Polland last year, in a desperate search for her lost 1973 master tapes, I entertained little hope that we would find them. After all, Sony, the tapes' actual owners, had searched in 2006 without success. I too had tried a number of avenues, including approaching the Gus Dudgeon estate (Gus being the late, noted English producer who worked with Pamela on the record).
Pamela - a celebrated American singer/songwriter and protégée of Clive Davis - recorded her second solo album (for Columbia Records) at Trident Studios in London. Musicians included Taj Mahal, Joan Armatrading and Elton John's band of the time. Pamela was a priority at the record label and, after a moderately successful first album with sales of 25,000, her second outing was due to get a huge promotional push. It was fully mastered and ready to go when disaster struck. Clive Davis left the record label under a cloud and interest in Pamela's project evaporated. The album was shelved and she was left in limbo. Never one to dwell on misfortune, Pamela took the knock then kept going, reinventing herself as saucy jazz diva Melba Rounds, enjoying local success in San Francisco. Instead of repeating myself, I will direct you to my original story here and here.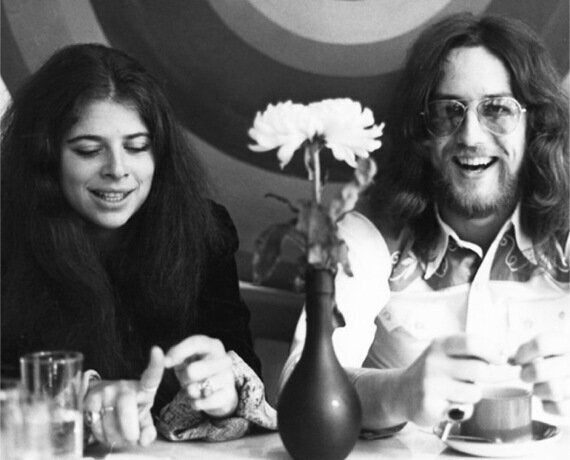 Pamela with producer Gus Dudgeon
Two days after my feature went live, I received an email from Richard Bowe at Sony UK. He indicated that he'd read the piece and asked me to call him. He was friendly and personable and - to my astonishment - said that the master tapes were sitting on his desk and that he was looking at them while we were speaking. The power of the written word. Where emails and phone calls had failed, a well-timed article sorted everything out and I remain grateful to The Huffington Post for facilitating this crucial break-through. I put Pamela and Richard in touch and sure enough, when Richard emailed her scans of the tapes, she confirmed that they were the real deal. My humble, unremunerated article, a true labour of love, had won through where Sony Japan's own trawl through the archives had been fruitless. Victory was made all the more sweet by the fact that a little troll had remarked on Facebook that Pamela needed a 'proper journalist - like the one who helped Eric Andersen' to help her find the tapes. My career may have suffered a number of blows but I have never been anything other than a proper journalist.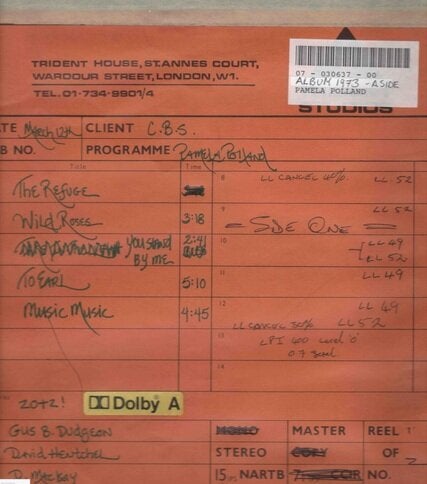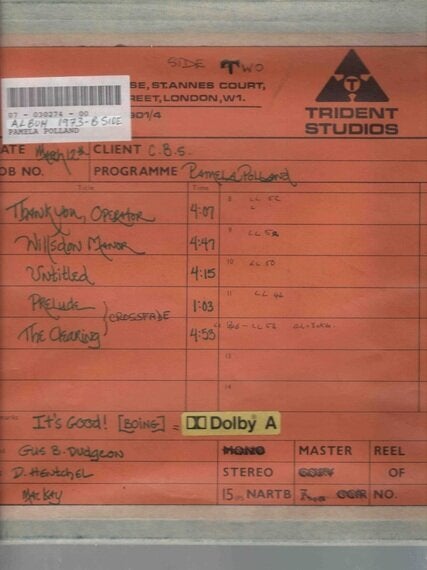 The rediscovered 1973 master tapes
I remember the day, a year ago, when I contacted Pamela to break the good news. She professed herself "shocked and delighted," telling me, "It felt like a tragedy when I was told the tapes were nowhere to be found. It was around 2006 that Sony Japan told me that they wanted to reissue the album [strictly speaking, not a reissue, since the album was never issued in the first place]. They were told that the masters were nowhere to be found. In retrospect, I think it's because they approached Sony in LA and New York but nobody thought to ask the London office. Doh!". We're both thankful that Richard at Sony London stepped in when it seemed every line of enquiry had been exhausted. "That was a year's work with a lot of incredibly talented people," says Pamela. "It was an enormous relief to discover that the music was still available, although now there's another concern - and that is the tape-deterioration factor, forty years on".
If only I could say that Sony decided right there and then to issue the album, perhaps as a two-on-one with Pamela's first album. Unfortunately, that didn't happen. Pamela and I stayed silent for a year about the rediscovered tapes, because we hoped that Sony Japan might make good on their promise to issue it. Alas, as Pamela explains, "the man at Sony Japan who reissued my first Columbia solo album has since retired, and the new guy is non-responsive, so that ship has sailed".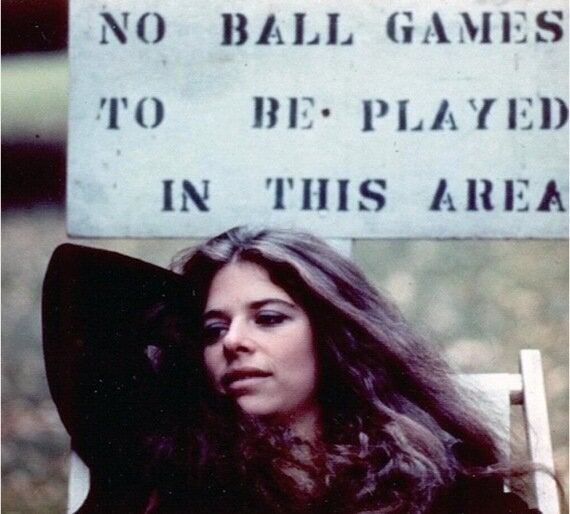 Pamela in Hyde Park, between recording sessions
Now we need help. Masters deteriorate. Time is of the essence. It may be that the tapes will need baking. This music - a wonderful collection of orchestrated, show-stopping ballads, intimate piano-and-vocal meditations, and up-tempo folk-rock mixed with soul - is among Pamela's finest work. Had it seen the light of day at the time of its intended release, it's not unreasonable to imagine that it would have elevated Pamela's profile to Laura Nyro levels and beyond. It must have been heartrending, even for someone with Pamela's optimistic disposition, when the album was cancelled. It even had finalised artwork and the confirmed title of Have You Heard The One About The Gas Station Attendant? (a reference to the track 'For Earl', a trembling ode to a romantically unavailable petrol station worker).
"I was hoping for it to be a commercial success as well as an artistic one, mostly because commercial success is what fuels a career and allows it to progress," says Pamela. "It's not as easy to move forward without that, but I seem to have managed". In fact, when assessed a different way, Pamela's career is far from devoid of success. She provided backing vocals on Joe Cocker's Mad Dogs & Englishmen tour and appeared in the consequent film, and has released an album in every decade from the 1960s onwards, with the exception of the eighties (a ruthless era that was not kind to singer/songwriters whatsoever). From Jackson Browne to Bonnie Raitt, if they're good then Pamela's worked with them. Her career as a recording artist has, however, suffered due to what should have been viewed as an asset, namely the fact that she can't be pigeonholed into a single style of music. "I remember some record companies who refused me as an artist saying, 'we don't know what bin to put you in'. In other words, my eclectic artistic nature was looked upon as a hindrance by many on the business side of the music business. But I just didn't have it in me to stay in a box. I love music and I want to taste as much of it in my mouth as I can while I still have a voice."
Now we're planning our next move, which is to work out how to shop the album to a sympathetic reissue label willing to forge a licensing agreement with Sony (it should be noted that every time Pamela's earlier Epic and Columbia work has appeared on CD, its print-run has sold out). It simply isn't right that only myself and a select few have heard this magnificent piece of work, every bit as much of a lost gem as the exhumed albums by Vashti Bunyan, Judee Sill and Linda Perhacs which have had critics frothing with superlatives. "I think it's some of my best work," says Pamela, "which is why it's been sad for me that it was never released. Even forty years later, I still think the songs, arrangements and performances all hold up. I tend to be my own worst critic, but mostly, I'm very proud of this album and still hope to see it released".
Related