British artist Miranda Donovan, known for illuminating the shadowy aspects of humanity, is now turning her attention to global icons, placing them - in lieu of the standard queens, kings and knaves - in a pack of playing cards. Featuring showbiz heavyweights like Madonna, Prince and Bowie, political figures (Fidel Castro) and icons of darkness such as Charles Manson, the nine cards not only reveal hidden truths about their subjects, they also tell stories about the tussle between order and chaos. The Hand You Are Dealt is Donovan's first exhibition in Los Angeles, running from October 28th to December 8th at the West Coast gallery of jeweller Stephen Webster in Beverly Hills.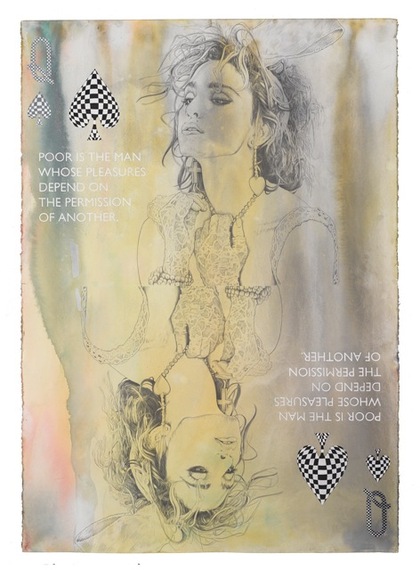 Madonna, the Queen of Spades, Illustration: Miranda Donovan
In the past, Donovan's work has made subtle, acerbic observations about consumerism and the relationship between nature and modernity. This was particularly evident in her last exhibition, Metaphors For Mankind (2015), at the CNB Gallery in London. She has never shied from exploring how beauty and ugliness interact, sometimes swapping places and becoming each other, especially in her strikingly original 3D sculptural paintings of urban landscapes. I caught up with her as she prepared to take her art, with its distinctive London sensibilities, over to California. Possessed of an uncontrived, elfin beauty, she makes it clear that it is art, not words, through which she best expresses herself, but she is game to discuss the new work.
"I'm using the playing cards as a vehicle through which to explore the human condition and questions of identity," Donovan explains. "We can't choose the hand we're dealt and it's not about having the best cards. What it is about, for me, is how we choose to play our individual hand. What are the tools within our psychological makeup to help us deal with that hand?"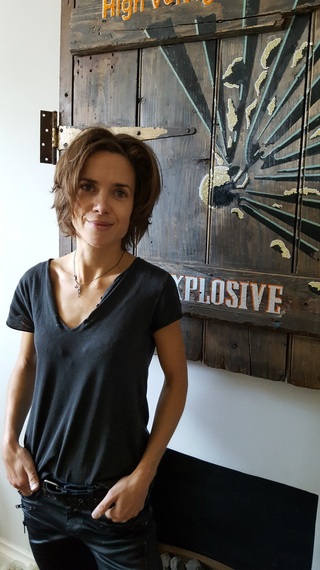 Miranda Donovan, Photography: Desislava Pashova
From Madonna in her Like A Virgin prime as the Queen of Spades to an early-nineties Kurt Cobain as the Jack of Clubs, the cards idea came to Donovan a year or more ago. "I just didn't know how to formulate it with the materials I was using at the time, resin and other heavy-set things." Eventually, the idea took form; each card is intricately rendered in Artist's Acrylic Indian inks and pencil on sumptuous, cotton-rich Rosaspina paper. Donovan is particularly intrigued by the way all the lodestone personalities she has chosen to depict have managed, either for good, ill, or both, to draw people to themselves in significant numbers. She has painstakingly created the mirror image of each one that is necessary to form a complete playing card. And it is here that lies some of the jostling between chaos and order: "There's chaos in the fact that it looks like a mirror image but it can't be because it is done by hand. And the Rosaspina paper absorbs the paint to such a degree that once dry it takes on a very different and often unexpected appearance. The process is unpredictable. Similarly, life is unpredictable - it's not something that can be mapped out".
How, I ask, did she choose the public figures to include? "There was a sense of randomness to it," she reveals. "Someone may have surfaced in my consciousness because of something I'd read, heard or watched. Charles Manson, for example, is not someone I admire but I was looking into villains - Ted Bundy, Aileen Wuornos and so on. But it was Manson who captivated me most. I'm fascinated by how he got others to commit murders on his behalf and also how he created an environment in which so many young girls who'd felt sidelined and isolated by their social surroundings felt a sense of belonging. How can one individual enthral and draw in so many people, let alone get them to carry out murders?".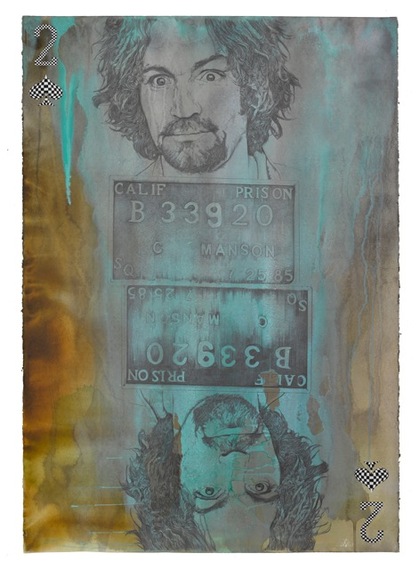 Charles Manson, the Two of Spades, Illustration: Miranda Donovan
When it came to deciding on the other subjects, Donovan felt called towards those she felt had forged dynamic paths in life, broken down societal barriers and blazed original trails. "When I was an impressionable 12-year-old", she says, "Madonna was an idol in that she made me and, I'm sure, other young girls, whether in India, America, England or Colombia, feel that it was fine to be who you wanted to be." As if to emphasise this point, a Madonna quotation ("poor is the man whose pleasures depend on the permissions of another") is included on the playing card.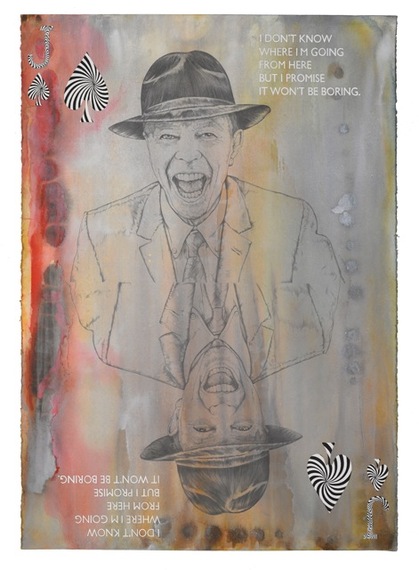 David Bowie, the Jack of Spades, Illustration: Miranda Donovan
Donovan's art always works on multiple levels, every image a quintuple-entendre with layers of meaning. "Let's not forget that playing cards are a game," she says. "And so, to an extent, is life". She subverts the clichés associated with each personality so, for example, Prince is illustrated in red rather than the anticipated purple. Frida Khalo, associated with bright and intense colour, is depicted in monochrome. More meaning can be excavated by examining which card each character is awarded because it is by no means an arbitrary process. "I've always had my fortune told using generic playing cards," Donovan continues. "It's the Lenormand way of doing tarot readings. Therefore, I associate the Jack of Diamonds with the scythe, symbolising a sudden end. John Lennon had an abrupt death, so I've made him the Jack of Diamonds".
Donovan, who studied History of Art at Bristol University before completing a Fine Arts degree at the École Superiérieure d'Art d'Aix-en-Provence and The City and Guilds of London Art School, is now plotting her next move. Among the ideas circulating in her agile imagination is the possibility of creating a full pack of 52 cards and no longer confining her subjects to the famous. "I'd like to take the unsung heroes of society and give them an iconic status," she concludes.
The Hand You Are Dealt runs from October 28 to December 8, 2016, at Stephen Webster, 202 N Rodeo Drive, Beverly Hills, CA. Find out more about Miranda Donovan here and follow her on Instagram: @mirandambdonovan