Ivor Novello-winning singer-songwriter Catherine Howe first appeared in album format in 1971, and ever since has created music which, thanks to her alchemical abilities, sounds as if it's already had a long existence and been absorbed into the national culture. But owing to distribution hiccups and perhaps her own reluctance to be an 'image', during her stints on major labels in the 1970s, she didn't break through to the extent she deserved, despite being embraced by radio. We spoke on the release of her new album, Because It Would Be Beautiful.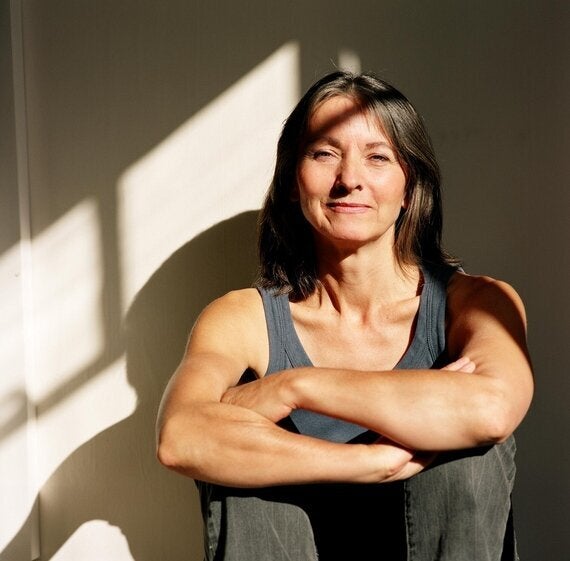 After a childhood split between Yorkshire (home) and London (Corona Stage School, where contemporaries included Susan George, Judy Geeson and Dennis Waterman), Catherine appeared on stage and in TV shows including Z-Cars, Doctor Who and Dixon of Dock Green, but acting was strictly Plan B. "Music was always the thing," she confirms.
She struck a deal with the Reflection label in 1970 and was paired with distinguished American producer, Bobby Scott (co-writer of 'He Ain't Heavy, He's My Brother'). The result was What A Beautiful Place. The songs - dreamy and poetic, some inspired by coastal Dorset - were luxuriously arranged, and the cover depicted Catherine gazing mystically across sunlit waters at Kenwood House. Her glistening, unpretentious singing voice was unleashed upon the world. There was a potential pop single in 'Nothing More Than Strangers' and radio reaction was positive. Then it fell apart. "The English and American producers argued with each other over property," says Catherine, "so the recording was restrained under a legal injunction and withdrawn".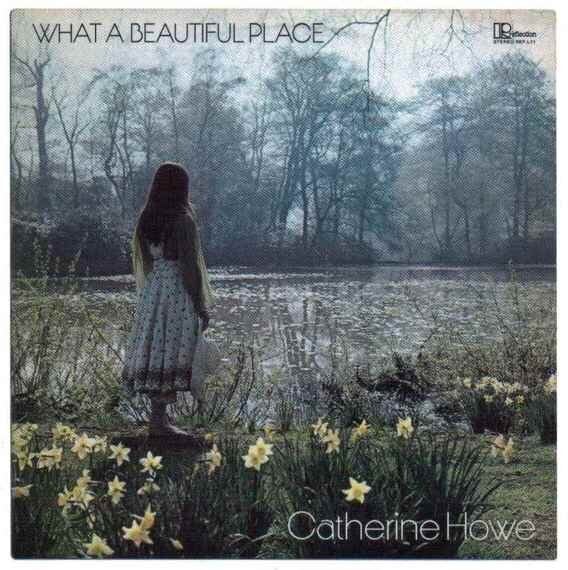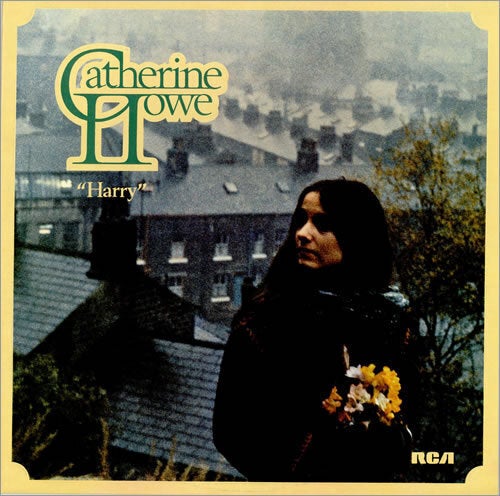 The first two albums: What A Beautiful Place (1971) and Harry (1975)
Photograph: Kings Road Music / Roy Round
She re-emerged in 1975 on RCA, with an album, Harry, whose title track (a resounding success on radio) made her the second ever female recipient of an Ivor Novello award. Her next album, Silent Mother Nature (1976), beat Kate Bush by two years in being the first singer-songwriter release to feature a track ('Lucy Snowe') prompted by a Bronte novel, a feat Catherine brushes aside with characteristic modesty: "Kate Bush stands quite alone and I can't see any logic behind a comparison". Nevertheless, in a recent reappraisal of her work, The Guardian called Catherine a "Kate Bush before her time".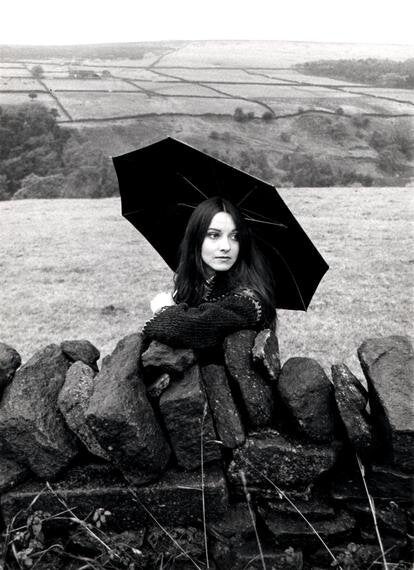 Catherine, 1975, Photograph: Roy Round
One attempt to get her into the national consciousness - Catherine was invited to join the BBC's That's Life, to perform topical and humorous songs - backfired. "I shouldn't have agreed to it, for their sake as well as mine," she says ruefully, "I followed Victoria Wood, which in itself was an impossibility. I felt excruciatingly uncomfortable and inadequate".
Another strategy to lift her profile was to pair her on tour with some of the era's stars, including David Soul ("A delight! And a great singer"), Chris de Burgh ("less approachable, very private"), Andy Fairweather Low and Randy Edelman ("gentlemen"). Then came a partnership with the Ariola label and, in 1978, legendary producer, Mike Batt, masterminded her single, 'Sit Down And Think Again'. "He promised to stay for a whole album if it was a hit - it wasn't, so the album didn't get made. The highlight of that session was hearing 'Bright Eyes' [written by Batt] the day before Art Garfunkel recorded his vocal".
Work began with a different producer on 1979's Dragonfly Days, but by this point, the grind was getting to Catherine. "I'd reached the end of my emotional tether. I turned up at the studio only because it was happening. It was a very bad time". To promote it, the label gave Catherine a Carly Simon-style makeover, and contemporaneous photographs show her striking fashion-mag, hair-tossing poses. "It was embarrassing and slightly depressing," she remembers. Catherine's recording career wound down in 1980 with an interpretation of the Goffin/King classic, 'Going Back'. "I wasn't well by that point," she recalls. There couldn't have been a more apt song with which to bow out, since it's a wistful examination of childhood and a yearning to rediscover its purity and simplicity, which is exactly what Catherine set about doing. "All I had in mind was to get back to Yorkshire, to link up again with the person I would have been had I never left home at twelve".
She spent the next quarter-century out of the public eye, married and had a daughter, Jenny, in 1990, and completed an Open University degree course. "Jenny and the late education were life-changing, horizon-expanding, and made me ready to record again," recalls Catherine. Her fifth album, Princelet Street, came out in 2005 and picked up where she'd left off, in the pop/singer-songwriter vein. Soon, her first three albums made it on to CD and download. The reissue of What A Beautiful Place led to a flurry of good press, hailing the album a lost classic and manoeuvring Catherine into the pantheon of cult geniuses, alongside Judee Sill and Linda Perhacs.
Now, on Because It Would Be Beautiful, she is joined by singer/guitarist, Vo Fletcher (Fairport Convention), electric-violinist Ric Sanders (Soft Machine, Fairport Convention) and drummer Michael Gregory. "Vo is one of the most intuitive musicians I have ever worked with," remarks Catherine. "He gets the songs unfailingly. We've ended up with something quite interesting". Not only interesting, but also diverse - with elements of bossa nova, Americana, folk, pop and roots.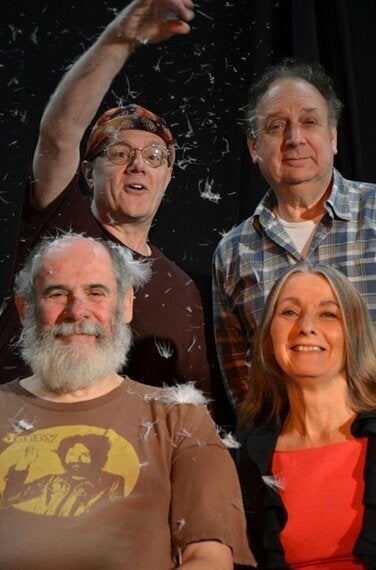 Catherine with Ric Sanders, Vo Fletcher, and Michael Gregory
Photograph: Annie Edwards
Catherine's songs still have that uncanny quality of sounding, on first listen, like something you've already known and loved for some time but - like many songwriters - she's reluctant to describe her process. "It goes," she says, "something like this: I take an idea or a feeling to the piano and let it come back to me. If it comes back true then I continue until it's finished. I never leave a song and think I can come back to pick it up later because in the interim its essence has returned to wherever it came from".
The great strength of the singer/songwriters who emerged in the 1970s was their refusal to don stylistic straitjackets, but it also made them hard to market. And this double-edged blessing is one of Catherine's. "I can't claim a genre and I wonder at the purpose of it. Rockers in the '60s thought of writers like Brian Wilson as pop artists. But I doubt Brian Wilson thought he was writing pop when he produced Pet Sounds. My early influences were Buddy Holly, Lennon and McCartney, Randy Newman, Jimmy Webb, James Taylor, Carole King, Hal David, Burt Bacharach and Bob Gaudio. Almost entirely American and reflecting the music that was available to me. I don't feel espoused to a particular style. Besides, the creative process is dynamic. Everything influences everything".