On 20 May 2009, Michael Vick left a Kansas federal prison, having served 21 months for bank-rolling and orchestrating a dog-fighting ring, with three others, out of his property in Virginia. His fall from grace is one of the most notorious in sports history - at the time of his arrest, Vick was the starting quarterback for the Atlanta Falcons, one of the highest-profile players in the National Football League (NFL), and playing on a ten-year, $140million contract.
Vick lost all that. He had been suspended indefinitely by the NFL, released by the Falcons (who would reshape their image around a new quarterback and head coach), been declared bankrupt with tens of millions of dollars of debt to his name and, most importantly, had his professional, and personal, reputations utterly tarnished.
On Friday, 17 October, Ched Evans, the Sheffield United forward and former Welsh international, left prison in Lancashire, bundled into a blacked-out Mercedes at 5am, likely to avoid a media scrum. His crime? Raping a 19-year-old woman in a Rhyl hotel after a drunken night out in 2011. The unnamed woman was too intoxicated to consent, leading to a five-year sentence for Evans, two-a-half of which he served.
His release from prison means he will seek to return to the game he turned into a career but there is extreme pressure for him to be released from his contract at his club, Sheffield United. More than 150,000 have a signed a petition imploring the club's chairman, Kevin McCabe, not to allow Evans to return to the side, and many more will feel sick at the prospect of a man guilty of sexually violating a woman return to his job 'as though nothing has happened'.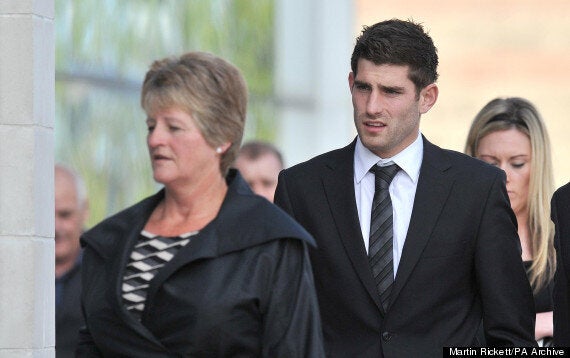 Sheffield striker Ched Evans was convicted of raping a 19-year-old woman in 2012
He signed for the Philadelphia Eagles shortly before the 2009 season, serving as the third-choice quarterback. The Eagles' head coach, Andy Reid, was well-known for his abilities as a mentor to quarterbacks and as a father figure to his players. Reid had also dealt with his own family demons, his sons Britt and Garrett both dealt with drug addiction - Garrett, a team assistant, would tragically overdose at the team's preseason training camp in 2012.
Through a combination of transfers and injuries, Vick finally stepped back onto the field in the 2010 season opener against the Green Bay Packers. There were no high expectations for a man who had played no meaningful football in some four years. The Eagles lost that game, but Vick began an historic season in which he re-emerged as the terrific football player he had always been. An unrivalled athletic talent at his position, Vick effectively came from nowhere to lead the Eagles to a playoff berth, a legitimate contender for the Most Valuable Player award. He was, once again, a great player.
More than that, he was an increasingly changed man. Remorseful from the moment of his release, Vick transformed from an arrogant young star who never assumed there would be consequences to his actions into a contrite, hard-working, well-respected locker room leader. Michael Vick returned to the NFL in 2009 with the Philadelphia Eagles
Vick never shied from his mistakes and has always been open about his experiences in prison and how they made him who is, even going so far as to say prison was "the best thing ever happened" to him. "I wasn't going to change," were it not for prison, Vick, now 34, said. "My whole life was a lie."
After that season, he would wind up signing another $100million deal with Philadelphia, where he experienced mixed success for another three years. He now plays for the New York Jets, in the process accepting he is past his peak, and now serving as the backup and de facto mentor to their budding quarterback of the future, Geno Smith.
In many ways, Vick represents the best of the justice system. He committed horrifying crimes, served his time, reclaimed his lost career, fortune and integrity, and changed himself after coming to terms with the wrongs of the life he was living.
He also represents the best case scenario for Evans. His crimes are demonstrably different to Vick's, and of a different kind of brutality, but there is no reason that Ched Evans cannot, in time, tread his path. Currently, Evans maintains his innocence, with his family's boisterous support, and intends to return to Sheffield and return to his place in the side. While he does so without contrition, he will earn no sympathy. The disgusting outing of his victim by his apparent fans, and their attempts to savage her credibility also do him no favours, instead they only make his return less palatable to the masses.
However, as Ian Birrell eloquently wrote in the Guardian, "do we really want a society where a farmer or firefighter has the right to rehabilitation but not a footballer or film star?"
If we want a progressive justice system, we must accept Evans has the right to redeem himself. The first step would be contrition - a realisation that while he has paid his penance, he has scarred a woman forever, and that he must work to re-earn the respect of his peers and society again.
I would not have him back at Sheffield. Evans' crimes would lose him his job in any other business - sport should be no different. Maybe, at another club, in time, comes the chance to proves he deserves to once again play the game he loves, deserves the substantial wage he'll earn, and deserves to walk out in front of the men and boys - and women and girls - to which he needs to be an example.