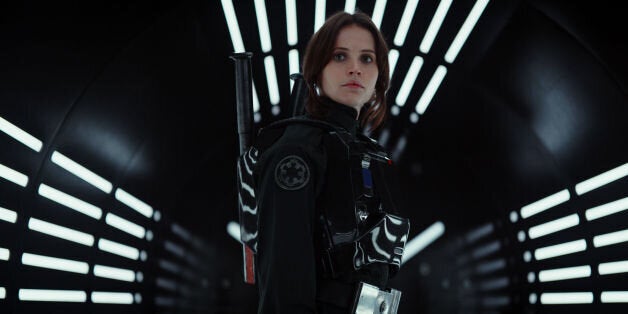 Maybe it's that I'm writing this on three hours sleep after a midnight showing, or maybe it's that I have a hard time being objective about anything Star Wars but I think Rogue One: A Star Wars Story is probably the best thing that's happened in this all-round trash year.
The script is pacy, the action is fast and the story crafted by Gareth Edwards and writers John Knoll and Gary Whitta is unceasingly rich, and takes us to new and exotic locales that fit seamlessly into the universe. Crucially, the conceit of Rogue One is that we pretty much know where we'll end up when the credits roll, yet Edwards does an outstanding job of building suspense and intrigue around how we get there, and at what cost.
As hoped, each character gets their moment of glory, their own aristeia, and while there's appearances from old friends and old foes that offer comfort and context to long-time fans, it's the new guys that really shine. Shouts to Alan Tudyk's nihilistic, deadpan droid K-2SO and Diego Luna's flawed Rebel spy Cassian Andor, who demonstrates that the Rebels aren't always spotless good guys, and that doing the dirty work of a rebellion can be just that.
Felicity Jones' effort as heroine Jyn Erso, though, is the highlight. Her character's independence and 'I can handle myself' demeanour mean Jones isn't asked to do raw emotion too often, but the moments in which she does are her high points, and speak to what Star Wars has always been about: courage in the face of extreme odds, and self-sacrifice for the greater good. Importantly, Jyn contains multitudes, and isn't a carbon copy of Force Awakens' Rey. Beyond it being outrightly good that Disney is championing female leads, they're doing a fantastic job varying the characters of their women rather than 'being a woman' comprising their entire character, as often happens in ensemble films.
Oh, also there's Donnie Yen wrecking stormtroopers with a stick as a blind, spiritual warrior-monk, which is, you know, awesome.
In short, it's 100% Star Wars-y from start to finish. As Rogue One relies on pre-existing knowledge of where we're going it may have limited appeal to brand new Star Wars viewers, but the existing fandom is such a massive, broad church at this point that it simply won't matter. Rogue One may not obliterate the box office in the same way Episode VII did, but that's not really the intention. The intention is to perpetuate excitement about new Star Wars content and create a never-ending circle of anticipation for what is coming next.
My overriding feeling leaving the cinema at ridiculous o'clock on Thursday is that Rogue One confirms that it is okay to be ludicrously excited about Star Wars 365 days a year from now on. Disney indisputably knows what it is doing, and has given us no evidence to suggest otherwise. Star Wars has played a massive role of many folks' lives up until now, and Disney are on track to ensure that doesn't stop any time soon.
We'll have the as-yet untitled Episode VIII next winter, the Han Solo anthology film a year later (featuring Alden Ehrenreich, Game of Thrones' Emilia Clarke and a mustachioed Childish Landino), Episode IX in 2019, and heck knows what after that. Probably an origin story trilogy of each individual podracer from The Phantom Menace. (Kathleen Kennedy if you are reading this, that was a joke please do not do this.)
Early in 2017 we'll see a trickle of info leading to Episode VIII teasers and full-blown trailers, climaxing in this December crescendo once again. If fans are lucky there might never be a point at which we are not being hyped for another trip to that galaxy far, far away, and it's okay to be excited about that.