Last Sunday night, Bulgaria's capital, Sofia, hosted the closing ceremony for a global sporting event which featured heroic medal-winning performances by British athletes.
At the 22nd edition of the Summer Deaflympics, in sports ranging from athletics to football and tennis, there were triumphs, hard luck stories and controversy to match anything from London 2012. Just to get there, Britain's deaf athletes had to display unbelievable levels of dedication, not only in their training for the games, but also, in many cases, raising their own funds so they could compete.
Back in 2008, with the Olympics and Paralympics on the horizon, the government withdrew the annual funding they used to give to UK Deaf Sport, putting the Great Britain Deaflympic team's participation in the 2009 Taipei Deaflympics in jeopardy. The sum? A measly £42,000.
That lack of funding pales in comparison to the record £347m funding UK Sport made available for Olympic and Paralympic sport following London 2012, with the Paralympic programme receiving an increase of 59% in funding overall.
In mitigation, last year, Sport England gave over £125,000 towards the team's preparations for the Sofia games, but this was nowhere near enough. Indeed, the Great Britain Women's Football team, who came fourth in 2009, still had to raise £50,000 to go to Sofia.
Despite those challenges, on Saturday - in scorching hot conditions - the team endured extra time and a nail-biting penalty shoot-out against Poland to win a richly deserved bronze medal.
Deaf people have been following the games through the BSL Zone site with its daily video highlights, and news direct from Sofia. But the match wasn't broadcast on TV, covered in national news bulletins or on mainstream websites or newspapers.
Which is a crying shame, because if you're looking for an inspirational sporting story, than this one had everything.
The team battled against injuries throughout the tournament, winning their crucial last group game without their inspirational captain Damaris Cooke, then losing three key players to injury in the first half of their devastating five- nil semi-final defeat to the eventual winners, the USA.
They were down and out. But then, Rocky-style, they came back. When the winning penalty was scored against Poland, Victoria Wenman scoring with a stunningly cool bottom-corner finish, their coach Mark Gill was captured on film wiping away tears.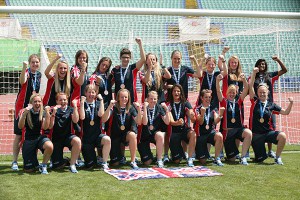 Coverage of sport is all about narratives and there were so many to follow at these games.
You could look at medals, such as the silver for Lauren Peffers in the 400m, or the bronze for Melanie Jewett in the marathon, but for an athlete who won nothing except a great deal of respect, you could tell the story of tennis player Catherine Fletcher's brave efforts to play through the pain of a shoulder injury (she could only serve underarm by the end of the games) only to finish fourth in the singles, doubles and mixed doubles.
For controversy, you could look at David Grant's bizarre disqualification in the karate, where, among the reasons cited were the fact he didn't have all the equipment he needed, nor a coach with him at the games (that lack of funding again).
If you want a story about a retiring legend, then you can tell the story of deaf sport's equivalent of Sir Steven Redgrave, the five-time gold meal winning badminton player Rajeev Bagga, who finally bowed out at these games with a speech on the court. Sir Rajeev Bagga has a certain ring to it, I think, but I'm not holding out hope.
So why haven't we heard these stories? There's no doubt that Britain's deaf athletes suffer not only from the chronic lack of funding but also from the lower profile of the Deaflympics.
I argued after last summer's games that the Paralympics were a missed opportunity for deaf athletes, but we've just seen another missed opportunity in the lack of coverage in mainstream media for these Deaflympics.
Just as the Paralympics helped the public to see disabled athletes very differently, the Deaflympics were a chance for the world to find out what these deaf athletes can achieve, and more than that, about their backgrounds and their lives, the way they communicate (through sign language, lipreading, or both) and the barriers they have overcome in order to do the very best they can in their respective sports.
The cyclist Tom Smith, who won both silver and bronze in Sofia, hinted at what has driven this GB squad on in his final blog from Sofia: "The guys and girls of Team GB are the reason this trip has been a great one. The way we all gelled together, the lessons we've all given one another, the camaraderie; it made me feel proud and honoured to be flag bearer at the closing ceremony last night."
I'd have loved to have seen Clare Balding meeting some of these amazing individuals in the British team - with a sign language interpreter at her side, perhaps - to bring their stories to the masses. Because to me, to succeed despite being underfunded - and lacking access to the best facilities as a result - was truly inspirational.
That's why Britain's deaf athletes should be given a hero's welcome when they arrive back home - instead of being greeted with silence.