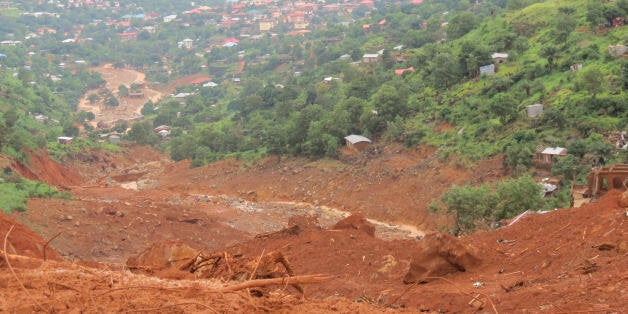 Three years ago, I approached ActionAid because I wanted to support Sierra Leone, the country where my grandfather was born, and where the charity has worked for almost 30 years. However, my first scheduled trip to the country was cancelled when the deadly Ebola crisis took hold in 2014. We all remember reading or hearing about the unbelievable tragedies that the people of Sierra Leone suffered at the hands of the Ebola epidemic.
In January 2016 when the country was, at last, declared Ebola-free, I was finally able to visit. It was a truly life-changing experience for me. I saw first-hand how years of civil war followed by the Ebola epidemic had left its mark. So three weeks ago, when I learned that a landslide had hit the country's capital, Freetown, and surrounding areas, I was beyond heartbroken. How much suffering and hardship can the people of Sierra Leone experience in one lifetime?
The mudslide struck at 6am when many where still sleeping. Once again, as it was with Ebola, whole families were wiped out. My heart breaks to think of children climbing over the rubble, through the mud, desperately calling for their parents, not to mention the conditions the mudslides and continued heavy rains have left behind.
Homes and businesses are buried, livelihoods lost, less than two years after Sierra Leone was declared Ebola-free
. The slum areas and raw sewage were already bad when I was there, overpowering everything. Now that the drainage has been overwhelmed by rain, mud and debris, I can't imagine how miserable the conditions are.
On my visit last year with ActionAid, I met Elizabeth, a 21-year-old woman living in a slum in Freetown. She'd lost her mum, dad, brother, auntie and four more family members to Ebola. Elizabeth really stood out to me as a strong, inspirational woman, battling on through tough times. After losing her parents, Elizabeth now looks after her four younger siblings, while at the same time studying to be a nurse. The challenges she lives with every day are made of stuff that I'd never imagined, until I saw with my own eyes the strength of so many women there like Elizabeth. And now I think of her in the aftermath of this landslide. She was one of thousands to have lost loved ones to Ebola; now hundreds more have died in the capital, while thousands more are missing.
It's so cruel that the people of Sierra Leone have the devastation of these landslides to deal with - especially when I picture in my mind all the joyful children I met there who were so happy, generous and welcoming to me, despite the poverty they all face daily.
Since being back in the UK, I have been dedicated to helping communities in Sierra Leone rebuild their lives and claim their rights, especially women, who have to do so much.
ActionAid has been working with local communities in the affected areas since 1988 - many of their staff are Sierra Leone nationals
- so they are one of the agencies working with the country's government on the emergency response there. I urge others to join me and ActionAid in this time of crisis. I know the country will pull through - the spirit and sense of togetherness in local communities there is so strong. But there is no quick fix. The country needs all the help it can get.
That is where you come in. A donation of five pounds to ActionAid can provide bedding to keep a child warm at night. For £15, you can provide a baby with milk for one week. A donation of £50 provides food for ten people for two weeks. After distributing food, water and other essentials to those affected by the landslides, ActionAid's emergency response team gave out 'dignity kits' to women and girls there - who are often the most vulnerable in humanitarian emergencies, and who tell us that being clean is so important to them in times of crisis. These kits contain essential hygiene products including soap, sanitary towels, clean clothing and underwear. A donation of £20 ensures a woman in a situation like that of Elizabeth can keep herself and her children clean, helping to reduce the risk of picking up infections.
In the first week after the landslides, ActionAid helped over 300 families. I am confident that with our help, they can reach many more. Please donate to their campaign and help more vulnerable families get the help they need to survive.