YOGA & WEDDINGS, HAPPILY EVER AFTER...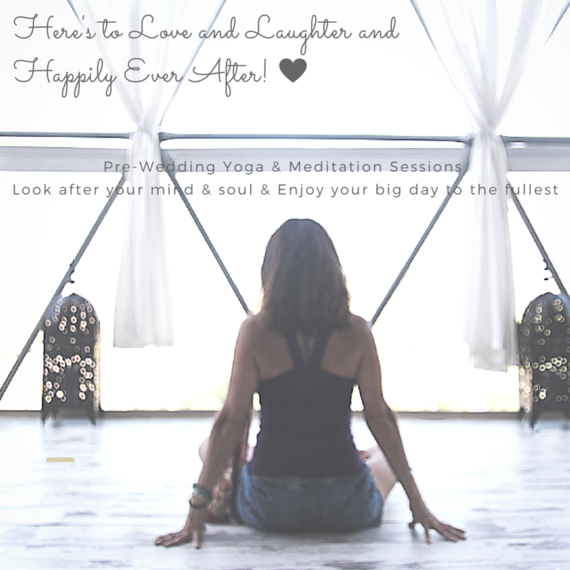 "It's not about the perfect dress, it is about the perfect frame of mind"
After having worked in the events industry for about 10 years, I have seen first hand how much importance we put into the external aspects and details of an event, for it to be just perfect.
When it comes to weddings, despite having or not having a wedding planner, a couple, goes through endless headaches in order to get every single detail ready for their big day.
Talking more precisely about the brides' instance, you want to be beautiful, gorgeous, splendid and shinning. And so, we go into a crusade to find the perfect dress, the shoes that ideally match the dress, the hairstyle that fits you, the makeup, the nail vanish, the veil, the lingerie, and so on.
I remember my cousin bursting into tears when we did a first round to try and find her wedding dress. We went on for a few hours, and after she had tried something like 15 different dresses on, she could only feel like she was never going to find the perfect dress. This is only the very first stage of all the details that need to be perfect for such an event. And yes, she looked amazing on the day, but the 12 months of preparations were an endless source of stress.
So, my question being, if we put so much energy and effort into looking after all the external details, such as clothes, hairstyle, makeup, venues, music, gifts, invitation design, choosing a photographer, the catering, transport, flowers and a very long etcetera.
Why is it that we pay practically none attention to, actually quite possibly, the most important part of it all, our interior? Why are we looking after our hair for the big day but we aren't looking after our soul?
"If my soul is glowing, rest assured, I will be glowing, no matter what."
So what I am intending to do with the Pre-Wedding Yoga sessions is provide the couple with a way to nurture and nourish both, the body and the soul, inside out.
A true exercise of wellbeing and mindfulness, that will lead to a calm approach during the preparations and what's more important, to get to the big day with a light and placid state of mind, an open heart and the calmness to enjoy the wedding to the fullest.
I have personally come to realize, a while ago already, how important it is mastering your mind in order to truly enjoy life. Yoga offers that tool, a holistic way to work through your body and through your mind.
It offers the perfect blend of breathing exercises, full body stretches, vibration, directed gaze, contraction and relaxation, etc. that allows you to raise body and mind awareness, something that you will use on your yoga mat and definitely in your every day life.
The Pre-Wedding Yoga is a 90-minute one to one mindfulness session.
From the more spiritual and emotional point of view, we work through topics such as relaxation and breathing techniques, detachment from feelings of anxiety, anger or stress, centering the mind to the present moment, getting out of the stress area and getting into the zone of love and compassion, through talks and meditation.
Physically speaking, there are different approaches that we can have...
Detox, to renew air, cells and energy in the body, getting rid of the old to leave space to the new. Energizing and invigorating feel good practice.
Heart opening, to open fully to love and embrace the new marriage and any new experiences with an open heart.
Hip opening, to let ourselves flow wild and free, to let go of excessive control. This type of flow and sequences are working towards helping raise creativity, pleasure & sexual desire.
Balancing, to find equanimity and balance among all aspects of life: Love, family, friendships, finances, work, etc.
All in all, we will build up for the bride alone, or the bride and groom, to have the tools to enjoy the preparations, the wedding day and the happily ever after to the fullest.
For more information, drop me a line, I will be delighted to tell you more about it all.
- My Yoga BIO: http://sunsetsandbubbles.com/my-yoga-bio/
- My Yoga & Lifestyle Blog: www.sunsetsandbubbles.com
- Instagram: https://www.instagram.com/sunsets_and_bubbles/
- Facebook: https://www.facebook.com/sunsetsandbubbles