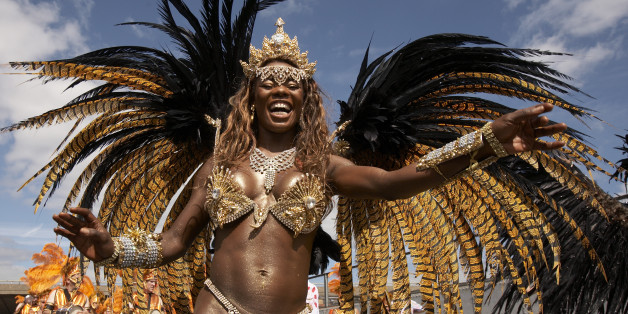 Getty
A report from the London Assembly was released this week which claimed that Notting Hill Carnival is at a "tipping point,'' due to its size, and that the event "needs to be re-examined to ensure it remains a safe and positive experience for all.'' However, this stand-out feature of the London calendar risks turning into a sterile, shadow of the celebration it was. Championing black culture and diversity is as important as ever and the carnival has and should continue to be a flagship recognition of the cultures that have shaped modern day Britain.
Notting Hill Carnival often isn't a picnic, make no illusions. An absolutely enormous number of people attend every year. Over a million people attended in 2016, creating a population almost as numerous as Birmingham whilst confined to a relatively small geographical area. Safety and security should be a priority, but so must ensuring that London continues to celebrate black culture and history and proposals such as those to move the carnival to Hyde Park should be challenged.
I have enjoyed Notting Hill Carnival since the age of 10. I haven't experienced any violence or disorder. I've seen incidents, but they have been isolated and few and far between. Carnival has always remained an environment in which people, literally of all ages, come together to celebrate diversity and the triumph of multiculturalism. When you consider the sheer numbers of people that attend, the arrest rates compare favourably with events such as Glastonbury.
The eponymous streets which gave birth to the sea of colours, culture and creativity may be quite different to those that they were when carnival started in the 1960s, but the connection between the two are inseparable. Proposals to move the carnival to Hyde Park ignore the central history of how carnival came to be and how it should be remembered. It has its roots in 1959, where an indoor Caribbean celebration took place at St Pancras Town Hall, organised by Claudia Jones, the 'mother of the Notting Hill Carnival.' This led to the first carnival in the streets of Notting Hill in 1966, to celebrate the diverse community in which it existed, and to help repair race relations in a time and society where black people faced enormous amounts of discrimination in employment, health and housing and in which black people were regularly harassed by the authorities.
Notting Hill's contribution to the London economy far outweighs the costs of policing it. Carnival contributes an estimated £93m to the London economy, whilst the costs of policing stand at £7m. Police chiefs talk of their colleagues dreading working carnival, but whilst in some cases this may be true, some of the iconic images of carnival are of those police enjoying the revelry and festivities. In the age of Brexit, London's status as a cultural capital is under pressure and Notting Hill is a vital piece of London's, and Britain's culture. Remaining in the streets from which it has borne its name is integral to its atmosphere. By moving to Hyde Park, it becomes another festival in a city park, with no connection to the history of the area and social movements in which it was founded.
Carnival's organisers could do more to take retain its heritage. Steering away from some of the corporate marketeering that has in places become predominant, where audiences have to vie for tickets to sectioned off areas is perhaps symptomatic of Notting Hill's, and London's, socio-economic change since the 1960s. If Notting Hill loses carnival, there is little to celebrate the transformational difference that black people made in the 20th century to an area in which house prices now sell for an average of £1.8m.
The fact that Notting Hill is always measured by its crime rate in the first place is evidence of the biased and discriminatory way in which black culture's value is measured in the UK. Not Glastonbury, or no other public event of such standing gets judged in the same manner.
The concerns of the authorities should always be respected, but in a world where London becomes ever more uniform, directed by investor speculation, expensive flats and fewer public spaces, carnival stands out as an event that is free and open to all. It's the most visual, vibrant and palpable celebration of black culture in the UK, and the whole of Europe. The authorities should recognise and value this contribution, and so doing they need to enable the London Notting Hill Carnival Enterprises Trust to deliver it safely and effectively instead of impairing one of the world's most magnificent and triumphant occasions.