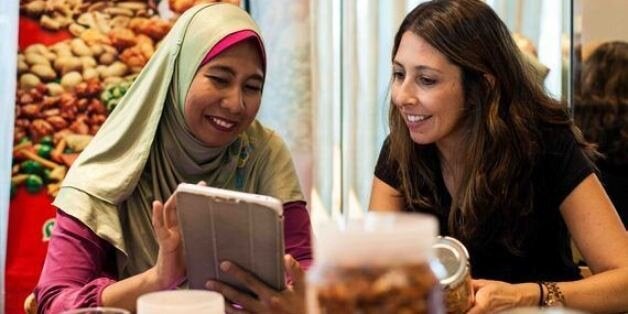 When I started my legal career in the 1970s, it was a lonely place for a young, female, working class barrister. Discrimination was rife and there were few female role models. I ended up finding guidance from a male mentor who showed me the ropes, gave me one-to-one tuition and imparted nuggets of wisdom that I still find useful today.
Later on, when my husband was elected Prime Minister, I found support from another mentor, Hillary Clinton. Her advice on negotiating the double act of being a working mother and first lady was both inspiring and invaluable.
So, I understand a thing or two about the benefits of being mentored. But I also know that mentoring is never a one-way street. This is the message I get from the 2,000-strong community of mentors my foundation has created since it was established in 2008. This group of men and women joined our online mentoring programme to support women entrepreneurs in developing and emerging economies. Each mentor is matched with an aspiring woman entrepreneur; together the pair work online over the course of a year on specific goals to boost the woman's enterprise.
With support from the Qualcomm® Wireless Reach™ initiative, Bank of America and Marsh & McLennan Companies, we recently released a report which captures the experiences of the programme's first five cohorts of mentee and mentor graduates. The report confirms my belief that mentoring not only catalyses success for others, but also brings incalculable benefits for mentors. Here are three ways I think mentoring can make you a more productive employee and a better person.
1. Mentoring opens your eyes to different realities
Mentoring guides often stress the importance of finding a mentor from a different context. Our programme follows this logic. We connect mentors with mentees who are often at opposite ends of the earth - quite literally. Matching is based on the needs of the mentee and the expertise of the mentor. Gender is not a factor, and neither is industry or role. Mentors also come from both developed and developing countries. This means that our mentors often find themselves embarking on a year-long relationship with a woman from a completely different culture, business environment and life experience. Forging a close partnership with this person can be eye-opening and sometimes life-altering.
One of our American mentors, for example, worked with an Argentinian woman who set up her own shipping and logistics company after spending many frustrating years struggling to progress in her male-dominated industry. As a senior banking executive, the mentor said the experience made him appreciate how difficult it is for women entrepreneurs to succeed in countries which do not have the legal or social structures to support them.
Julian, from the UK, is one of our longest-standing mentors. He is currently mentoring his third mentee, who runs a digital agency in Azerbaijan. When they were first matched, Julian had to use Google Maps to find out exactly where Azerbaijan was. On a recent Skype call, all talk of business planning was thrown aside as his mentee told him stories of gunfire and failing diplomacy: her country was at war again.
Julian said the mentoring experience makes him realise that, though he is separated from his mentees by culture, distance, politics and religion, he has learned to form bonds of trust over the small commonalities: shared photos, jokes about difficult clients, and stories over finding the right Star Wars gift for a son or nephew. Mentoring is often a lesson in the truth that we have far more in common than that which divides us.
2. Mentoring gives you skills which are useful for your work
As well as broadening your horizons, mentoring can also hone your strategic thinking - a crucial skill in any professional role. Supporting another person along the rocky road of entrepreneurship, for example, requires you to think carefully about solutions. You need to draw on your own personal experiences but also put yourself in the other person's shoes. What may work in your own workplace may need to be adapted for a woman living in an area where internet connectivity is patchy and access to networking opportunities is limited.
Mentoring someone who operates in a different industry or environment can also teach you about new markets or business opportunities. Communicating with this person can also shape the way you interact with others around you. As one mentor commented, "I have been able to influence colleagues in a more subtle and effective way by trying to lead them to answers rather than simply imposing it."
3. Mentoring can inspire you to aim higher
One common thread runs throughout the feedback we receive from our mentors. Inspiration. Women entrepreneurs in developing and emerging economies often face huge hurdles on their path to success. Some set up businesses without the support of family members; others struggle to access the finance and skills they need to grow their enterprises beyond the micro level. The same is doubtless true of any mentoring relationship; people seek mentors precisely because they face barriers.
Helping someone to achieve success against the odds can be incredibly powerful. Witnessing the courage and perseverance of the person you are mentoring can also drive you to recalibrate your own mind-set. As one mentor, Marianne, told us: "When you work in a big corporation you get stuck doing the same thing day in day out. My mentee has inspired me to be a bit more innovative, take some risks and get out of my comfort zone."
Image: Nor Hafizah Zakariah (pictured left), founder of packaged food company, Food Industries, in Malaysia and mentee from the Cherie Blair Foundation for Women Mentoring Programme. Photo by Qualcomm® Wireless Reach™.