If you asked me last week, "If there was one person you could see live in concert who would it be?" Beyoncé would already have been my reply. So I'm eighteen; maybe I missed out on some of The Greats - Michael Jackson, Elvis, Queen et cetera and yes, had this been a question of "who, past or present, would you have wanted to see perform in concert?" my reply might have taken a few seconds longer. However my answer would have to be the same.
Beyoncé, as she so proudly claimed in concert, has been performing for nineteen years - a lifetime's worth of work from my perspective. That's my first words, first cycle, first school, college and University experiences all rolled into one. And just as I have gone from crawling to running, Beyoncé has gone from small Texas girl group to black, female pop icon and is evolving even still. Both her musical and personal growth over the years can be tracked through her albums, ranging from Destiny's Child to Sasha Fierce and now of course, the most recent Lemonade. Like entried to a diary, each album seems to represent a phase of her life and the emotions associated with them. Now, with all the work and passion she has driven into her career, she emerges a Grown Woman, thriving in the music business as an outstanding singer, songwriter and performer.
One of the main arguments for Beyoncé's being the one concert I wanted to attend is her sheer talent to perform. "No expense has been spared" - a phrase often frequented by critics, is an accurate representation of not only the financial expense, but the infectious energy that exuberates from her backup dancers, the lighting and the costumes - not to mention her voice, flawless as ever which carries clear and crisp above a pulsing crowd no matter what the physical strain of dancing.
I attended my first ever Beyoncé concert last Sunday; a highly welcome part- birthday present from my Aunt who secured three Golden Circle tickets to the Formation Tour at Wembley. So maybe I'll be working the rest of summer to pay her back, but still, you don't say 'no' to Beyoncé tickets.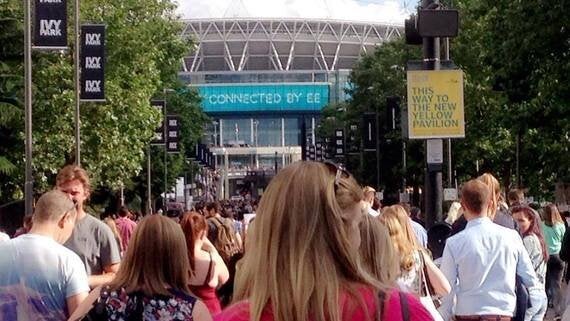 The crowds poured in like sand in a timer and we found our place a few metres from the stage and runway. Whilst waiting with bated breath for Queen Bey, guest appearances included Zara Larsson, Jess Glynne and Section Boyz, the latter seeming to lack the required stage presence despite bringing performing just the one single, 'Lock Arrf.' Though the star of the show did not appear for another hour we had music and images to keep us entertained; my favourite choice being Chloe x Halle's 'Drop,' a song by Beyoncé's new protégés.
At last, there was movement on the stage. Steam sprouted from the sides and the central cube began to revolve - fans cheered, assuming she would be on the other side we teetered on our tiptoes with our cameras out all waiting to catch the first glimpse Bey and then - nothing. The cube is disappointingly whole; but suddenly the first instantly recognisable notes of 'Formation' and Beyoncé's own voice sprang loud and clear "Ok ladies now let's get in Formation."
The crowd went wild! I pretty much lost it in there myself. Black hats and outfits, Beyoncé and her crew were slaying once again with a dramatic entrance of startlingly uniform choreography and synchronised movement.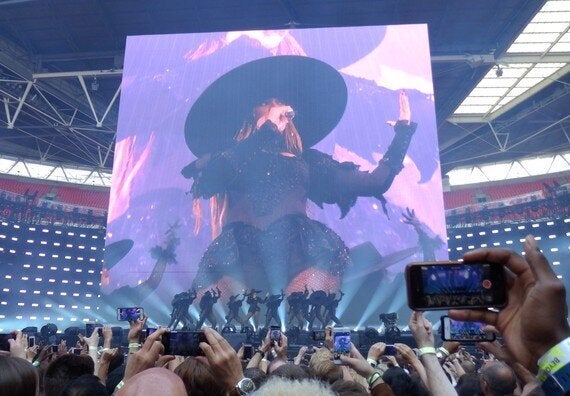 The hats were then ditched pretty quickly to make way for quicker and bigger moves brought down to the runway. This close proximity really hounded in the reality of her presence and the crowd went crazy. Even I couldn't believe how small she seemed in real life and yet almost other-worldly in her shimmering gold braids and black sparkles.
Around six very quick outfit changes presented each stunning yet tremendously revealing costume that kept everyone gawking at her perfectly toned legs and thighs. All of her dancers too looked exquisite and the entire male audience seemed to find the aesthetics very enticing.
As amazing as they all were, my favourite son had to be 'Freedom,' which gave me the particularly unique experience of seeing water on stage. The slashing of the water and arching wet hair flicks under a startling blue light created the simplest yet most captivating effect that brought shivers down my spine. The tribal stamping and shouting after an almost military procession towards the B stage truly evoked a sense of black female empowerment which seemed to embody the struggle of black women since the slave era.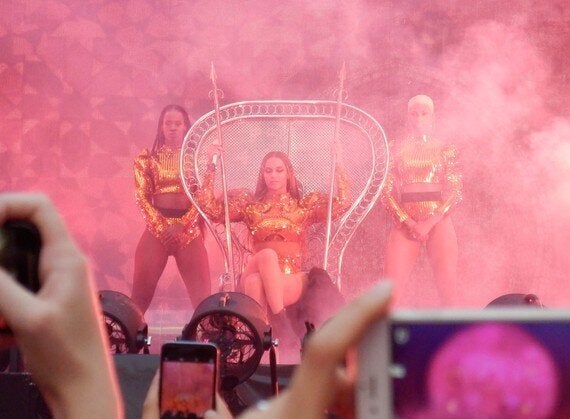 As openly prestigious as her smouldering stare, royal cape and throne might have been, there was no denying the power of her presence in that stadium. 85,000 people screaming her name and this only one night of many. Though I have grown sceptical of the concept of stardom and fame, feeling some don't deserve our admiration or respect, I had to admit, Beyoncé has worked hard for this life. Her passion and dedication to her dream was unquestionable. She has clearly worked her ass (more on, than off) her entire life and has become a true icon of black female strength and beauty. For that reason, I have to crown Beyoncé as that one artist in history on my concert bucket list.