I hurried down Shaftsbury Avenue, bag clutched to my side, head tilted up at the buildings (177, 179.... Ah, there you are!) Breathe. Inside, I took the elevator and met the receptionist behind her desk where I was told to take a seat: I was early.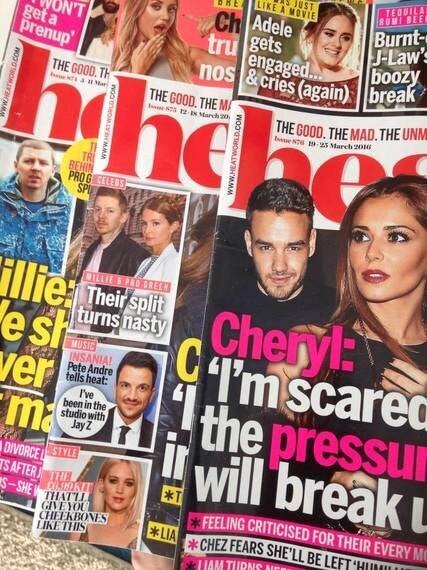 I eyed a stack of magazines on the side and I asked if I could take one. "Yes," she said, turning back to the computer - I could almost hear the "duh" in her voice. Scanning the row of magazines I saw Issue 874: Millie- 'We should never have got married,' Issue 875: Charlotte- 'The truth about my nose falling off,' Issue 87- What? Issue 876? This can't be right. I took it from the shelf. This isn't even out yet! I sat on a sofa and started flicking through the pages: Cheryl- Family Interference, Adele- Simon's proposed.... My lips began to tweak up at the corners and I suddenly became very aware of one, single fact: 'This is real.'
I looked up. A young woman leaned out from behind the wall. "Yes, that's me."
"Great," she strode forward and shook my hand, "Nice to meet you, I'm Sarah." (We'll call her Sarah for the article).
She took me to the elevator and asked me how I was, "You must be on your Easter holidays now then, right?"
We got in and she smiled as we went up. "I'll give you a quick tour of the floor and then talk you through what you'll be doing this week."
The doors opened and the first word that came to my mind was "busy." Computers, posters, books, desks piled high with more books, people scooting across on swivel chairs and heat- literal heat: it was boiling! As Sarah led me through my eyes dashed from corner to corner, half taking it all in and half wondering if people were watching me.
She took me to the end of a row of apple computers and placed her hands on the back of the chair, "Ok, so this is your desk." A couple of people looked up from their Macs but I just bustled my coat off and tried to look confident. "If you'll come with me I can show you round."
Sarah was lovely; easy to talk to. After showing me round she settled me in straight away with some mundane tasks; collecting the post and distributing magazines amongst the staff. My main task that morning was to put the latest heat magazines into A4 envelopes and stick pre-printed address labels on each: "Try and get this done before 1 o'clock," she told me.
"Sorry for giving you such a boring job but it's such a big help!"
Boring? I could've hugged her. This was exactly what I needed!
"No problem." I sat at my desk and placed my palms on the surface. Let's do this.
The morning passed by satisfactorily; music tinkling through the radio as I placed magazine after magazine into the envelopes. I managed to catch my breath and absorb the atmosphere, and meanwhile do a bit of people watching.
There was a small table pushed up against the wall nearby which was overflowing with chocolates, cakes and snacks. Every so often a member of staff would walk by, pause, then take an item to their desk and start nibbling. I tried to pretend I wasn't jealous. "Feel free to have anything you want from there," Sarah had told me on the tour, "people just bring stuff in and share." As tempting as it was I didn't think I had earned the right to anything on that desk just yet.
The next day I had to select my top choice of news stories from the latest issue and list them in order of worst to best (countdown style). Then I had to bullet point a few facts from each for a radio presenter to read out (no pressure!)
Later, someone else wanted me to transcribe a radio interview which I listened to on my earphones. And guess what? It was between Ariana Grande and Ryan Seacrest! I was ecstatic. Already I was getting right into the thick of things and it was only my second day!
The week consisted of varying tasks of this kind: some which made me think, wow! How am I getting this involved already? and others which were less glamorous but enabled me to feel useful. I made TV listings and provided links for twitter feeds, I shopped for stationary and served the tea (imagining I was Anne Hathaway in Devil Wears Prada.)
Perhaps one of the brightest things I did all week, simple as it may sound, was to bring in my own packet of biscuits on the second day. Women were emptying biscuits into a tin when I handed them a packet of Digestives: "Here, take these. I can't just take from that table without putting something else down." The women looked up at me properly for the first time and their eyes widened, "Are you sure?" they began saying, "Oh that's so kind!" "Do you want some of our biscuits?" After declining their lovely offers but taking their tea orders, I had just turned to go to the kitchen when I heard one of them whisper, "Aw, she's so sweet!"
From that moment on, I picked up the courage to ask various staff about what they did for the company and how they got to where they were. Some of them gave me their business cards, others gave me extra tasks to do. Some even recommended other people in the office to talk to and I got some really useful tips and career advice. Everyone was engaging and really nice and soon I was talking to staff on the news desk. That was when someone asked me if I would like to write an article for them.
"Yes, of course!" I said, jumping at the opportunity. "Ok," she said, "this might take a bit of research but could you write me an article on the Top Celebrity Georges?" At first I thought I'd heard her wrong (top Georges?) But then she gave me a few starter examples: George Shelley, George Clooney, George.... I beamed, "Yep, definitely! I'll get right to it!"
I ran to my computer and began my research. Of the few celebrity George's she'd listed, I knew one of them. It didn't take me long to find the first six or seven... but she wanted twenty to twenty five! OK, keep calm, I told myself, you'll find some. Luckily she'd said 'Georgia' counted as 'George' which brought back another fifty per cent of the population. When I had my twenty-plus, my next instruction was to write a witty line or two for (up to) ten of my choice. Once this was sent, edited and returned, I was given access to the publishing site and was told to select images of each George and insert them. (A much longer process than you might expect)
Eventually I had my article... And then came the best part: putting my name at the top.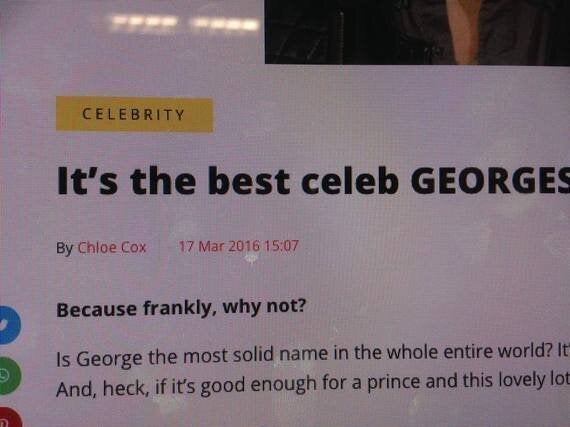 On the last day, Sarah presented me with my own goody-bag of treats which I thought was an amazing gesture and she told me I could sort dates for more work experience if I wanted to. As I sat working on the last few tasks at my desk people also wondered past asking, "So are you with us again next week?" Each time I said, "no" they were very complimentary about how I had taken on my role within the department, my willingness to participate and how great it was that I had asked questions.
It was the best work experience I've ever had, and if there's anything I've learnt it is to talk to as many people as possible, be confident, kind, and invest in a packet of biscuits. I felt so privileged to have been offered such a rare insight to working life and each day I left the office happy, driven and ready for more!
Popular in the Community