Like many, I used to travel purely for fun. I jetted off to destinations known for warm weather, picturesque beaches and delicious food. But if you follow my blog, you'll have noticed that in recent years I've found travel to be so much more.
It's been about new experiences - leaving my comfort zone and broadening my mind. From visiting indigenous tribes living on islands off the coast of Panama, to staying with a locals in Guatemala, and experiencing cave life in Turkey... it's those authentic moments that I've really cherished. Each has been different, yet had one thing in common - at the heart of each place I found a community with its own identity. Sometimes they were strong, sometimes they were striving to be heard... but there was always an identity.
In my family, I'm not alone in my love of travel and exploration. In particular, two of my sisters have chosen to uproot from UK life. One has lived in Morocco for 15 years where she's a teacher and journalist. Another has achieved huge success performing with orchestras all over the world, and is now based in Sweden.
A week ago, she received news that rocked her world. The orchestra she has played in for four years in the Swedish city of Västerås was in danger of being closed down.
Västerås ... you've never heard of it? No, I hadn't either until she started working there. It's Sweden's 6th biggest city, is full of history (right back to Viking ages) and is home to around 150,000 people. We're not talking about a small town, this is a prolific city with impressive sports clubs, a university and a huge passion for the arts.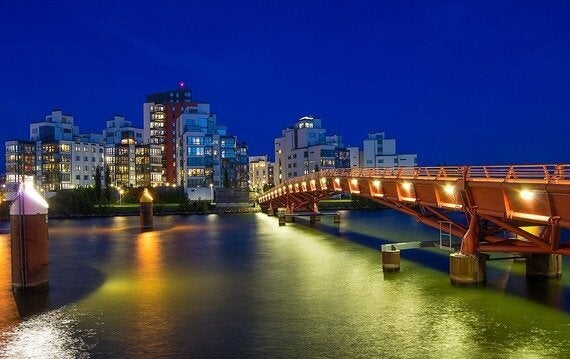 The city of Västerås at night
The Västerås Sinfonietta has been going for 130 years. At the heart of it are 33 professional musicians who perform regularly in the beautiful 900-seater concert hall. The orchestra is highly-regarded in the classical world, produces award-winning recordings and draws large audiences.
It has been at the centre of the community for over a century. The board of directors (in charge of music for the region) is looking to disband it, and invite visiting ensembles to play in order to save money. Cost-cutting is changing the face of music... and even more upsetting - a society that lives and breathes it.
The 'Association of the Friends of Västerås Sinfonietta' is up in arms: "It is vital for Västerås's cultural identity to keep Västerås Sinfonietta!" Rumon Gamba (musical director and principal conductor of NorrlandsOperan in Umeå) agrees: "Any attempt to disband a permanent ensemble and replace it with random flying visits will decimate the cultural heart of a town and is one step further towards dismantling a civilised community."
We've all seen it... small communities suffering an identity crisis as they're swallowed up by larger ones. Small local coffee shops are sacrificed in the wake of huge chains. We all say "that's a shame" and mutter that the world is changing for the worse. We say "it wasn't like that in my day." We seem to care when it's on our doorstep. We might even sign a petition or take a stand.
In this case, it's not on our doorstep, but that doesn't matter. Culture cuts affect all of us directly or indirectly. Access to high quality culture is the sign of a thriving society.
British journalist and music critic Norman Lebrecht said "A town dies the day it loses its orchestra". If this orchestra goes, which town will be next?
The orchestra's campaign has attracted huge national support. A Facebook petition has reached over 3000 signatures (and counting) and many of Sweden's cultural heavy weights have spoken out in defence of the orchestra. I may have a personal connection to this cause, but even if I didn't, I feel this is something to support. We all have that one concert, that one book, that one piece of art, that made us look at the world differently. Now Västerås's residents could be denied a meaningful cultural experience. I'm supporting their cause, and you have the chance to as well, by signing this petition (for non-swedes, Namn: Name and Stad/Ort: Place) and sharing this article.
Find out more about the cause here.