Magic is back, although it never really went away, it's always lingered like a bad smell. However over the last few years magicians have been trying to refresh that smell into something more enjoyable, palatable and modern. Penn & Teller's Fool Us and The Magicians have joined Derren Brown on TV creating huge audiences and live magic shows such as my own award winning Fatal Distraction mind-reading based show have been getting bigger and bigger audiences. So it was only a matter of time before someone brought a stonking big illusions show to London, and that someone is Hans Klok.
Who? I hear you cry... Let's not forget I am a mind-reader, albeit a mind-reader who can't read minds. Hans Klok? You know? No he's not a stripper... Although he does have the perfect name for one.
He's the fastest magician ever, a Dutch illusionist who made the world cup trophy appear out of thin air in the 2006 World Cup, and who in his Las Vegas show had Pamela Anderson as his assistant. He is opening his new show The Houdini Experience, an attempt at a big budget, magical extravaganza in The Peacock Theatre on 23 Feb and I caught up with him to find out why now was the time to try bring illusions back to the London stage.
Hans Klok is a charming man who is every inch the magician, blonde blow-dried hair and open shirt that'll look awesome billowing on stage with a fan blowing but more importantly he's a man who genuinely cares about entertaining and dazzling an audience, so why bring The Houdini Experience to London?
"I've done Holland, Germany, Vegas and thought why not England? The Olympics are here this year, there is a rich history of magic in England, London used to have a magic theatre and is now once again ready for a big magic show."
"I really believe in the show, I played it for five weeks in a 2200 seat theatre in Holland and sold out every night. That's the whole reason we are here, it's a strong show. It is spectacular, there are dancers, four world class variety acts, it's the same amount of people in the cast and crew as you might see in a West End Musical. There is a lot to see, it's an experience for everybody, for the whole family."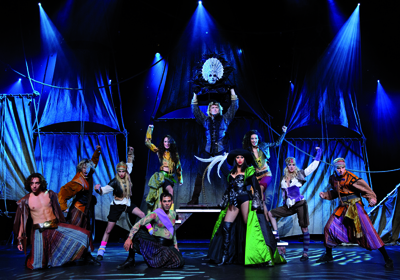 So what is it about Houdini?
"Everybody is fascinated about Houdini, and he's still the most famous magician in history. I'm not trying to do a Houdini show it's a Hans Klok show with elements of Houdini. His history is so interesting so I tell his story during the show, and perform some of his great effects as well. But I'm trying to challenge myself to update it and do it quicker. In the olden days he'd go in a box the screen would go up and the audience would wait for 10 minutes, today you can't get away with that; it has to be in a second. His tricks are incredible, so I do some of his classics but I do them so fast it becomes unreal."
"The show has Houdini's story and my story. I get lost in a time machine so I go to the 17th Century and then find myself somewhere else battling pirates, it's very theatrical. I've a director and choreographer that have made this more than just a collection of tricks, there are themes and stories.'"
He's romanticised the story of Houdini and the world of magic in an effort to make illusion effects more enjoyable. I have never been a fan of big illusions, they've always left me cold but they offer the audience a unique element of danger and make live magic really stand out as something different.
"You have to see magic live, if it goes wrong you'll see a show that you'll never forget. I really enjoy the danger, it goes so fast, people are always waiting for a mistake, they're trying to figure out how it's done. It is a risky and scary thing and of course that makes me nervous but then I think, you started this 30 years ago, you want to do this so enjoy it yourself."
Hans mentions that there isn't just big illusions in the show, despite some help from Siegfried & Roy, there's some slight of hand and he's going to be performing the floating light bulb. This incredible effect has been cited as being as real as magic can be. Harry Blackstone Jnr had this as his signature piece, he'd take a lighted bulb from a lamp and float it on stage, then offering the audience a chance to see it close up he would fly the bulb across the whole audience. I can not wait to see it with my own eyes, but how did Hans manage to get hold of one of the best kept secrets in magic
"I met him as a child and I asked him how's it done? His reply was, very well! Later we became friends and he promised me before he died that he'd send me the secret. Sadly he passed away and I never got the secret, but years later his wife found the plans in his diary. She called me and said I think you should have this trick. It's a show stopper it makes people say wow. When I perform it I get the same feeling as I did as a child seeing it for the first time"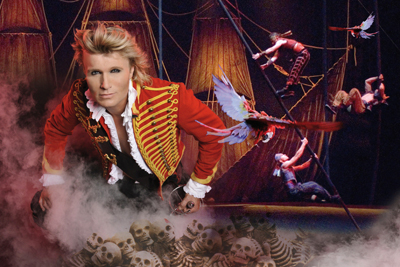 Hans character could easily be a classic characterture of a magician, camp, showbiz and slightly old fashioned... I wondered if he was aware of that?
"I wink to the audience, I play with the character, sometimes I play up to it. However I look at myself and think I'm one of the most copied magicians in the world, I see other people perform my tricks with my music. I think I have a certain recognisable style"
So then it is a bit dated, but perhaps that's part of the joy, the fact that he is still getting away with it and when you go see a big magic show, you want the magician to play the role of the magician.
"It's like when you go see Tina Turner you want her to sing River Deep Mountain High, so I'll always do some old style tricks, I'll give people what they want."
So here I am, someone who doesn't like illusions finding myself in the position of being excited about seeing an illusion show. It's about time the razzmatazz of a proper old fashioned magic show came to life and Hans Klok is the man to do it. His infectious enthusiasm about his art can't help but grip you, and fill you mind with possibilities of just what he might be able to accomplish in The Houdini Experience.
"It's a magic show, but in the first place a magical experience. It's like Cirque Du Soleil, meets Lady Gaga, meets The Wizard Of Oz. Actually you can't compare it with any other show right now. This city has such a rich history of variety and this is a variety show and I can't wait to perform it in London."
With the tagline of more illusions than you can count... which isn't to be confused with more illusions than you can remember, he is set to light up the London stage with the sort of magic show that's century's old, yet very much of today. I for one can't wait, and will let you know exactly what I think once I've seen it.
Hans Klok The Houdini Experience runs from the 23 Feb to 25 March 2012 at Sadler's Wells Peacock Theatre.