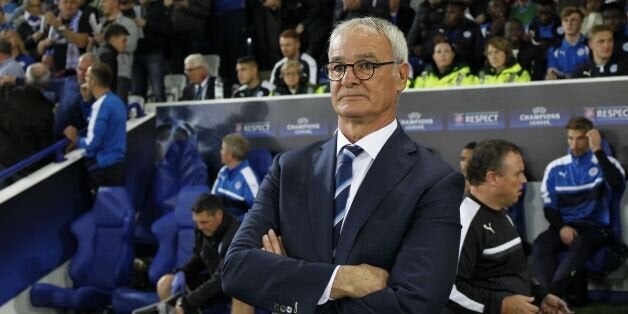 After floating through the 2015/16 season in a dream-like haze, the start of the new campaign has been a sharp awakening for Leicester City - a bucket of ice-cold water and spiders, dumped straight on their collective face.
With just six games of their Premier League title defence completed, the Foxes have already lost two games 4-1. They've lost as many games in their first six as they did in all 38 last season. They've earned just one, solitary point against top-12 teams.
Saturday's spanking at the hands of Manchester United was a wake-up call, in a way that not even an equally heavy defeat to Liverpool was. The manner of the loss - four first-half goals, three from corner kicks - will prick the pride of a squad whose title win was based almost exclusively on organisation and cohesion at the back.
It was almost inevitable that the 'worst title defence ever?' questions would pop up at some point this season, but Claudio Ranieri and co would have hoped to stave them off for just a little longer. No such luck.
The Foxes' first six games have left them in an eerily similar position to Chelsea at the same point last season - both with seven points, both with a goal difference of minus three; although the Blues did score and concede one more goal in their first half-dozen fixtures.
From there though, Chelsea actually managed to improve their situation - no, really. Two wins and two draws in their next four games left them sitting on 15 points after their first 10 games, a position that Claudio Ranieri would take in a second if it were offered to him today.
The 10th placed finish that Guus Hiddink eventually dragged his battered and broken side to in May was comfortably the worst title defence in history, but their failure was exacerbated by their own sky-high expectations. 10th place for Leicester at the end of the season? There wouldn't be street parties, but there's a case to be made that they could be quietly (very quietly) pleased with themselves.
For a team which were as good as relegated just 18 months ago, sneaking into the top half should be a big win. Even the Foxes' biggest fans will happily admit that last season was a one-off, and factoring that into their overall expectations would do them a disservice.
There is a 'but', though. There's always a 'but'.
But 10th place isn't even close to guaranteed. But there's been more than reasonable evidence over the last month and a half that things could well get worse before they get better. But where the hell is Ahmed Musa?
Seriously, the Nigeria forward was comfortably Leicester's best player on the pitch in the season opener against Hull, and he's not been handed a single league start since then. The following week, he got three minutes against Arsenal. The week after, quarter of an hour at home to Swansea. Did he kick Ranieri's cat, or something? His continued sidelining is faintly baffling for a side who desperately look to need a second dimension in attack.
The Musa situation veers close to the reason it's so difficult to predict Leicester's future, which is that they're just...weird. Week to week, it was more or less impossible to guess which Leicester would turn up for most of last season - and this campaign hasn't changed that in the slightest. That 4-1 defeat to Liverpool was followed up a few days later by a 3-0 away win in their first ever Champions League game.
Nothing about Ranieri's side would actually surprise, at this point. Lose 14 in a row and go down? Sure. Win every single game 1-0 from now until Christmas, with a different scorer each time? Why not - they won the league last season.
I... it's just a waste of time actually trying to predict what Leicester are going to do. Is it time for the fans to worry? Probably. And probably not. Just let the tide take you where it will, and try and enjoy the ride. Just... don't try to actually make any sense of it as you go.
For more fan views or to join the conversation visit www.90min.com
Related