Meningitis is the inflammation of the lining around the brain and spinal cord, and septicaemia is the blood poisoning form of the disease. Most people have heard of it, but few really know the facts.
At Meningitis Research Foundation, we estimate that there are around 3,200 cases of meningitis and septicaemia every year in the UK. They are easily mistaken for milder illnesses, but unlike a dose of flu, can kill within hours and may cause serious, life-long disabilities. No other disease can kill people as quickly. As many as one in ten of those affected will die and a third of survivors will be left with after-effects as serious as brain damage, amputations, blindness and hearing loss.
It is vital that UK students are aware that there is a new freely available Meningitis C booster, which they need before they head off to university, as although meningitis can strike anyone at any age, young adults are the second most at risk group.
Currently all children in the UK are vaccinated against Meningococcal C (MenC) infection. Since the MenC vaccine was introduced in the UK in 1999, an estimated 150 lives have been saved each year. But it is now known that protection offered by the vaccine does not last as long as expected, so the UK Government has launched a booster campaign for students entering university for the first time.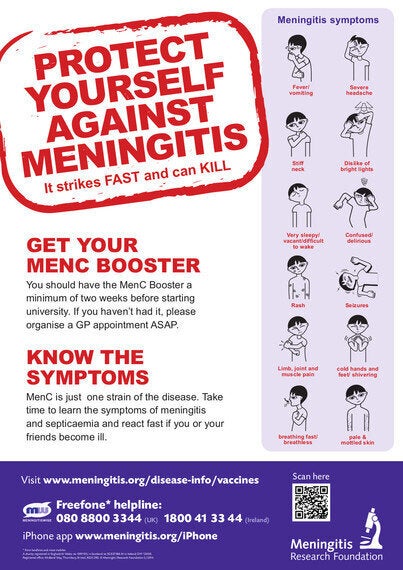 If you're at university or college this year, you will see some of MRF's thousands of new posters as part of the campaign, which are being distributed across the UK.
Vaccine research to ensure effective protection against this deadly disease has long been one of our top funding priorities. New students are at increased risk of encountering the bacteria that cause meningococcal disease because they are often living in busy halls of residence and in close contact with other new students during fresher's week.
The MenC booster is available to any student entering university who was born after September 1995 and has only received Men C vaccine under the age of ten years, or any student of any age entering or being at university who is unvaccinated against Men C disease. Students should get immunised at least two weeks before they go away to study.
Those who start the term without the booster should arrange to get it as soon as possible either through their university or college health centre or with their new GP. The vaccine is also important for students coming to study from abroad who are unable to get the vaccine at home. Again they should obtain it as soon as possible.
As well as getting the vaccine, it's also important for students to know the signs of the diseases, as some kinds of meningitis can't be prevented. For example, the MenB vaccine was recommended for infants in the UK in March 2014, and although it is available privately, negotiations to implement it via the NHS have yet to begin.
We encourage everyone to learn the symptoms of meningitis and septicaemia, and be prepared to act fast if you or any of your friends become ill. Knowing the symptoms, and the speed with which you react, can be the difference between life and death.
Find more information about Men C vaccinations for students and download a free symptoms poster here
You can also download the NHS leaflet
For more information on MenB and for symptom information visit www.meningitis.org