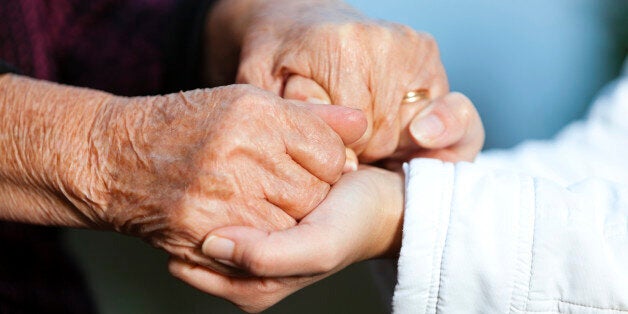 My family was recently quoted £2,000 for a week of respite care for my mum, who has early-onset Alzheimer's disease. Does that sound expensive to you? Here are some things that also cost £2,000. A week's rent on a two-bedroom apartment in Mayfair, London. A Tag Heuer watch of the type worn by Formula One drivers. Seven days at an all-inclusive luxury resort in Mexico.
While many of us wouldn't mind having one or all of these, respite care is essential for my dad, who is my mum's main carer and desperately needs a break. He is responsible for every aspect of her life: organising and dispensing medication, arranging meals, practical tasks around the house, finding carers to enable him to work part time, which we must pay for, and washing and dressing her. My mum also wakes up during the night and is prone to seizures, which mean my dad is permanently short of sleep. He performs his role without complaint or ceremony and saves the taxpayer hundreds of thousands of pounds in the process.
But when we tried to arrange two weeks of respite care, we were told it would cost £4,000, because my mum was judged to need constant one-on-one care were she to be accepted by a residential home. That means one person dedicated solely to looking after her in a care home where there are already staff members specifically tasked with closely and attentively looking after residents, many of whom will have complicating factors such as aggression and incontinence, but are not deemed in need of one-on-one care. This decision was made because an individual assessor misjudged the nature of my mum's requirements, despite repeated clarification from family members.
Such misguided but well-meaning precaution makes getting respite care even more difficult and leaves families such as mine feeling abandoned. On three previous occasions, after weeks of contacting social services and finding that, no sooner had they found a place, it was gone, we were able to secure respite care at a reduced rate, with the council making a small contribution (we still had to pay £500 a week, more than many Britons earn in the same period). But this provision has now disappeared, another layer of social care stripped away in the relentless drive to save money at the expense of vulnerable people.
Even with my mum's savings, we could only afford a few weeks of respite care at the cost quoted to us. It is not unreasonable to say a millionaire would baulk at these sums. The choice for carers of those with savings above the pitifully low threshold of £23,250 in capital and savings (including a house), is to run themselves into the ground trying to look after family members single-handedly, putting their own health at risk, or simply dump their loved one in hospital out of desperation.
Is it any wonder that so-called bed blocking has reached critical levels? Social care in Britain is not even an afterthought, it is wilfuly ignored. Provision has been cut, cut and cut again since 2010, when the coalition government came to power. The £72,000 lifetime cap on care costs was abandoned last year and nothing but a void of inaction has replaced it. We are in the midst of a crisis that nobody wants to talk about.
By 2025, it is estimated that there will be one million people in the UK with dementia. They will all need care at some point. But with care homes closing, respite care almost impossible to organise without interminable wrangling and desperately searching for a place, and carers having to spend tens of thousands of pounds just to get a break, will there be any mechanisms in place to look after them with dignity? I doubt it.