I know it has been a long time coming but after one of the coldest and longest winters on record it looks like spring is finally here; rejoice! However, your excitement may be short-lived when you remember that spring is not just synonymous with new born animals and budding daffodils but the dreaded spring cleaning also. Spring does have a feeling of freshness about it and most of us decided that this is the best time of year to deploy a little 'out with the old, in with the new' action.
Cleaning is one of those things that you dread doing but you know it needs to be done from time to time. Also it often turns out to be a cathartic experience and you end up getting on a roll and not wanting to stop until everything is just right. So if you are planning to rejuvenate your home this spring here are some top tips.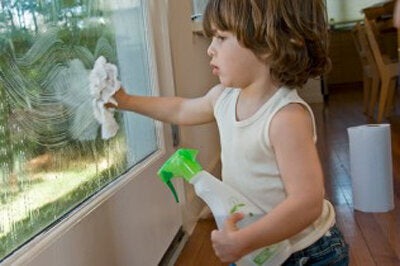 Sometimes a lot of the 'mess' in your home may be down to clutter rather than it actually being dirty. Clearing away anything that doesn't need to be out is a great way to start your spring clean because it immediately makes most of the rooms look neater. You may even realise that you don't need a full on clean after all, just a little tidy up; which is great. Minimal work with maximum effect.
Once you start cleaning it can be easy to just want to clean everything you notice and you could end up moving around the house sporadically and never really finishing a whole room. Plan a route through your home so that you finish everything in one area before you move on to the next. It also helps if you plan your route so that you don't have to go back into a room once it is done as you may end up undoing some of your good work.
Spend Time On Your Wooden Floors -
Wooden floors are very popular in our homes and anyone who has one will know how durable and stylish they look but they can start to appear a bit tired if they are left unloved for a bit. The good news is though that it is relatively easy to breathe new life into them; you just need to spend a bit of time on them.
There are many products on the market that will help you get the little scuffs and scratches out and then you can give them a good going over with a mop. Be careful to only use a little cold water though as some styles such real oak floors could begin to warp when in contact with excessive liquid.
If you really want to bring your wooden floor back to life you could look at removing the layer of lacquer on the surface and applying a shiny new one.
As well as cleaning, spring is also a great time to revaluate whether you need everything you have jammed into your wardrobe. Before you do this though you need to promise yourself that you're going to be as ruthless as possible otherwise it will just turn into a trip down clothing memory lane with you being nostalgic about clothes you no longer wear but you may do 'one day'. You could even turn this chore into a money making adventure by selling some of your old garments online or at a local car boot sale.
Once you have finished your cleaning marathon and just before you sit down to take that well-earned rest; there are some great finishing touches to add. Your home now probably smells pretty prominently of cleaning products and although this is not the worst smell and can be wafted like a badge of honour you should crown your cleaning with some pleasantly scented air fresheners. Another great finishing touch is adding a few bunches of fresh flowers around the home to really compound the feeling of freshness.