Another week, another football management casualty...or five. It seems that everywhere you look, in English football in particular, there are sackings, retirements and suspensions for the people in a role that has less job security than being a rain collector in the desert. In recent weeks we have seen high profile departures of Alex Ferguson, David Moyes and Roberto Mancini as well as not so high profile parting of ways between Bradford and Dean Saunders, Kenny Jackett and Millwall and most recently Tony Pulis and Stoke.
All this means that the list of the top ten current longest serving managers in English football includes men that have only spent 3 or 4 seasons in their job. Another startling statistic is that Brendon Rodgers, having only been at the Liverpool helm for less than a year, is now the fifth longest serving premiership manager. Meaning that fourteen top division clubs have parted ways with their manager in the last year or so (and Wigan, taking Roberto Martinez with them, have been relegated).
The irony is that two of the longest serving managers in premier league history, Ferguson and Moyes, have recently conspired to each other's demise so to speak and now both clubs are facing their first season with a new manager for a number of years. But this is just the tip of the iceberg when it comes to the spinning top inside a revolving door on the merry-go-round that is football management.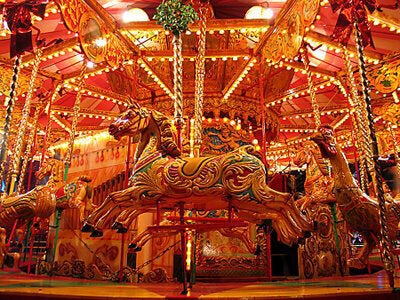 If there was one club that summed up how farcical the situation has become in recent years then it would be Blackburn Rovers. Once kings of the Premiership, Rovers have had four different man in charge since being relegated at the end of last season and one of them, Gary Bowyer, has had two spells as caretaker.
After the departure of Steve Keen in September 2012; the riversiders let Henning Berg have a go for just 57 days and Michael Appleton for an equalling laughable 67 days. And so it seems the average life expectancy of a Blackburn Manager is shorter than that of the chickens the owners use for meat processing in their Indian factories.
Success Used To Bring Plaudits -
In the days of football past, success brought upon a club by a good manager used to guarantee job security and plaudits from all angles but in today's footballing world it seems that success breeds impatience from club owners and builds even more pressure to succeed in future seasons.
The adulation that accompanies the best achievements in the game is a lot more short-lived and owners are not afraid to point the fickle finger of fate in the direction of their manger and utter those words made famous by Sir Alan Sugar; knowing that the managerial merry-go-round is likely to spin again in their favour.
Statistics taken from the league managers association website state that the average duration of a manager's tenure across all four leagues is currently at just over two seasons. That's down from nearly twice that (3.94 seasons) which was the average over the last five years. The problem is highlighted even further by the fact that in The Championship, arguably England's most competitive league, managers only get 1.38 seasons to show their worth before they are unduly dumped back onto the pile.
What This Means For The Future -
So what does this matter to the average fan? I mean who cares if a few millionaires are losing their jobs every now and again only to quickly find another equally lucrative role at a different club? Well the fact that it could have major effects on the game in the long term should worry every football fan.
The problem being that there is already a shortage of quality football coaches in this country and seeing the people at the pinnacle of the game turning from heroes to villains practically overnight and losing their jobs left right and centre is only going to discourage young people further from pursuing this route into football.
Everybody knows the role of a football manager is tough and there is pressure thrust upon them from all corners of the footballing world, but realistically who is going to want to take their first steps into a career that is rapidly spiralling into a parody of itself? Even former and current players aren't going to want to take a sip from that poisoned chalice. We need young managers and coaches to provide football coaching for girls and boys around the country at all levels. Without quality managers and coaches we will never be able to produce the quality players that this country needs in order to regain its position at the pinnacle of world football.
Related