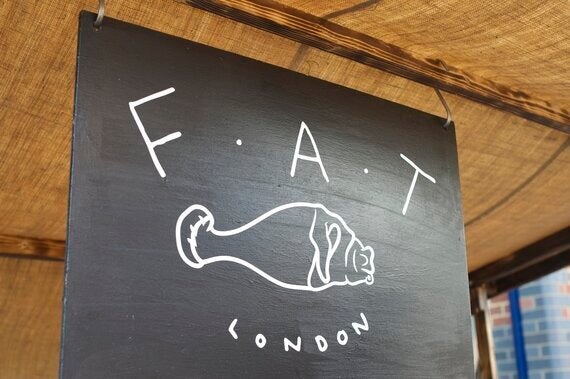 Photography by Chris Osburn © 2015
Okay folks, I've got a couple of phrases I'd like you to repeat after me. The first one is "kimchi and Stilton grilled cheese sandwich" as this is the future of what you shall crave. The other is "Druid Street Market," which is an important phrase to remember because that's were you're gonna head on Saturday to take a bite out of this uber-umami toastie.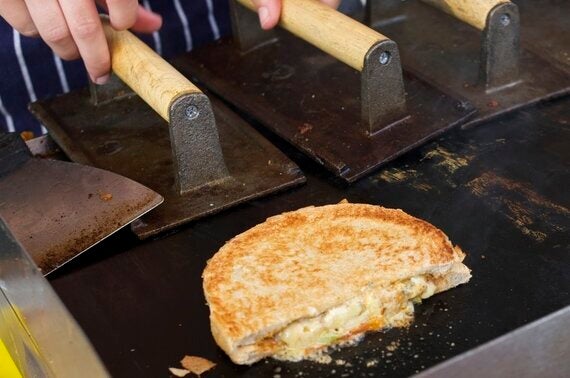 Photography by Chris Osburn © 2015
The kimichi and Stilton sandwich can be found at the F.A.T market stall at the new Saturday-only Druid Street Market. Made by pickle and sauce enthusiast Freddie Janssen with her own homemade kimchi, aged Stilton blue cheese and bread from St John's Bakery, it's a winning combo served hot at £4 for a small and £7 for a large.
Yes, that's right there's another foodie street market that's just launched in London. And yes, it is just round the corner and down the street from the heaving and popular Maltby Market. However, the Druid Street doing are distinctive enough to be their own thing ... and delicious enough for me to wanna shout about.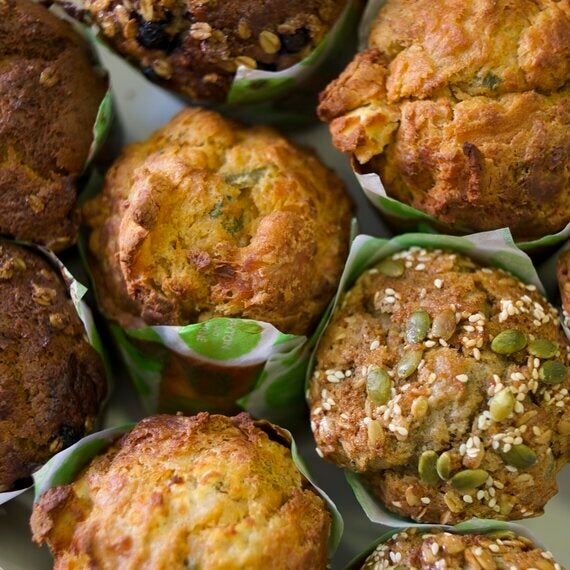 Photography by Chris Osburn © 2015
Anchored by a few brick and mortar businesses operating out of the street's railway arches (chiefly magnificent muffin makers Peyton & Byrne bakery), the market is the brainchild of Toast Magazine Editor, Miranda York, who sees the market as an opportunity to curate a tasty selection of "fresh produce, innovative new products and street food." Based on my time tagging along on a tour she led last Saturday, I'd say Miranda's off to an excellent start. I very much enjoyed munching my way through the market and was pleased to have her confirm to me that she aims to keep the ready-to-eat component of the market capped at 40%. So, folks can actually shop for products to take home and prepare themselves.
Miranda and crew are also hoping the market can sustain trade on Sundays too and that events such as guest chef appearances, book releases and more will find their way into the Druid Street calendar.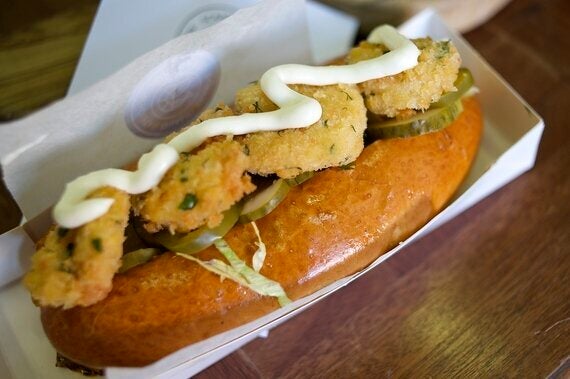 Photography by Chris Osburn © 2015
In addition to the kick ass kimchi sarnie, I liked everything I tried during the tour, and loved much of it. Highlights included cold brew coffee from Black Box, Scampi Shop's fresh made scampi with ample dollop of some pretty awesome tartar sauce, savoury hams cured in East London by Blackhand Charcuterie, and downhome Louisiana style fixings from Decatur London (iced tea, gumbo, oysters, gumbo - yes sir please and thank you kindly).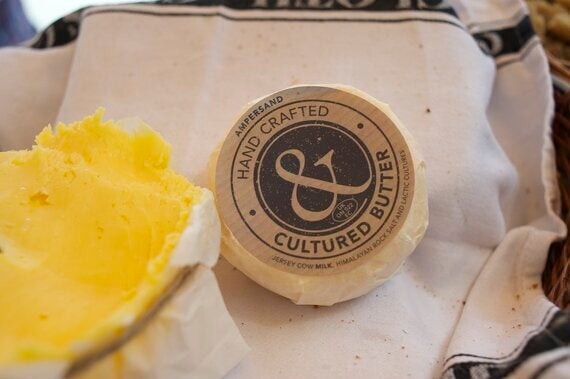 Photography by Chris Osburn © 2015
One more vendor who rocked my palate something mighty was Grant Harrington (ex Faviken and Gordon Ramsay) whose "&" brand batch cultured English butter put butter on a whole other level of yum.
Is that it? Hardly. But you ought to head over there and find some treats to crave for yourself.
Druid Street Market is open on Saturdays from 9am to 4pm. Find out more at druid.st.
The original version of this review was published at tikichris.com.