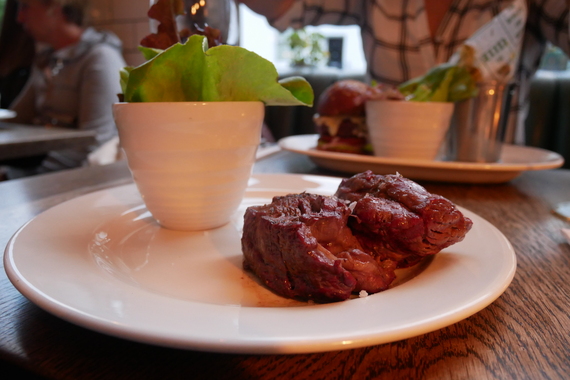 Photography by Chris Osburn © 2017
King's Road restaurant, The World's End Market, has launched a new "Jose Gordon (El Capricho)" menu offering select cuts of extra mature ox meat reared and aged by Spanish grill master, ox farmer and Chef Patron of acclaimed El Capricho restaurant (and Netflix star), Jose Gordon.
For a gorgeous steak that's more of a one-off special treat than just another slab of meat, this menu is just the thing. With it, World's End just leapt from a reliable go-to for when I'm down that way to one of the most exciting places I've eaten in London this year. And my recent dining experience there was a deeply flavoursome one to savour.
Excellent seafood, above standard cocktails (including one of my favourite Old Fashioneds in town), and a fantastic upstairs bar/lounge have seen me make a crosstown effort from northeast London to enjoy a taste of the Chelsea action in the past. With the El Capricho selection of charcuterie, tartare, chops and obligatory burger, I'm more keen than ever to make that trip.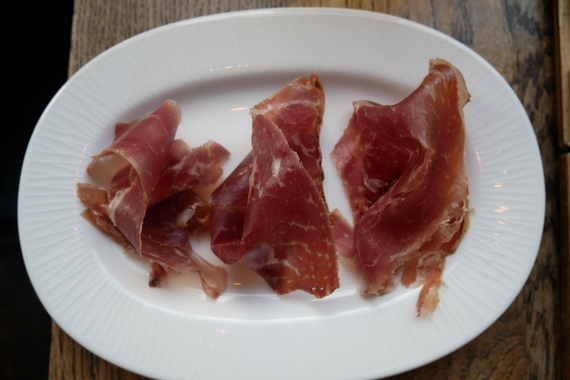 Photography by Chris Osburn © 2017
My meal started with a chance to sample Gordon's seven-year cured Cecina de Buey (ox leg, £17) - an umami wonder and a promise of more amazing morsels to come. Following that was a sumptuous plate of ultra thins slices of ox tongue (£13). But what got me oohing and ah-ing with each chew and torn between wanting every single bite for my greedy self and feeling an intense need to share with my dining buddy to make sure such a rich, juicy, palate coating and long lasting sensation was not my imagination alone was my main: 100-day aged solomillo de buey (ox fillet, 200g, £39) from a beast left to graze for up to 14 years. Wow.
A couple of perfectly mixed cocktails before and after, a side salad of greens with my steak, a bottle of quality Malbec, and a nice panna cotta for my dessert were all fine as well and normally worthy of more mention but, frankly, paled in comparison with what was enjoyed from the El Capricho menu.
My pathetic scratch of understanding of Spanish suggests El Capricho means "whim." What a whim to raise oxen for over a decade before - and then aging its meat for months and sometimes years before making available to the public. If the world were to end today and one of Gordon's steaks were to be my last meal, I think I'd be alright with that. But I also think I'd be disappointed I'd never made it down to his restaurant in Spain (one for the bucket list I suppose).
As with past visits to The World's End Market, service was attentive and quick.
The original version of this post was published at tikichris.com.
This post has been published on HuffPost's blogging platform. The views and opinions expressed in this blog are those of the author and should not be taken as those of HuffPost. HuffPost does not allow bloggers to acquire products, access or accommodation for review in the site's name.