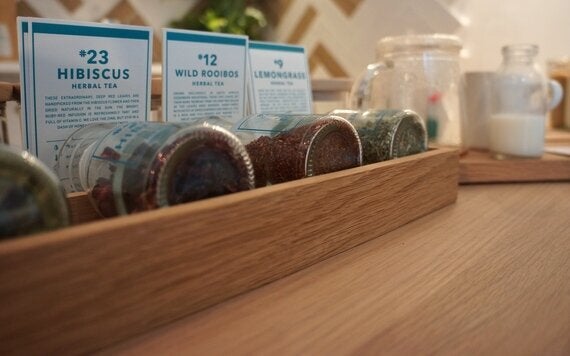 Photography by Chris Osburn © 2015
Imagine something good and properly British making the London street food rounds that's not so much newfangled - and definitely not contrived - but traditional and comforting and prepared with thoughtfully sourced product and served with a friendly smile. Ah tea ... and crumpets. Amid an Old Street panoply of virtually whatever you want to sip and sup, food that's quintessentially British is in short supply. Good & Proper Tea Co aims to change that.
Entering its second week of trading as a bonafide brick-and-mortar, Brockley Market mainstay, Good & Proper Tea Co, brings a tried and true favourite to the similarly brand-spanking The Bower just outside Old Street Station with a delectable offering of whole-leaf, single origin teas, all carefully chosen by founder Emilie Holmes and accompanied by a short and sweet assortment of house-made crumpets and cakes.
This wee comptoir's scope is narrow but goes deep with a smart selection of teas to cover all the bases of a complete range - from black to white with herbal too. I had a couple o' cuppas of teas recommended by Emelie when I slid by last week for taste of what was brewing. The Yunnan black tea was a cocoa and smoke heavy hitter, great for a morning rev. The Eastern Beauty, a fragrant and silky "dark" oolong was a sweet and sour winner that I'd be glad to have again (and again ... and especially as winter drear sets in).
If you don't know your Yunnan from your Assam, or your lemongrass from lemon verbena, then you're luck because much of the fun of the Good & Proper experience is getting to learn and try tasty things and find out what sorts of teas might suit your taste buds best (assuming staff isn't swamped with a queue of new adherents when you drop by). Also a lot of fun is watching your tea being brewed very techy, geeked-out and slightly mesmerizing Steampunk machines designed to speed up and enhance tea making. The "theatre of tea" is an important aspect, according to Emelie.
But rest assured if you're in a rush and prefer to simply ask for a "builder's", Emilie and team will be happy to oblige with efficiency.
Something to eat? Good & Proper serves amazingly scrumptious crumpets, on their own or as toasties. I was heartily pleased with the ham and cheese "crump' monsieur when I paid a visit. Next time if more inclined for something sweet, I might go with a crumpet with homemade hazelnut spread (along the lines of that well-known Italian treat whose name begins with an "N" and rhymes with ella, ella, ella).
Not one to bandy about Shoreditch and its Silicone Roundabout? Be on the lookout for the Good & Proper Co Citroen H Van or Brew Bar at Brockley Market on Saturdays and at pop-ups, markets and special events around town.
As a black coffee snob from foreign shores, I tend to reserve my tea drinking to the quainter moments of life - or when I fear the offer of coffee from a stranger means someone's going to stir around a scoop of instant coffee granules in a mug for me. But Good & Proper impressed and had me reassessing my relationship with the brew so closely identified with this country I've called home for over a decade. Not twee, dainty or presented with pomp - and certainly not about dipping bags of tips in scalding water or taking any shortcuts - Good & Proper Tea Co does justice to a time honoured drink.
Good & Proper Tea Co is located at Unit E, The Bower, EC1V 9NR. Find out more at goodandpropertea.com.
The original version of this review was published at tikchris.com.