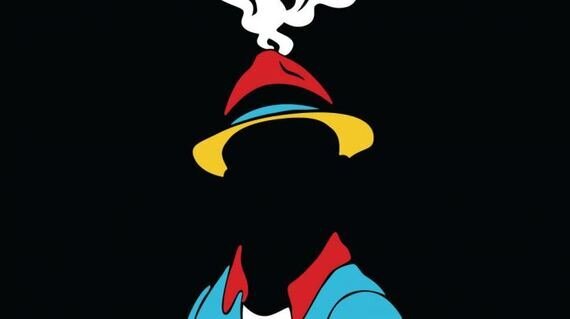 Hats off to the The Motherf**ker with the Hat, a motherfu**king powerful play that's well worth catching during its London premiere run this month and next at the National Theatre.
American playwright Stephen Adly Guirgis' award-winning and 100% N-Y-motherf**king-C story of fidelity fraught with fatigue and compulsion proved a hit in the city where it's set when it premiered on Broadway in 2011. Now the show has crossed the proverbial pond with the promise of wowing London theatregoers from now to the end of August.
Mother takes place in three Manhattan homes (in Times Square, Hell's Kitchen, and Washington Heights) with smart set design (Robert Jones) zipping from uptown scene to downtown scene at well under a New York minute and never lessening the pace of Indhu Rubasingham's direction.
The play tells the tale of Jackie, an ex-con struggling to overcome alcoholism nd drug addiction. Upon first encountering Jackie, he seems to be headed down the right track. He's happy, sober, living straight, and has even landed a decent job with the prospect of "career advancement" - until ... well ... that damn "motherf**ker with the hat" comes into the picture (or was he actually there all along?) to mess it all up.
Ricardo Chavira elicits laudable wallops of practically tangible pathos portraying Jackie's uncertain and paranoid journey through a minefield of addled emotions. Other performances in the National Theatre's production are less impactful, though, with a few key relationships lacking the sort of sizzling chemistry and dynamism that Guirgis' vibrant and full flowing dialogue demands.
Still, the audience of the nearly sold out performance I attended lapped up every line delivered through the entirety of the one hour and 45 minute play (no intermission) with discernably heartfelt glee.
The most appreciated lines - loaded with plenty of LOL quips - came via Jackie's rather camp cousin and lifelong buddy, Julio, played with aplomb by Yul Valquez (who was nominated for a Tony Award for his originating the role of Cousin Julio in the Broadway production of The Mother). There was ample audience appreciation for Flor De Liz Perez as well for her portrayal of Jackie's juicy (and juiced up) girlfriend Veronica (think Rosie Perez on a perpetual coke binge, lots of Nuyorican fire but less cutesy sass). At the play's end, a good number of audience members even roused themselves for a standing ovation (a not-so-typical sight in any London theatre) so moved were they by this driving tale of a sad situation.
What had me clapping with more vigour than usual was the play's honest account laid out in raw and colloquial dialogue of adults trying to cope in the adult world, yet how they're not often all that adult about it. In the words of Veronica and Jackie at the onset of the play:
"The motherf**ker delivers!"
The Motherf**ker with the Hat runs until Thursday 20 August at the Lyttelton Theatre inside the National Theatre, South Bank, SE1 9PX.
The original version of this review was published at tikchris.com.
Related