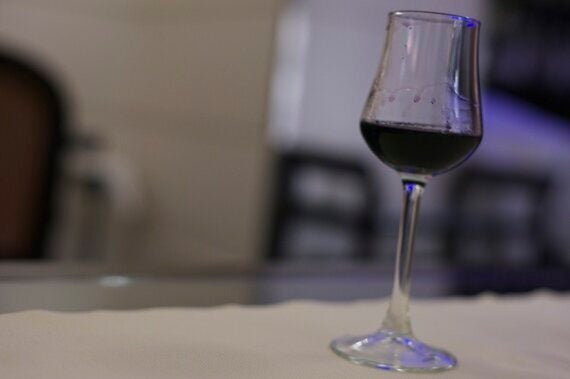 Photography by Chris Osburn © 2015
Craving to unwind, be pampered and have a taste of La Dolce Vita in grand style? When in Rome you can do so at the Jumeirah Grand Hotel Via Veneto's superb Time Restaurant & Wine Bar.
A recent weekend dash through Rome was one spent mostly on the streets admiring the city's most famous sights and bouncing between its best attractions. Almost every meal was of the budget friendly variety and enjoyed on the go (Roman cuisine is ideally suited for both). And with no complaints! But, a bit of the high life was indulged with a visit to the lavish Jumeirah Grand Hotel Via Veneto.
Opened in 2009 with 116 rooms and suites, the five-star Jumeriah joins two renovated and restored 19th century villas for one ultra-lux hotel with two fine dining restaurants, a rooftop solarium, a state-of-the-art spa (replete with waterbed shower treatment room), five meeting and function rooms, a fitness centre and a collection of art displayed throughout the hotel featuring works by Picasso, Dali, Dali and Chirico.
I was invited by the hotel for a sample of things to come from its main restaurant, Magnolia, which is at the moment closed for a refurb but with big plans to reopen under the guidance of Michelin starred Executive Chef Franco Madama. Time Restaurant & Wine Bar in the lobby was in full swing though and provided a relaxing setting for working through an assortment of dishes to be introduced once Magnolia reopens.
From a plate of the Roman classic bucatini all'Amatriciana that could more than hold its own against any served in the Eternal City to a more inventive and novel grilled tuna with spinach, pomegranate and wasabi yoghurt - dishes demonstrated an adept skill to indulge without overdoing it. Taster courses of aubergine with chestnut and red pepper, and pureed potato with walnuts and smoked caciocavallo, and a gorgeous chestnut and orange cheesecake confirmed a menu constructed with an ingenuity tempered by an understanding of what makes Italian cuisine so great (showcasing minimal, top quality, seasonal ingredients).
As much as Madama's dishes pleased, I was just as delighted by libations on offer and deeply impressed with Bar Manager, Domenico Maura, for his knowledge of all things thirst quenching, his skill as a barman and his gracious hospitality.
Divulging my penchant for Old Fashioneds, Maura had me try the bar's perfectly quaff-able house version to then be followed by a glass of his very own "New Old Fashioned." A mix of Genever Gin, simple syrup, orange bitters, mineral water and mint, Maura's update proved a magnificent rendition (though I might still be inclined to stick with the old Old Fashioned still; if it ain't broke ...). Love a Negroni? With Bitter Rossi D'Angera, Gran Lusso Martini Vermouth and Tanqueray Old Tom Gin, Time's Negroni should appease even the most finicky of imbibers.
The liquid highlight of the night - if not the year - for me came at the end with a wee glass of Mirto di Lusso (and Il Mirto Nero Classico Riserva at that). In a class all to itself compared to any other mirto I've ever had, this was one of the most flavoursome drinks I've yet to come by. Full bodied, silky and leggy as a supermodel, with minty/citrus notes accentuating its punchy berry flavour, it rounded out an excellent meal in elegant style.
The original version of this review was published at tikchris.com.