Question. What do the following things have in common: sperm whale secretion, explosives, anaesthetic, fluorescein (the industrial dye used to turn the entire Chicago River green every St. Patrick's Day), sand from the Pyramids, love drugs, chocolate, 24 carat gold, glow-in-the-dark dust and gelatin? Clue. It's nothing to do with George's Marvellous Medicine but it's not far off.
Answer. This exotic repertoire is a list of ingredients frequently used by the legendary jellymongers Bompas & Parr. Well that certainly explains our hangover after meeting them for a private jelly-making master class at their studio last week.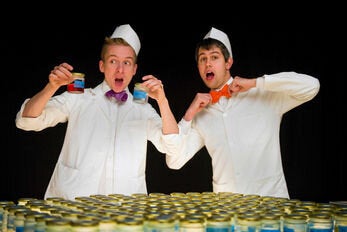 If you've never come across the work of Sam Bompas & Harry Parr, I can only describe it as a cross between Heston Blumenthal and Norman Foster with a soupcon of Willy Wonka thrown in for good measure. They exist in a beautiful world where art, architecture, chemistry, pyrotechnics, food and industrial quantities of alcohol collide at breakneck speed with extraordinary results.
Harry is the architectural brains behind the operation, taking charge of the mind-bogglingly complex 3D modelling and jelly mould-making using the industrial vacuum former which sits in one corner of the studio. You name it, he can make it.
Sam on the other hand is the flamboyant showman and provides the culinary brawn. He's responsible for the ingredients cabinet (which contains more skull and crossbones than an Iranian nuclear power plant) and for concocting the weird gloopy mixtures that fill Harry's bespoke moulds.
It's worth noting at this point how impressed we were to see the lads taking health and safety seriously (all dangerous gear is kept under lock and key), because let's face it, if their raw materials got into the hands of crackpot terrorists, world peace would be up a creek without a paddle. Either that or we'd have one hell of a jelly fight on our hands.
After Sam's animated and comprehensive introduction to the history of jelly we were given free reign over their impressive collection of mouldable objects and let loose on the vacuum former. With boxes and boxes of carefully labelled items from famous buildings (St. Paul's Cathedral, Buckingham Palace and Durham Cathedral) to intimate body parts, choosing what to cast wasn't easy. As you might expect it was a toss up between St. Paul's Cathedral and a pair of boobs, although Christopher Wren came up trumps in the end. And if you've never had a go, it's just about as much fun as you can have with a single sheet of plastic (cling-filming a small child to a lamp-post excluded).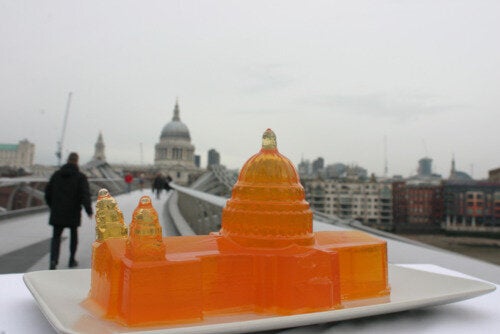 But their talents don't stop at jelly making. Since founding the company in 2007, Bompas & Parr have flooded a Grade-I listed building with four tonnes of lethal Courvoisier cocktail across which party-goers rafted on giant orange slices, they've created a breathable gin cloud (one deep breath is the equivalent of a strong G&T) and charted the complete history of food.
They've made wedding cakes, constructed a five tonne chocolate waterfall (flowing at a rate of 12,000 litres per hour), built a giant crystallized sugar cave and hosted a dirt banquet at Crossness Pumping Station, the Victorian cathedral to sewage. And to celebrate Valentine's Day they recreated James Graham's notorious 1782 Celestial Bed where visitors were invited to drink a love potion and then make love in the museum. The romantic old sods.
Before we left the studio I asked Sam if he had any top tips for wannabe jellymongers to try at home and here's what he recommended. Always use platinum grade fine leaf gelatine, only 100ml of liquid per sheet and don't add water (as long as the alcohol you use is below 50% ABV your jelly will set with a perfect amount of wobble) which is great news if you like 'em strong. Sam's favourite recipes are Negroni (Gin, Vermouth & Campari) and anything with bubbles (champagne & summer fruits or gin & tonic) but perfecting these takes some practice. Shame that.