It's always a tough time when a project comes to an end.
As we get older, the opportunity to keep a full-time job gets harder, when the average CEO is now only about 37; staying cheap enough & relevant enough gets harder as each hair falls out.
So, more of us now live portfolio / freelance careers. But again, as we get older we never know when the next phone call will come, requesting our brilliant qualities at an equally brilliant daily rate!
Our 1% need to be entrepreneurial of mind, when we are taught careers are for life. We have to embrace uncertainty, when uncertainty is the one thing everyone dislikes.
We have to be self-confident and self-motivated, not resting within the safe confines of a job for life. We have to not care what others think, as we work with people ten, or even twenty, years younger than ourselves.
But, we've done it before, we've occasionally achieved before, we've often failed before and if we learn from all those and with the experience of the new traits we have had to learn, we have a skill that means we are the ones that can make the biggest difference...
We can think bigger but also act bigger than others!
Many people spend years competing with the whole market because that's what you learn and that's how you earn a living. Nowadays that's tough, you have to either be the best or most likely, the cheapest.
But there's one more route open to us. We can think bigger and act bigger than the market. And up there, there's hardly any competition.
Why sell only 10 over there when you can sell a million over there?!
Experience has taught us that if you can pay your bills without worrying about them, then life with money, doesn't get any better! I know that's always tough to achieve. I reduced the size of my bills, rather than increase the pressure to earn more money in order to achieve it.
I could have earnt a lot more money. I could own a lot more stuff but I wouldn't be as happy as I am now, just being able to pay my bills. It gives me the freedom to think and act bigger.
Selling ten pays your bills, selling a million makes a difference. We can take the risk. Because if it doesn't work, we can just try again.
When your next project ends. Before you start the next one, see what everyone else is doing and be the 1% that can think and act bigger than the 99%.
A few days off, a few days of no emails and no cycling faster than 20mph!
The UN The Global Goals has been an amazing launch on work on. It has been validated that we reached 3 billion people in just the first 7 days. In the UK you may have seen Richard Curtis's TV special, watched the festival online, seen it on your bank machine screen or as an ad on your cinema screen, may have the app and you might even have got a text message! I've got to work in Shanghai and New York and deal with mobile CEO's across the world. It's been a huge high. (highlights)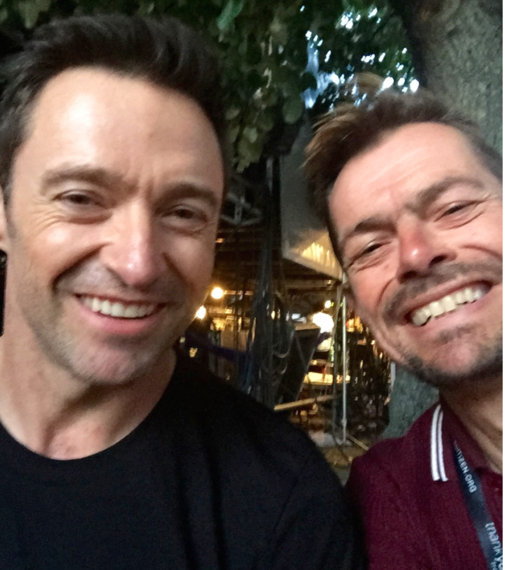 Chris Ward backstage with Global Citizen host Hugh Jackman
And in the middle of it all I got to compete in the amateur world championships road race in Denmark.
Global Goals has the potential to achieve what Red Nose Day has done in the UK, but across the whole globe, towards the 17 goals being achieved by 2030. If I believe we can actually achieve that, then I will feel compelled to do it.
But, I've very kindly been offered to be trained to get near the top ten in next years world champs. A year of pain for a potential fleeting moment of success? Tempting!
I've also had an idea for a TV series/play that i would love to write, about the conversations, relationships and resulting life-changing decisions that go on when a group of cyclists meet and ride together every Sunday morning.
And even another big idea. 'Open Minds' an annual, inspiring weekender (like Open House; where closed buildings are open to the public for one weekend a year). 'Open Minds' is a weekend when all classes, workshops, gyms, adventure experiences, open their doors for FREE to everyone. Try something for the first time that might inspire you to change your life...
I've no idea. It's all uncertain but the best thing is, at my age, I'm really happy with that. I'm in the 1%!