This blog is part of a month-long focus around sustainable fashion across HuffPost UK Style and Lifestyle. Here we aim to champion some of the emerging names in fashion and shine a light on the truth about the impact our appetite for fast fashion has around the world.
I've been privy to endless talk over the last 10 years about how to make the fashion industry more sustainable, with conversations covering a dirty bucket list of culprits needing change, from chemicals, cotton to capitalism. But whilst we continue to battle with fashion's devastation - so much of which is painfully evident from my perpetually polluted Hong Kong home that sits on the doorstep of the world's factory in Mainland China - it is essential that we also put urgent focus on educating designers from studios and schools around the world. Because if we're talking about lasting change, educating tomorrow's leaders about sustainable design has arguably the largest potential to change the future. Prevention, after all, is better than cure.
I often feel that fashion designers don't get the respect they deserve in revolutionising not just fashion's hemlines or hues - but also its very sustainability. Designers are incredibly important. It is estimated that designers influence 80-90% of the environmental and economic costs of a product. They are at the top of the supply chain in creating one of the world's most polluting consumer products - clothes - and their decisions made at the drawing boards greatly alter - for better or for worse - the sustainability of the entire fashion industry. With power like this, designers can either continue being ill-informed agents of devastation or move to become enlightened agents of change.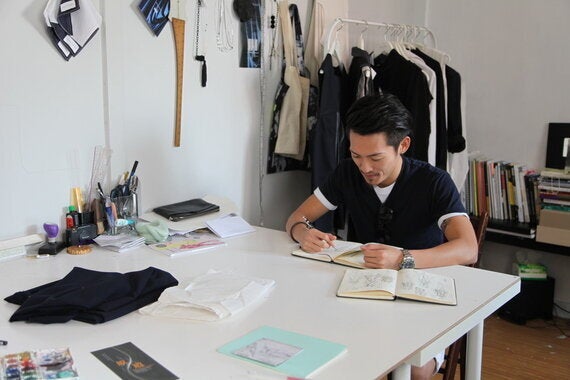 Sustainable designer Kelvin Wan at work in his studio for brand Wan & Wong ©Redress
But what I am witnessing is a drowsy-to-comatosed pace of getting education to designers. Yes, it's true that sustainable design education is gradually percolating into lecture theatres and textbooks around the world as select fashion institutions, from Berlin to Beijing, offer the odd optional module or seminar, many of which are too often just an add-on. Those few forward-thinking universities that go so far as offering a masters in sustainable design or who integrate sustainability across all their fashion curriculums cater to a meer smidgen of the mostly already engaged few.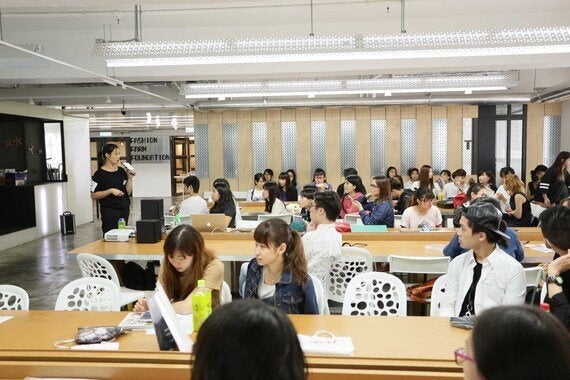 The EcoChic Design Award Sustainable Fashion Academy, Hong Kong ©Redress
With the systemic change in the academic world dragging their feet this much, you're forced to ask yourself how these designers will ever make head or tail of the issues. And don't fall into the clichéd misconception that students are more interested in the student bar than making it fashion better. We surveyed just shy of 1000 fashion design students living in China, Hong Kong, Taiwan and Singapore - not places normally considered as bastions of sustainability - and found that 97 percent of students want sustainable design education. But too few are getting it and are heading into their careers in the industry none the wiser of their impact or power to influence through design.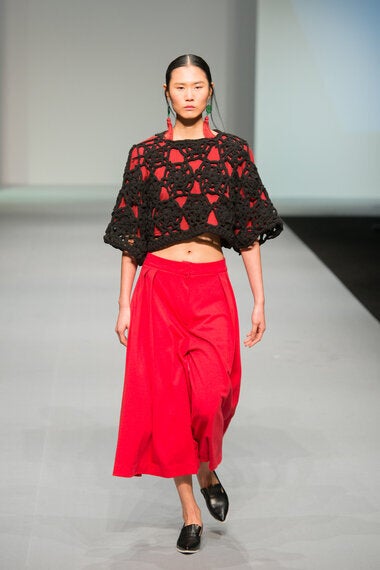 Up-cycled design by Cher Chan, finalist of The EcoChic Design Award 2014/15 ©Redress
At Redress, we've attempted to bridge the worldwide abyss in the provision of sustainable design education through The EcoChic Design Award sustainable fashion design competition for emerging fashion designers. For a small team, we're on a big mission to educate designers and we give lectures, anywhere from Beijing to Bombay, and Academies, from Singapore to Shanghai, and inspired change through our online Learn platform, which has a growing number of followers and fans across the world. We also count over 60 fashion institutions in Asia and Europe as our partners and we know from our experience with them that the want to educate their students in this area of sustainability.
We have also witnessed a growing number of our competition alumni put their education into action as they set up shop with their own sustainable brands. This new wave of designers are proving that stylish fashion can be made more sustainably by using textile waste reducing techniques and by partnering with industry to source for waste fabrics. We like to think they are putting waste back into fashion, and it's even more exciting to see how many call Asia home.
But whilst our efforts to educate designers are highly effective in changing emerging designers' entire design philosophies, they remain a mere drop in the hoards of young designers setting off into the industry.
If as a global community we're in agreement about the need for urgent change, we have to go back to the drawing board and talk about education. So let's not just talk about it; let's put our money where our mouth is and do it.
Redress is an NGO with a mission to promote environmental sustainability in the fashion industry by reducing textile waste, pollution, water and energy consumption.
The EcoChic Design Award is a sustainable fashion design competition inspiring emerging fashion designers and students to create high appeal clothing with minimal textile waste. Designers are educated with the theory and techniques to enable them to create sustainable clothing via zero-waste, up-cycling and reconstruction. The competition puts emerging sustainable design talent in the spotlight, creating a platform for the next generation of designers to cut waste out of fashion.
HuffPost UK Lifestyle is running a special series around Sustainable Fashion for the month of September. Livia Firth is creative director of Eco-Age and founder of The Green Carpet Challenge, and will be guest editing on 18 September. If you'd like to blog or get involved, please email us.