It took my 12-year-old son's comment about the rapid-fire expansion of Spotify and Uber to make me appreciate the revolution in ownership that is taking place. We don't own our music, thanks to Spotify, and the largest taxi service, Uber, now allows its customers to share their taxi rides with strangers. Then, there's the largest accommodation rental company, Airbnb, which is raking in money by allowing homeowners to shack up with travellers, despite Airbnb not even owning any properties!
From travel to tunes, the revolution in sharing is booming. It's even happening with our clothes.
People are increasingly warming up to the concept of temporarily owning their clothes through rental or swapping schemes. And it doesn't stop at sharing. The revolution is transforming the way we think about and treat our clothing waste. Thankfully, we're moving away from the linear economy model, which rather short-sightedly sees clothes unnecessarily discarded into landfill. Now, we're talking circular economies, where 'waste' clothing, and their imbedded resources, re-enter the supply chain for re-use.
This is music to my ears. The longer we keep clothes, which are one of the world's most polluting consumer goods to produce, in the fashion loop, the better.
This revolution in how consumers approach owning and discarding clothes is scooping up fans, from stylists to students, who are increasingly 'closing the loop' on their fashion consumption. Not surprisingly, savvy entrepreneurs in small start-ups to the global big business players are further driving this appetite for new ways of consuming and discarding that tackle waste head on.
So how easy is it to join this type of shared economy? My husband's recent highbrow company anniversary party gave me the excuse to find out. Wanting to bedazzle his clients as much as he has done but without increasing my negative impact on the planet by buying a new outfit, I opted to rent a cocktail dress for the occasion. One quick snoop online; a couple of clicks; and, hey presto, sitting on my desk the next day was one of the season's latest looks; a racy gold lace number. The economic and environmental costs of my 'consumption' were low whilst my impact at his party was, thankfully, high. And with the garment now returned, laundered and available again for renting, it's probably dancing the night away on someone else as I speak, rather than languishing unworn in my wardrobe.
There are other ways to rent too. Some companies allow you to rent for extended periods and often give the option to buy the piece if it becomes one of your wardrobe staples. Moving beyond rentals to subscriptions, there are even clothing libraries, where for a monthly subscription you can take out a corresponding number of clothes that are later returned. What's on offer in these businesses is not limited to the rare need for a tux or cocktail dress. Instead, we're talking high-fashion and ready-to-wear clothes that are work, play and party-friendly.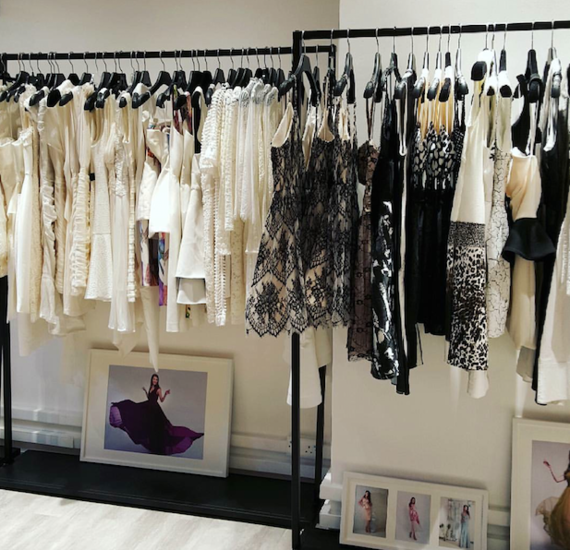 The Yechoo rental boutique, Hong Kong
More good news comes from the clothing swaps and reselling that is tearing through closets around the world as more consumers (finally!) wake up to the untapped value sitting in their unworn clothes hanging around in their closets. Thankfully, companies are also getting in on this by taking responsibility for their products' end of life. In a bid to move closer towards closed loop systems more retailers are offering used clothing take back schemes so that their customers can drop off their unwanted clothes back in-store. Some even provide pre-paid packaging at the point of purchase so that you can post your unwanted clothes back to the company or straight to charity to care of your 'waste' in a more sustainable way. The expansive list of companies getting involved in collecting used clothing demonstrates the business interest in capitalising on waste. Throughout the world and in various degrees, global players H&M, PUMA, Levi's, Esprit to Patagonia, Eileen Fisher, MUD Jeans and Filippa K want your waste. Many of them even offer incentives, like cash, vouchers or even the chance to trade old for new. Some have gone so far as to even establish their own secondhand clothing shops!
I recently checked out H&M's take back campaign by dropping off some of my own unwanted clothes in-store, to release them back into the circular economy. My clothing's onward journey will see them sorted and redistributed into different markets, with the finest quality being sold again to some even being recycled to make 'new', recycled textile clothes.
But these positive initiatives are only making small dents in the mountains of clothing waste created globally. What we need is more consumer demand and support for these types of business models that are tackling waste. We need a shift in mindset from owning clothes to sharing them. Because we must radically change the way we dress if we want to stay in fashion.
Redress is an environmental NGO working to reduce waste in the fashion industry. They organise the sustainable fashion design competition, The EcoChic Design Award, and will be live streaming its 2015/16 grand final on 20 January, 9am GMT
Popular in the Community