I remember the scenes clearly that day of the wrangled metal and concrete of the collapsed Bangladesh Rana Plaza factory. Within the rubble, the crushed and dismembered remains of 1,138 dead Bangladeshi garment workers were visible. Their blood soaked into that season's trendiest tank tops and mini-skirts as the poorly constructed building, topped off with illegal floors, dropped to the ground like a pack of cards on 24 April, 2013.
Screams of pain and panic shot through Bangladesh as distraught family members wailed for their loved ones. Screams of a different kind of panic most likely echoed around fashion brands around the world. Many brands didn't even know if their products were being cut and sewn within the now flattened Rana Plaza because such is the supply chain's rampant practice of outsourcing in search of fashion's holy grail - the cheapest deal. I imagined that overnight, fashion brands upped their legal, compliance and CSR headcount - or coped with massive overtime - to accommodate the whiplash caused by the lack of transparency that was clearly evident within their supply chains.
But what impressed me was that elsewhere on the sidelines, leaders within NGOs and academia coalesced to form Fashion Revolution, the global movement calling for greater transparency, sustainability and ethics in the fashion industry to commemorate the Rana Plaza disaster.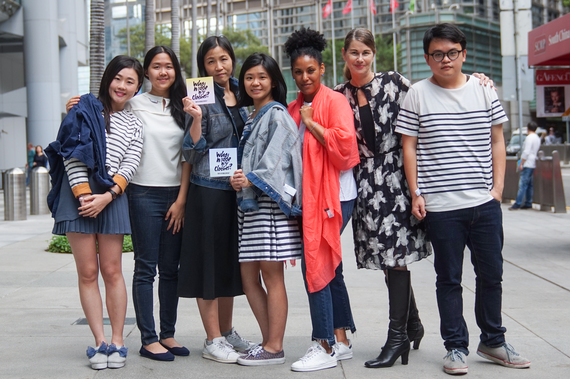 Ask brands "Who made my clothes" and demand greater transparency in the fashion supply chain. Photo: Redress
Fashion Revolution was celebrated this week in over 94 countries, including in Hong Kong and China, for which Redress, the NGO that I founded in 2007 in Hong Kong, are country co-ordinators. At its most simple, Fashion Revolution encourages millions of people to ask their brands "#whomademyclothes?" by wearing their clothes inside out, posting on social media and hashtagging their brands to join this social media campaign. Year on year, the number of consumers who tweet, wechat or Instagram rises, pushing the movement further up in the trending lists. Last year 70,000 people asked brands #whomademyclothes?, reaching 156 million organic impressions and most likely giving their brand boardrooms something else to worry about.
I'm certainly a strong supporter of Fashion Revolution as I hate the idea of wearing clothes that could have been made by poorly-paid or ill-protected workers. Incidentally, around 67% of our clothes are made in developing countries, so the chances could be high. But I also can't help looking at China, the world's biggest clothing and textile exporter, and wondering if China experiences regular "Rana Plaza" like death-tolls of her own, which often go unreported.
It's like so much in life - we need a crisis to sit up and take notice. Seeing those bodies, counting the body bags, hearing the screams; it's visceral. But what about the millions of people who die a slow, painful and relatively silent death caused by pollution arising from manufacturing?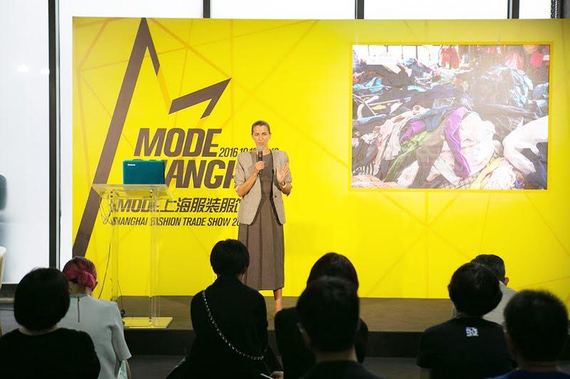 "Like smoking and sugar, the fashion industry is a threat to public health," said Christina at Shanghai Fashion Week 2016. Follow her journey on Instagram @DrChristinaDean.
I used to be a dentist. Yes it's a far cry from fashion. But my five years training and my two years in practice in London taught me a lot. Firstly about pain. Toothache pain is like no other and I've seen grown men weep and beg me to pull their rotten teeth out. It taught me a lot about life. And death. For part of my training, I had to saw an, admittedly already dead, man's head off in order to dissect it and to this day, I wonder who he was and I have such admiration for this unsung hero who gave his body to medicine. It also instilled in me a great respect for public health. I really believe that we all have the right to live without undue disease or death caused by others. And by others, I include the impact caused by manufacturing on the public.
My experience of pain, death and public health deepens my sadness about the negative health effects of manufacturing - be this fashion, textiles, pulp or paper - on the innocent people of the world. Picture this scene, which plays out on our very doorstep of Hong Kong. It's estimated that 1.6 million people die of air pollution in China every year; 190 million people in China fall ill and 60,000 people die every year from diseases caused by water pollution. Topping this off, a massive 61% of China's groundwater is classified as "unfit" for human contact by China's Ministry of Environment; and China has 450 so called "cancer villages". This human suffering is huge. And compared with the mangled mesh and screams witnessed as Rana Plaza collapsed, China's suffering appears almost in silence.
But let's get back to Fashion Revolution this week and what the devastation has given rise to for the entire industry. Stepping onto the main shopping streets among the throngs of people, I wonder if Hong Kong and Chinese fashion consumers really care who made their clothes. Or perhaps China's consumers should ask "How their clothes were made? given the heightened awareness about China's pollution on health.
Let's not allow "out of sight out of mind" to cloud our judgment about the clothes we buy and wear. As global citizens, we must always question "Who Made My Clothes?" and "How were they made?" It is, after all, highly unpleasant to unwittingly style oneself with a mysterious layer of pain and suffering. The Rana Plazas of the world must allow fashion consumers to become fashion citizens. Let's shop our way into a more ethical future by buying clothes - made by responsible brands, with high durability and great quality that we want to wear for years - from the heart.
---
This post is part of our "Reclaim" initiative, which showcases solutions to the issue of fashion waste and engages our readers to take action. You can find all the posts in this initiative, as well as feature pieces, investigative stories and video, here. Follow the initiative on Twitter at #Reclaim.