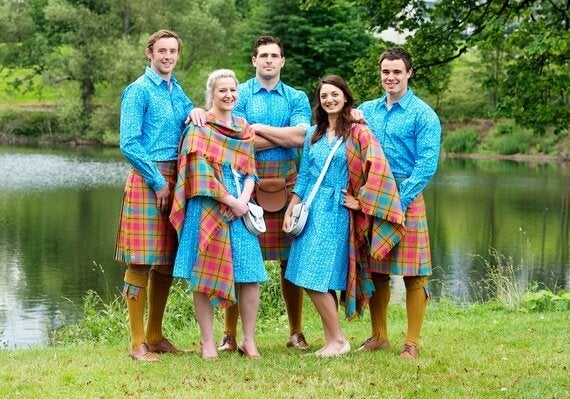 Sunday night. Family dinner. Glass of red in hand, we moved from the dinner table to the sofa and, as families do these days, picked up our smartphones to scan Facebook. It seemed everyone was "talking" about the same thing: Scotland's parade uniform for the upcoming opening ceremony of the Commonwealth Games in Glasgow.
The Scotland team received their parade uniforms and kit for the Glasgow 2014 Commonwealth Games at a special unveiling in Stirling on Sunday evening. The sports kit is an inoffensive combination of blue and white printed with the Team Scotland logo. The parade uniform - designed by textile artist and designer, Jilli Blackwood, a graduate of Glasgow School of Art (1986) - has slightly more to it. The male athletes have, unsurprisingly, been given a tartan kilt, made up of four different colours; primarily caramel with an almost-turquoise blue, fuchsia and navy. The shirt is the same shade of blue, with a flag-like print. For the female athletes, it's that same blue again, this time as a shirt dress (good silhouette), to be worn with a tartan shawl and a cross-over bag (in a slightly random shade of stone), intended to replicate half of the Scottish saltire. My initial feelings were that of disappointment; the colour combo was the fashion equivalent of a handball in football - exactly why did we do that?
As we scrolled through our Facebook feeds, it was clear that few people liked the uniforms. Of the 400+ comments on The Courier's page, the negative comments ranged from, "Please tell me this is a hoax!" to, "It's a shame for the host nation to have such an embarrassing statement to make to the commonwealth," and even, "Before I saw this I was inclined to vote YES - swinging the other way now." One comment was notably positive: "Change is difficult...they look fresh, new, bold and different." That much is certainly true...
On my own Facebook, I asked for my friends' thoughts. They included, "I think the women look like cabin crew from some comedy Scottish airline! What I would say is that it most certainly stands out," and another, quite simply, said, "Boggin'."
Over on Twitter, I had a similar response from a Tweeter in Ayr. He said, "We have the opportunity to show off the best of Scottish fashion, and we choose to show that disaster to the world." He hit the nail on the head: with so much young design talent continually coming out of Scotland (e.g. graduates of Glasgow School of Art, Edinburgh College of Art and Duncan of Jordanstone in Dundee), how is it possible that the parade uniform would receive such a bad response? Sartorially speaking, how could Scotland make such a fashion faux pas when it has such great fashion credentials?
The expanse of turquoise fights for attention against the busy tartan that seems to have been draped here, there and everywhere, while the stone bag punctuates what is, quite frankly, a visual disaster. When describing her work, the Jilli Blackwood website says, "... blurs the boundaries between 'Fashion and Art' and 'Art and Craft'" suggesting that yes, Jilli Blackwood might be a successful textile artist, but perhaps her forte is with interiors and art.
We could have had our pick of renowned Scottish fashion designers that are regularly critically acclaimed - internationally - for their collections (think Christopher Kane, Jonathan Saunders, Holly Fulton), although, perhaps budget was an issue. However, I struggle to understand why Scotland didn't consider supporting an up-and-coming Scottish graduate, such as Scottish Fashion Awards Young Designer of the Year 2012, Hayley Scanlan or Project Runway winner Jacob Birge, both of whom have a sporty aesthetic in their current collections and who have experience of working well with external organisations...
Back to the sofa and family discussion on Scotland's uniform; we agreed that the first colour that comes to mind when thinking of Scotland is navy or dark blue. Navy is a strong, bold colour and yet is subtle - think of the Duchess of Cambridge when she and Prince William announced their engagement; her navy Issa dress was perfectly demure yet entirely confident (even if she wasn't).
Of course, the Commonwealth Games are a sporting event, so this isn't exactly fashion news - what's actually important is our performance at the games - however, as the host nation, it is a shame that we haven't got off on the right foot. Fashion is fickle and fun, but it represents a great deal, from emotion to personality and intention. Think of it as hosting a dinner party - one would hope to appear calm and in control, despite the nerves simmering in the background. Neutral colours, such as navy, achieve this; brights don't. Instead of appearing capable and quietly confident, I'm afraid we might have expressed ourselves as easily distracted clowns. But, having hired a self-confessed "colourist", this shouldn't really have come as a great surprise.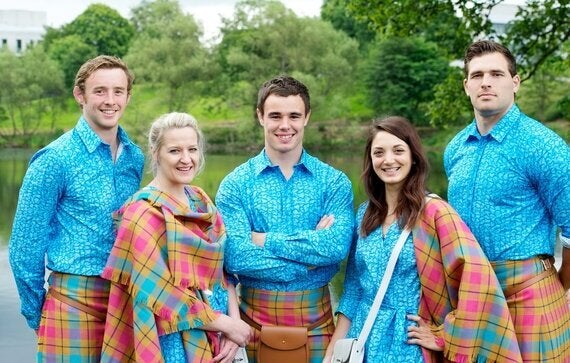 Image credit: Rebecca Lee