How much do you spend on your underwear? Is yours a case of picking up a supermarket multipack for less than a tenner while you do your weekly shop? Or do you prefer to browse the high street on a Saturday morning before meeting friends for coffee? If you're anything like me (and by that, I mean you have big boobs) you'll probably have to shop for your undies somewhere practical (somewhere that has a DD+ range) and that means you'll be spending upwards of £30 on a bra regardless of how you feel about it. (I'm often complaining about the cost of my bras and bikinis, because the top alone is expensive and then they charge a fortune for the matching pants, just because they can). It might be that you're a woman who loves to splurge on beautiful lingerie with a designer label, but how many of us really spend the equivalent of an annual car insurance premium on a couple of sets of undies that, let's face it, only a couple of people will see?
At WACOAL DIA, an overtly luxurious Japanese brand, lingerie costs in the region of £250. The designer, Atsuko Kamio, describes her designs as for women who 'seek sensibility and perfection, and understand a delicate sense of beauty.' These are elements which are reflected in the latest lingerie collection, which takes inspiration from the home of their design - Japan. Inspired by a Japanese painting of Aogaki (Green Persimmons), flowers and leaves are the focal point of the collection, which features a padded plunge bra with the allure of sheer flared knickers, hand finished with feminine bows and Persimmon leaf motifs. The femininity and romance continues with bold and rhythmical flowers and leaves designed to move sensually with the body - in particular, the hand finished diamante drops and peek-a-poo aesthetic of the sheer base teamed with seductive suspender belt, thong or brief. It's super pretty, super feminine, and super expensive.
So exactly who buys this type of lingerie? I doubt that this is a case of Man Buys Lingerie (you know, when he buys what he wants her to wear, often ghastly and red); this is definitely a collection designed and made for women and, in turn, it's women who buy it. But exactly which women? Wealthy women, for sure. Lingerie fanatics, definitely. The average woman? Probably not. But then, it's not average underwear.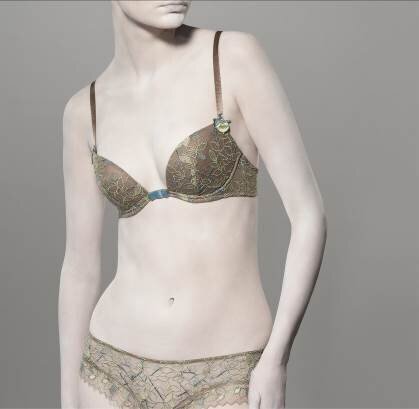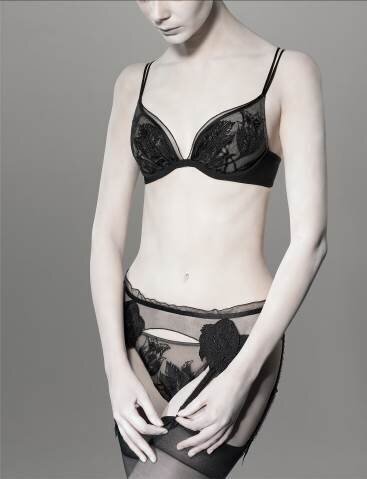 Want to see what all the fuss is about? Visit the opulent WACOAL DIA pop-up shop in the world's most famous department store, Harrods this weekend. The shop opens on Friday and Harrods is the only stockist of WACOAL DIA outside of Japan, perhaps making it the most exclusive lingerie label in the world. Don't worry if you can't splurge - it's worth visiting if even just to admire the craftsmanship. And there's always the supermarket dash on the way home.