Last week Glamnet's owner, Joanne, was invited to preview the Daphne Guinness Collection which will go under the hammer at Christie's tonight. Daphne was there to present the collection, and talked movingly about her friend and fellow fashion muse Issie: "the sale was the only poetical way for me to say thank you to my friend who I carry in my soul. She meant so very much to me."
The Daphne Guinness Collection includes couture items carefully selected from Daphne's own wardrobe, and features pieces by Alexander McQueen, Chanel, Balenciaga, Christopher Kane, Christian Louboutin and Gareth Pugh. It's a fantastic chance for fashionistas to get their hands on rare couture pieces - most of which were acquired directly by Daphne from the designers themselves. Although there are over a hundred lots to bid on, the star of the show is a stunning sculptural metallic silver mini-dress, made for Daphne by Alexander McQueen in 2008 and is estimated to fetch £20,000. Daphne has chosen items that reflect her unique style and it is clear that she is parting with pieces that have history and personal importance attached. Proceeds from the sale will go to support the Isabella Blow Foundation and preserve the Isabella Blow collection which Daphne Guinness bought in 2010 after the death of her friend.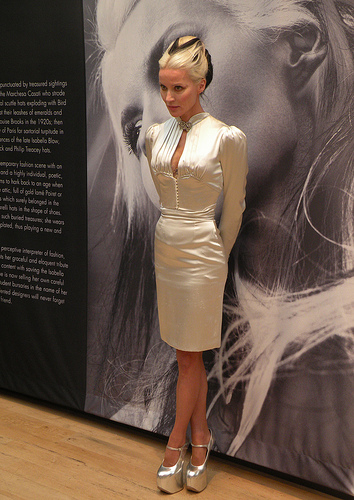 It is a generous act to split up your own collection in order to preserve that of a friend; and indeed there are ambitious plans to exhibit Isabella Blow's collection online while it will be housed physically at Central Saint Martins as a resource for design students. The largest portion of the Blow collection, consisting of well over ninety outfits, pays homage to one of Isabella's greatest discoveries: the late Alexander McQueen. Also included are examples of John Galliano's early work, hats by Philip Treacy, a number of Manolo Blahnik shoes, and items by Hussein Chalayan and Giles Deacon. The collection beautifully expresses the passion, vision and tastes of the inimitable Issie.
Issie's talent lay in recognising talent in its raw state. She supported those she admired unconditionally, and left behind a permanent legacy in the designers she nurtured and in the clothes that she left behind. Many of the most cutting edge designers of her generation owe their big break to her, encouraged and shaped by Isabella's totally original and generous personality. Isabella inspired McQueen, acting as his ambassador - marketing, placing, selling and wearing his clothes. Their relationship went even deeper, with McQueen commenting after Isabella's death, 'what I had with Isabella was completely disassociated from fashion, beyond fashion''.
The Daphne Guinness Collection sale will take place at Christie's South Kensington branch on 27 June. Proceeds from the auction will support bursaries for aspiring art and fashion students, and to fund research in the fields of depression and mental health.
http://Www.isabellablowfoundation.com/
http://www.christies.com/The-Daphne-Guinness-Collection-14750.aspx
If you want to see what is in the Daphne Guinness auction I've uploaded some photos from the preview event to Glamnet's flickr page.
Pic of Daphne here courtesy of glam-net.com.