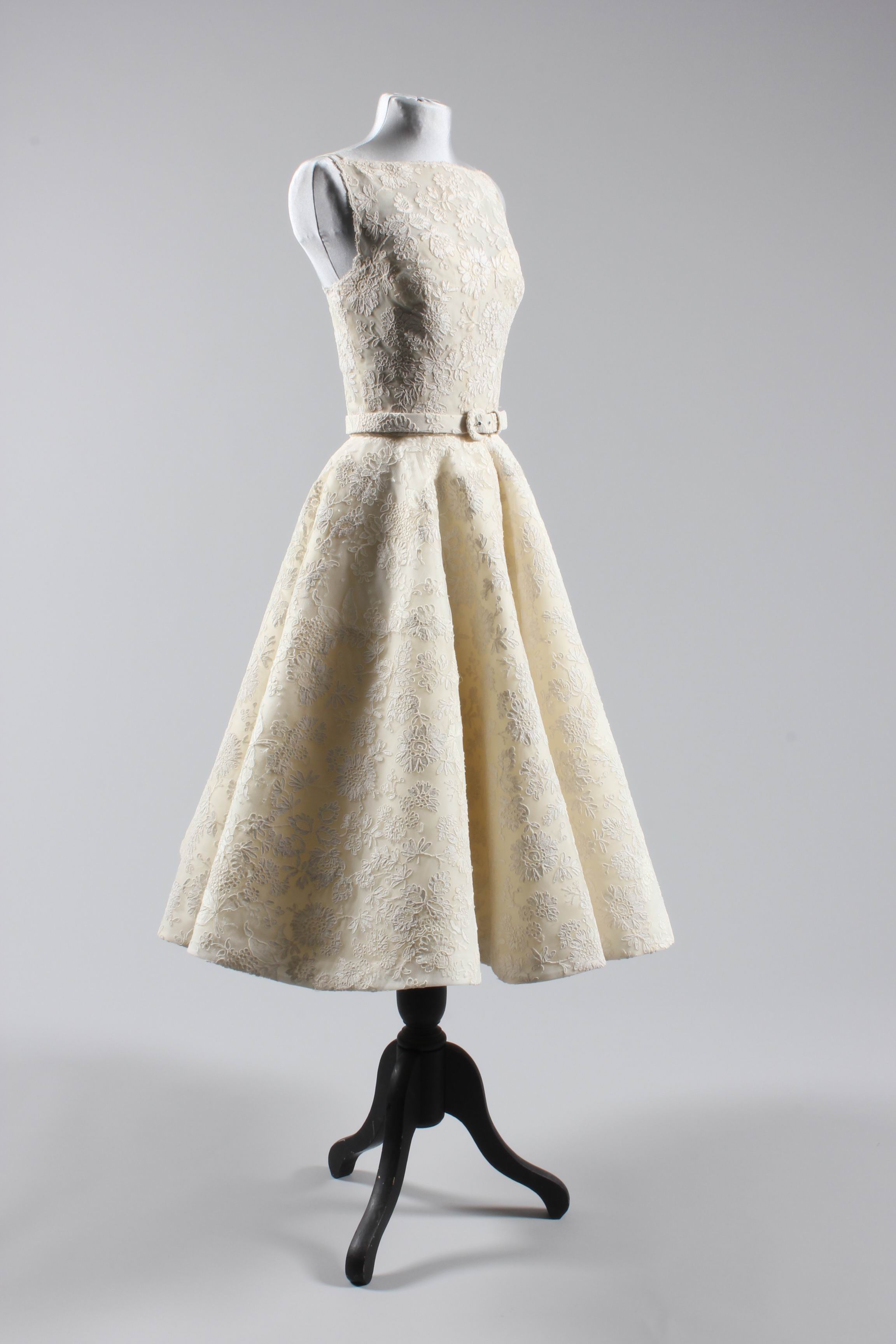 Marie Claire's online magazine has a gallery of The Ten Best Oscar Dresses of All Time, but I think they should rename the article The Ten Best Oscar Dresses of the Last 10 Years. Not one dress pre-dates 2001 and the magazine manages to ignore the entire Twentieth century. The first Oscar Award ceremony was held in 1929, so there is quite a lot to choose from - talk about short-term memory.
One of the most iconic dresses of the twentieth century is an Oscar outfit worn by Audrey Hepburn, a belted ivory lace floral dress with full skirt. Hepburn, famous for her slender elfin beauty, has stood the test of time as a style icon. The key to her style is its minimalism - she liked to team simple pieces, in black or white with statement jewellery used sparingly.
The dress Audrey Hepburn wore to the Oscar ceremony in 1954 is unique in many ways. That evening saw her pick up the Academy Award for Best Actress for her portrayal of Princess Ann in Roman Holiday. Hepburn considered it her 'Lucky Dress' and Roman Holiday her favourite film, as both made her a star and it was the only Oscar she won throughout her career.
The dress also featured in the last scene of the film when Princess Ann meets the press; but when Audrey wore it to the Oscars she had 'Givenchy-fied' it. Although originally designed by Edith Head, who also won the Academy Award for Costume Design for the film, Hepburn completely changed the bodice. Taking inspiration from Hubert de Givenchy, it now cut straight across the front, plunging low at the back with pretty spaghetti straps. That night Audrey Hepburn was the personification of elegance and style.
Now that is an Oscar dress, and guess what? It's up for sale! Assumed lost, it has resurfaced after many years; it was passed to a family friend and stored in a box at the bottom of a wardrobe. It is now for sale through Vintage specialists Kerry Taylor Auctions and will be auctioned in London on 29th November 2011. It is estimated to go for $64,000 - $96,000, but a previous Little Black Dress by Givenchy, worn by Audrey for her role in Breakfast at Tiffany's went for $923,187 (six times its original estimate) in 2006.
Time Magazine crowned Audrey Hepburn's dress the Best Oscar Dress of All Time - they obviously are not suffering from memory loss.
The auction is called a Passion for Fashion and lots include the golden 'Sari' gown Elizabeth Taylor wore to the New Review Lido premiere in Paris in 1964, where she was photographed with her companion Richard Burton. The dress of gold brocade was designed for her by Cristobal Balenciaga and is estimated to fetch between $48,000 - $80,000. You can also bid for personal items that once belonged to the Duke and Duchess of Windsor, including the duchess' s black patent leather handbag with gilt rope-twist interlaced W's. To view the catalogue online go to http://www.kerrytaylorauctions.com/.