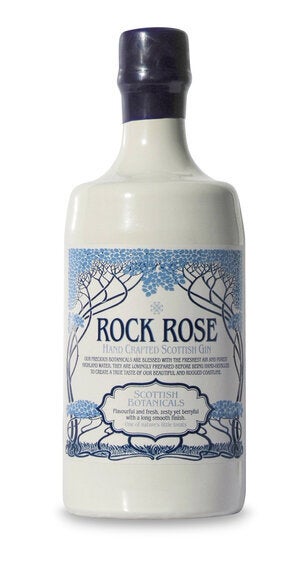 It's world gin day on the 11th June, yes I know some marketing genius has dreamt this up, but still it's a good excuse for a tipple of this delicious spirit. Gin is having a fashionable renaissance at the moment with a thriving industry, 70% of it supposedly made in Scotland, generating £1.76 billion of value to the UK economy. The biggest trend is for 'craft' gin, a shift in popular taste towards small artisanal distilleries, producing gin in small batches and infused with botanicals.
It all started 15 years ago with a quirky apothecary style bottle containing a gin infused with a distinctive combination of cucumber and rose petals, namely Hendricks. Since then an explosion of new gin brands have arrived on the scene, each with its own story of local craftsmanship, presented in beautiful bottles and commanding high prices. It hasn't taken long for the drinks industry to get in on the act and start to appropriate the term 'craft'.
It all depends on your interpretation of what 'craft' gin means. Most consumers assume it is an authentic product, hand-made with passion and integrity by small independent gin distilleries; using locally hand-foraged natural botanicals as opposed to a mass produced product. While this is true of many craft gin producers some are a bit misleading as to the provenance of a product. One "craft" gin producer, mention no-names, associates itself with Scottish roots but actually sub-contracts to a distillery in South London; this practice, it turns out, is not uncommon. The "craft" label also gets attached to gin just because the producer makes small batches, when in fact they may be using a finished gin and infusing it at the end of the process. The Scottish Craft Distillers Association is trying to stop the devaluation of the term 'Scottish craft gin' by setting up an accreditation system guaranteeing the provenance and "craft" credentials of the product. In the meantime I've done some homework with the help of the SCDA and come up with a list of true Scottish "craft" gins, made in Scotland, which will whet your taste buds this summer.
An award winning London dry style of gin, hand-made according to an Indian recipe at the first gin distillery to be established in Edinburgh for 150 years. The recipe was handwritten on a fragment of paper in 1947 Bombay and safeguarded by the Pickering family until Marcus Pickering and Matt Gammell launched Pickering's Gin in 2013. The beautifully packaged vintage bottle contains a smooth gin infused with 9 botanicals including fennel, cloves and angelica to give it a dryer, bitter taste.
A classic gin with a spicy kick from North Berwick, a small coastal town just outside Edinburgh. This gin has risen from its humble beginnings in Steve and Viv Muir's kitchen into a multi-award winning success story exported worldwide. The gin is still made at a distillery in North Berwick using 8 botanicals including grains of paradise which give NB Gin its white pepper kick.
Produced in 280 bottle batches by the Strathearn Distillery in Perthshire at probably the smallest whisky and gin distillery in Scotland. Heather Rose is infused with 7 botanicals: Juniper, coriander seeds, orange peel, lemon peel, liquorice root, rose petals and purple heather flowers. What makes this gin distinctive is its mahogany colour which turns a delicate blush pink when mixed with tonic. Serve in a chilled champagne flute - it's a great summer alternative to prosecco.
A new craft gin about to launch on the market this summer, McQueen's Gin is produced by Vicky and Dale McQueen at their distillery in Callander, a.k.a. the Gateway to the Highlands. McQueen's is introducing four new gins: Mocha, Sweet Citrus, Chocolate Mint and Smokey Chilli. Each one has a backbone of Bulgarian Juniper with the fiery Smokey Chilli listing Chipotle Chilli, Smoked Chilli, Chilli and Lime in its ingredients.
A premium hand-crafted gin produced in a copper pot still, affectionately named Annie. Makar gin was launched by The Glasgow Distillery in 2014, the first new distillery in Glasgow for 100 years. The gin is flavoured with 8 botanicals including rosemary, black peppercorns and cassia bark to give it a warm peppery spice.
Produced by the Dunnet Bay distillery in Caithness on the northernmost point of the Scottish mainland, Rockrose gin was launched in 2014. A whopping 18 botanicals are used to flavour this gin including locally harvested rose root, sea buckthorn, rowan berries, mint and hawthorn. The ceramic bottles are beautifully illustrated in an Art Nouveau style to reflect the local forest in which the botanicals are foraged.
A traditional style gin which embodies the uniqueness of its Shetland home. Shetland Reel Gin is produced by the Saxa Vord Distillery on the remote island of Unst, the most northerly distillery in the UK. Specially harvested island botanicals like Apple Mint and the unfortunately named Bladderwrack seaweed add a Shetland twist to this gin. Initially only available in Shetland, word has spread and the gin is gaining a following both nationally and internationally.
Award-winning Kirsty's Gin by the Arbikie Highland Estate is named after their Master Distiller, Kirsty Black. The distillery is located in an ancient barn on the family owned farm, perched on the East Coast of Angus. The botanicals list includes kelp, carline thistle and blaeberry inspired by the local environment of sea, rock and farmland. Kirsty's Gin has a floral and citrus aroma with a warm spicy background and notes of black pepper.
Rock Rose image courtesy of Dunnet Bay distillery.