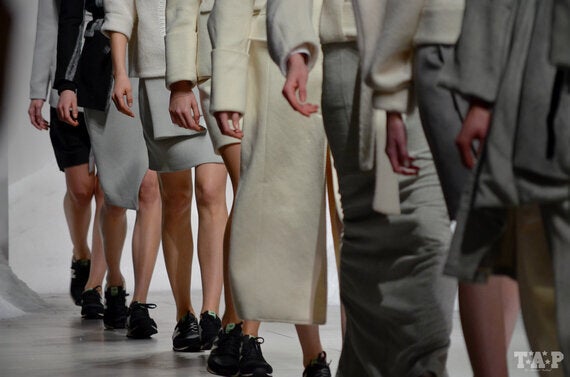 If you're still wearing court shoes with platform soles, consign them to the back of your wardrobe now! Even Victoria Beckham has ditched the platform pumps in favour of flats - hell has indeed frozen over and she is now wearing English style brogues.
Fashion month normally takes its toll on the models' feet, which look painfully cut and bruised by the end of the circuit, but not this year. The big news story from the fall 2014 catwalks, in terms of footwear trends, was the upscale sneaker. The luxury sneaker has arrived, with Chanel shocking the world of haute couture with Cara Delevingne's Bridal Sneakers. The model is emblematic of dressed-down chic which has seen the elevation of the humble sweatshirt and sneaker to the height of fashion.
Although the sneaker is the most newsworthy trend it is not the sole (couldn't resist it) trend coming out from fashion circles. In fact shoe design has gone in two distinct directions: masculine and uber feminine.
The Sergei Grinko fall/winter 2014 catwalk show in Milan epitomised this trend with models walking the runway in metallic Doc Martens and English style brogues. It's more a beatnik look with a feminine edge, the current collection by Italian shoe designer Charline De Luca includes a good example. English shoe wear label Bourne has a more affordable luxe alternative with its Delfina shoe.
Fashion Editors attending the Ready-To-Wear shows last month, did so in feminine and sophisticated high-heeled pointy toe court shoes. This sartorial detail demonstrated their superiority within the fashion circle, as only those being chauffered around in an official black Mercedes Benz would even contemplate wearing this type of footwear during fashion month. Spring/summer 2014 pump styles are colourful - neons are still going strong; Bourne has a good selection.
If you want the must-have sneaker, there is one source you have to consult - Sneakers: The Complete Limited Editions Guide by London design agency Udox. The book is a global survey of over 300 of the most collectible limited edition sneakers that have been released over the last decade. High profile collaborations with cultural figures like Marc Jacobs and Pharrell Williams have transformed sneaker collecting into a multi-billion dollar business.
High-heel sandals in a cut-out gladiator style and 'fugly' shoes with platform cleat soles are two key SS2014 shoe trends. The man-repelling platform sandals are definitely popular with the blogger community and I suspect for the truly fashion obsessed only. I spotted a perfect pair of cleat sandals by Australian shoe brand Windsor Smith at Super Pitti fashion fair in Milan.
Image courtesy of ©The Abstract Portrait featuring Simon Gao's fall/winter 2014 collection, London Fashion Week.