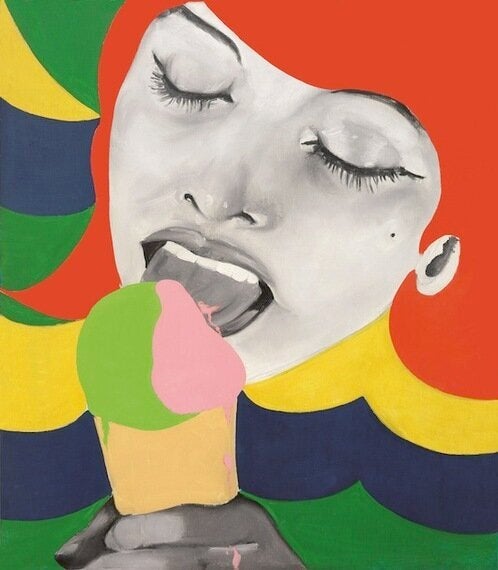 Evelyne Axell, Ice Cream (1964)
Forget everything you thought you knew about Pop Art. Thanks to curator Mattias Schwartz-Claus's outstanding vision, the Barbican's latest Pop Art Design show presents a fresh take on a movement spanning the 50s to 70s--the first comprehensive exhibition to explore the collaboration between the designers and artists responsible for shaping our postmodern attitudes.
In addition to celebrating the post-war boom of consumerism and cult of celebrity, Pop Art Design also provides a fascinating and still-relevant critique of commodity culture, mechanisation, and globalisation thanks to new media and technology. Reflecting the darker side of capitalism, this timely exhibit documents the Pop movement's later swing towards a counterculture of drugs, youthful rebellion, and escapism.
Curator Schwartz-Claus believes Pop Art to be the most revolutionary art movement since World War II. Beyond the familiar Warhols and Oldenburgs, expect an astonishing array of objects including a female figure-inspired couch, PVC panel-stitched dress, Cream's psychedelic album sleeve, toy robots, and even a giant 50s mainframe computer.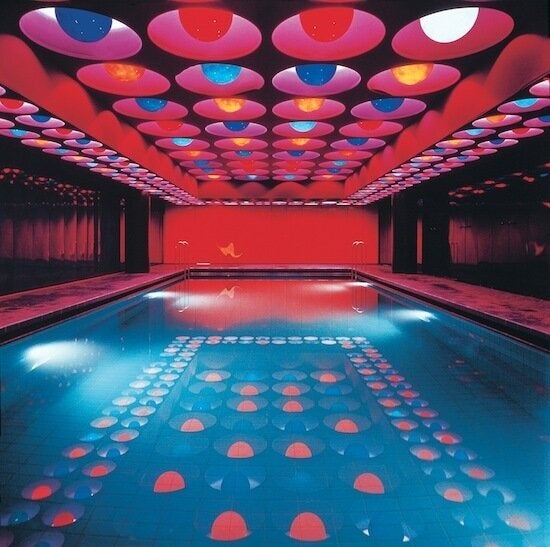 Verner Panton, Swimming Pool (1969)
Most people are pretty familiar with Pop Art. What makes the Barbican's new retrospective relevant?
Mattias Schwartz-Claus: Hopefully in this exhibit, they can relate to deja-vus like Warhol's soup cans, but also view the Pop movement within a broader story, recontextualize it. I felt that it was worth focusing on the dialogue between fine art and applied art--furniture in particular, George Nelson, Charles and Ray Eames, and folk-related objects by Alexander Girard that you normally wouldn't expect at such an exhibition--because I found so many relevant issues addressed in both disciplines.
MS: Designers and artists started working in teams, collaborating and transforming certain subjects into their works: a new world-wide visual language. Its founded our contemporary aesthetics, our eclectic postmodern way of viewing the world today. Globalisation was already in the works in the 1950s. Its interesting to notice that the new media at that time was the computer, which is now everywhere - the pixelization and collage of information. Also, the notion of man as a machine has never been addressed before in a Pop context, which I find extremely interesting.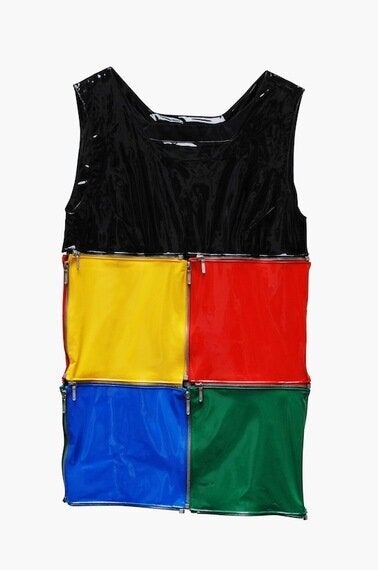 Stephen Willats, Variable Sheets No. 2 Dress (1965)
Any surprising Pop favorites in this exhibition?
MS: The folding screen by Andy Warhol. Not only does it combine art and design, it introduces the folk element. I also really love the Ray Lichtenstein Brushstroke painting, and the Marshmallow Sofa by George Nelson.
Does this show also explore the darker side of Pop Art, as a critique of consumerist society?
MS: This darker, subversive element is not so obvious. But I think there are enough examples in this exhibition to notice it. Probably more relevant than the social critique is the media critique--in particular, the problem of women in advertisement and art reduced to a sex fetish. Or take the trivialisation of the hero. Art was taken down from its pedestal and put on a street-level, and vice-versa. It reflects the generational change after World War II. The younger generation questioned and fought much harder for their own rights than their parents' generation.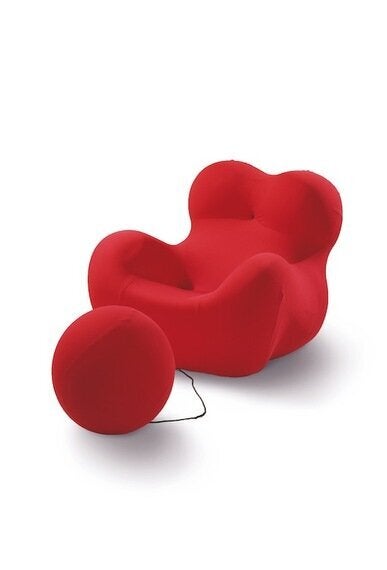 Gaetano Pesce, La Mamma Donna (1969)
Who were the unsung female artists of the Pop Art era?
MS: Frankly, I was previously unaware of the existence of so many female Pop artists. So shame on me. Unfortunately the female artists of that time were not so influential. It was really the men who were in the leading roles. Pop artists like Judy Chicago--also represented in this exhibition--were relevant, but not so influential. There was Niki de Saint Phalle, but she's at the edge of Pop. That said, I do think that the role of women in our society is fundamentally changing: women are now taking over.
Pop Art Design is an itinerant Vitra Design Museum exhibition presented by the Barbican in collaboration with the Louisiana Museum of Modern Art, and Moderna Museet in Stockholm. So be sure to catch it before it leaves for its next stop in the US.
All photos courtesy of Barbican Art Gallery.