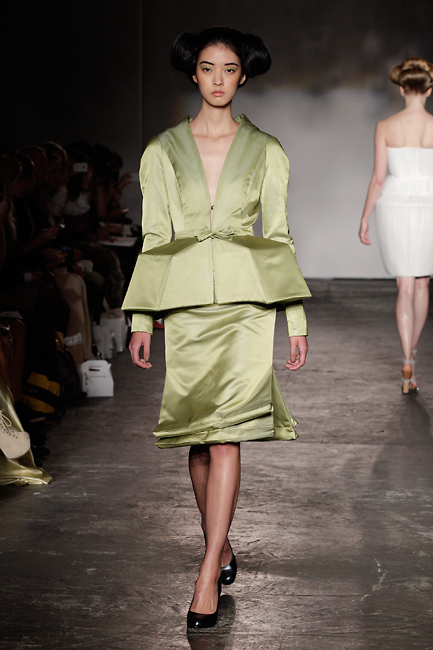 Photographer: Christopher Dadey
Corrie Nielsen's Spring/Summer 2012 Collection entitled Arbiter Elegantiarum is heavily inspired by Wildean Victoriana where she cleverly melds English tailoring with modernist Japanese aesthetics. Luxury fabrics such as silk and taffetta find a home in a neutral palette. But how carbon neutral can she remain as a business?
First, the yummy stuff: the show opened with a wearable black, close fitted suit jacket included an edgy leather cuff and black geometric detail on the collar and softened by tidy draping on the full skirt.
The architectural crinolines added a sculptural twist to the grey waistcoat and reappeared in the lichen green suit jacket, which carried through in spirals to the skirt. High Victorian lace collars, deconstructed Kimonos and surprise accordian pleats make this collection whimsical on one level, but on another level, the sculptural elements of precise tailoring reign in Nielsen's credentials as a serious couturier.
Nielsen's press samples for this collection were all made in her London studio. Should the orders start rolling in, she is determined to place production in either the UK or Italy, bucking the trend of shifting garment production overseas to cut costs as so many in the luxury clothing sector have done. But would keeping production close to her London studio really be the answer to reducing a carbon footprint?
Veronica Crespi, Founder and Director of Rewardrobe, a sustainable style and fashion consultancy, agrees that a collection such as Nielsen's would demand a high level of craftsmanship and it would not be a smart move for the brand to compromise on quality in order to outsource cheaper production means.
"It might sound as though producing in Italy would spoil the orthodox choice of implementing 100% local production, however let's not forget that a lot of quality fabrics are produced there, so the "km0" approach [carbon offsetting] could actually be put in place by reducing the distance between weavers and tailors, and only shipping the final garment.

Italy is home to Como, the ancient and renowned silk production district, which is working towards adding organic and cruelty-free silk to their offer. All these benefits would certainly offset other limitations - especially considering it would still be about only European distances, without considering longer-haul solutions."
Lucy Tammam, Owner and Director of fashion house Tammam, is at the forefront of the ethical luxury industry. She is unconvinced that UK production would make a difference to carbon off-setting because spinning mills and weavers are so thin on the ground here. As well, certified organic and fair trade fabrics come from so far away.
"When I started researching for Tammam, I realised that there are very few spinning mills or weavers left in the UK, and those that are will concentrate on British wool, and rightly so. The majority of silks will come from Asia, and I gave in to the realisation that I would have to ship my garments. After all, shipping a cut, ready garment, is lighter and less bulky than shipping a roll of fabric, to be cut and have wastage. With more readily available organic, wild and fair trade yarns from countries such as India, China and South America, who generally use better, more ecological and less carbon generating production methods than non-certified yarns. Also if producers are able to use solar power to generate energy to run machinery and lights, or traditional hand looms and pedal machines, we can find another carbon saving reason to produce away from home."
Nielsen is at a terrific point in her career, having won last year's Fashion Fringe award, and debuting her first catwalk show only last season at Somerset House. Her design credentials are certainly laudable, however, in terms of a business mind, I wonder if she has what it takes to be part of a new generation of innovative entrepreneurs who are finding ways to keep healthy profit margins yet place social responsibility, or even social change, at the heart of what they do.