I was at the Wellcome Trust recently to see an exhibition about charms and superstition called Charmed Life: The Solace of Objects, which is - you guessed it - about charms, amulets and superstition.
It's a tightly curated show and you get to see past and present day objects that ordinary Londoners keep for a bit of good luck, ward off illness and to attract love into their lives.
I went over to the gift shop and came across the designer Tonya O'Hara of PET:cell Jewellery who makes statement pieces from recycled plastic bottles.
If you look very closely at the pieces, each disc in the link of a necklace or bracelet resembles an organism's cellular make-up.
O'Hara's new collection - the 'Nebula Series' - is inspired by outerspace and shares the same warm, toffee brown palette as the current collection.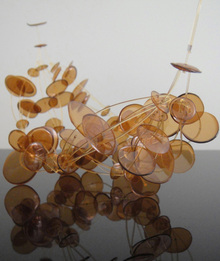 This brings me to the other side of the spectrum of sustainable jewellery and that is BioBijoux by Lili Giacobino.
Where O'Hara has found beautiful ways of recycling plastic for one-off pieces, Giacobino has created an alternative to plastic that you can cook yourself. Not only could this be fun for the DIY enthusiast, at the end of the cooking session you get organic forms in striking colours from vegetable dyes - indigos, reds and in fact, most of the colour spectrum.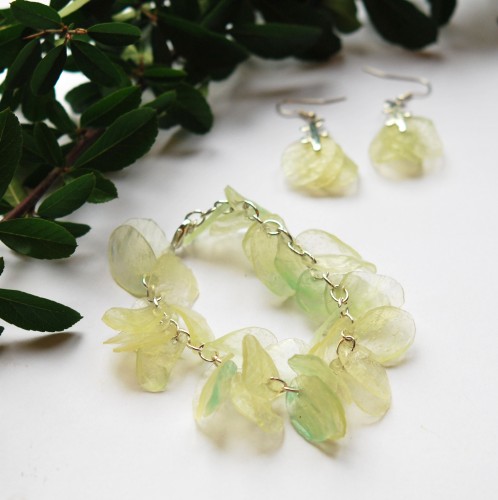 "I wanted to find a material which could replace plastic. I spent months in my kitchen experimenting and created a new kind of bioplastic, completely adapted to skin that is totally biodegradable," says Giacobino.
BioBijoux has more of a homemade, crafty feel to it and this is something I would choose as a rainy Sunday afternoon kitchen adventure with my nine-year-old. Whereas PET:cell pieces offer a slick, streamlined finished product that could be flashed around at next month's party season. In either case, with the the increase in illegal gold mining in Colombia and the conflict diamond trade in Angola and Sierra Leone, these pieces offer an alternative, sustainable and ethical bling solution.