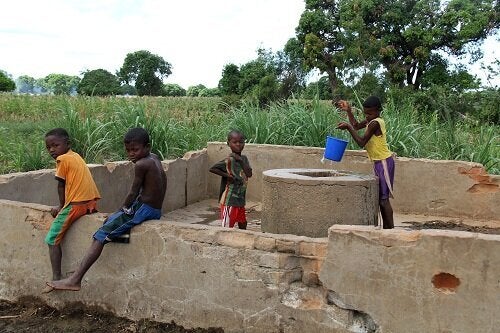 White sandy beaches, clear waters and colourful surf shops are synonymous with Mangily, a tourist spot in south west Madagascar. However that all changed when Cyclone Haruna swept across the island three weeks ago, devastating tens of thousands of families lives in the process.
Now the coastal region is struggling to rebuild, with many communities still submerged under water. As seawater swept across the land, water points and wells became contaminated, leaving entire communities without any source of clean drinking water.
"Almost all the children in town are sick because of the well," says local fisherman, Gauthier Sabary. "Our children have started falling ill with diarrhoea, very violently, including my own son who is very sick.
"When the cyclone hit, the sea levels rose and destroyed our homes. Today, nearly three weeks after the cyclone, the water is just starting to subside," he explains.
"The water took some of our possessions with it and contaminated everything in its path. Our houses were flooded and the two wells in our neighbourhood were completely submerged. In the wells we can now see many objects, lots of mud and both animal and human faeces. The water is also very salty from the sea. But, because we have no other wells, after a few days we had to start drinking from it. There was no other choice."
An urgent need for clean water
Diarrhoeal diseases are the second leading cause of death among children under five years old in Madagascar. And now, as families resort to drinking from contaminated sources, cases of diarrhoea and water-related diseases are on the rise more than ever.
Since the hurricane Action Against Hunger teams have been disinfecting wells across the affected communities to limit the risk of waterborne disease. With mounting concerns over their children's deteriorating health, Gauthier went to meet with the team as soon as he heard about their work in the region.
Most families across the region do not have toilets or adequate sanitation facilities and the potential of a cholera epidemic developing is a big concern.
Action Against Hunger teams are moving from village to village, pumping, cleaning and chlorinating contaminated wells. In just two weeks, hundreds of wells have already been cleaned, providing disinfected water for thousands of families.
The biggest challenge is often finding the wells in the first place, as there is no existing inventory or records in Madagascar.
As teams move around they take the opportunity to systematically identify all the different types of water points in communities, so they can share these lists with other NGO's for future use.
In Gauthier's village, the unclean water has been pumped away and chlorine has been sprayed on the walls of the well to help kill bacteria. Tests have been carried out to ensure the levels of chlorine are safe for drinking.
Whilst looking down at the clean water in the well, Gauthier says, "I'm glad we could clean this otherwise our children would have continued to be sick."
His hope is that in the future, his community will have the tools they need to protect their own water sources if disaster strikes again, and that no more children will have to die from diarrhoea.
Popular in the Community