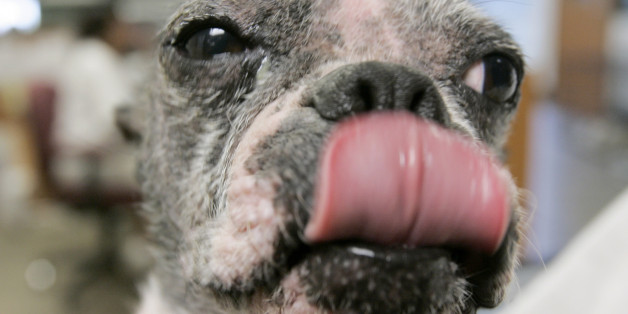 ASSOCIATED PRESS
There are times in my seven years as chief executive of Battersea Dogs & Cats Home when you can really sense that positive change in important animal welfare issues is indeed achievable. When the public and politicians come together and are of one mind, change can happen. I am hopeful we may experience that now with our Battersea campaign calling for the maximum prison sentence for the most shocking cases of animal cruelty to be increased from six months to five years in prison in England and Wales.
The depth of public support for tougher sentences has been hugely impressive and continues to be so. And when the Environment Secretary Michael Gove MP, the leading Cabinet figure whose remit includes companion animal welfare, makes it clear in the House of Commons that he wants to see "the full force of the law" come down on the perpetrators of such shocking cruelty to dogs and other household pets, then I sense a momentum may be building and we may achieve that all-important change in the law before too long.
Battersea and so many other animal welfare charities across the UK see the consequences of such shocking cruelty come through our doors in urgent need of our help. In the hands of the wrong people - and this can be a dog's actual owner - pets can be subjected to unspeakable acts of torture. And if those people are able to walk away with little consequence to their actions, what kind of message is that sending to our society?
On a daily basis, Battersea is fortunate to receive emails, phone calls, social media and letters of support on this issue from wonderful animal lovers all over the UK and beyond. We launched our campaign in February and since then over 52,000 members of the public have contacted their MP, reaching every constituency in the UK, seeking their support for tougher cruelty sentences and 80 have already got on board. We also received the help of some of the country's best-loved comedians - Paul O'Grady, Ricky Gervais, Sue Perkins, Harry Hill and Tracey Ullman who all agree that such animal cruelty is indeed #NotFunny and have added their formal support to publicly sharing this message.
And the support from Michael Gove is very significant indeed, so I want to share his words here with you in full. Making clear this is an issue he feels strongly about Mr Gove said: "I am not someone who will automatically reach for stronger criminal sanctions as the only route to dealing with a particular problem, but there are particular cases of animal cruelty where we may well need to revisit the existing criminal sanctions in order to ensure that the very worst behaviour is dealt with, with the full force of the law."
But there is certainly still much to do and as this is a UK-wide campaign, in September we turn our attention to the situation in Scotland, where Battersea enjoys so much support, and where the maximum sentence for cruelty is not much better than for England and Wales - just twelve months, in contrast to five years in Northern Ireland. Commendably, Scotland can so often lead the way with policy change, and animal cruelty can be as much of a problem in Rutherglen as it is in Redcar.
Most politicians have a lifetime of experience in sensing the public mood on issues and what their constituents care about. Both Labour and the Liberal Democrats included the need for tougher sentences for animal cruelty in their General Election manifestos, Battersea heard that the issue was attracting the most attention in many politicians' mail bags and then in early July, when asked by a Conservative MP what can be done "to ensure that people who are wilfully cruel to animals are punished far more severely", the Prime Minister Theresa May agreed it was important to have strict laws in place to deal with such perpetrators.
What I also find encouraging is the Prime Minister said the two Government departments that need to get together to discuss the cruelty sentencing issue in England and Wales (DEFRA and the Ministry of Justice) are now doing so.
So are we witnessing a step forward for all those innocent animals that suffer such shocking cruelty? Battersea is very grateful that the animal-loving public, and so many other welfare organisations, vets and public figures support our campaign and that the momentum is surely building.
Mr Gove's words were not a promise, but they are nevertheless encouraging. I have invited the Secretary of State, who is a proud dog owner himself, to visit Battersea to meet first hand some of the dogs and cats that this cruelty campaign is all about. When he sees, despite their previous ordeals, how trusting and loving these abused animals are, I hope he will surely be convinced there needs to be a proper deterrent for the most abhorrent cruelty committed on our animals and procedures are finally set in motion to change the law.