I write this in the last week of the six week summer holiday, teetering on the brink of a brand new school year brimming with all its hope and possibility. 2014-2015 academic year, for my school - Dame Elizabeth Cadbury in Bournville, Birmingham - is a very exciting one. This year our school will be alive with the buzz and energy of a whole raft of trainee teachers: Teach First, School Direct, traditional PGCE trainees and undergraduates gaining invaluable experience as they finish their degrees.
As deputy headteacher who leads teaching and learning, I feel the burden of responsibility for these trainee teachers as a wonderful weight. Wonderful - because our school has the privilege of shaping and moulding a new generation of teachers and leaders of our amazing young people - but it's a weighty privilege, because our responsibility is huge. We support and train them and bring them to the start of their careers, to the brink of this incredible profession, to fly. They hold our young people's future in their hands.
And there are many schools and universities that do a brilliant job of supporting those trainee teachers to fly. But sadly, for some, they fly into murky skies still overcast by the clouds of Section 28. Despite Section 28 being repealed in 2003, there remains a latent anxiety around talking about homophobia and transphobia in some schools and training providers, and training for trainee teachers or newly qualified teachers on tackling homophobic and transphobic bullying, in some areas of the country, is virtually non-existent. Those Section 28 dark clouds stubbornly linger. They were dark days. Section 28 of the Local Government Act 1988 prohibited local authorities from "promoting" homosexuality or gay "pretended family relationships". It prevented councils spending money on educational resources and projects perceived to promote a gay lifestyle. At the start of my own teaching career in 2000, as an NQT with pupils who were LGBT, or thought they might be, or were curious, or who had parents, relatives or friends who were, Section 28 stopped me from doing my job properly.
It tried to stop me from caring for my kids.
So one of our most heartfelt passions at Dame Elizabeth Cadbury is creating a safe, happy space for everyone, and a major driver over the last two years has been tackling homophobic bullying. Like many teachers over the last few years, I became aware of the insidious use of the word 'gay' as a synonym for something rubbish. I heard it in classrooms, corridors, on the playground. I became more and more aware of young LGBT people who were silently enduring being bullied. And I became more and more aware of trainee teachers and NQTs joining our school family who had zero training in how to tackle this in their own classrooms.
The Section 28 dark clouds lingered.
My top priority was for our school to overtly say that homophobic and transphobic bullying is wrong. I knew something had to be done to blow those clouds away.
This year, after an amazing two year journey of staff training with our committed, caring team, 'home-grown' PSHE lessons on LGBT role models and the history of the LGBT movement, a zero tolerance approach to homophobic language and bullying, great support for our staff from Elly Barnes and a collaborative project on LGBT hate crime with Stonewall and the Crown Prosecution Service (the free schools' pack can be accessed here: http://www.cps.gov.uk/northwest/get_involved/hate_crime/schools_project___lgbt_hate_crime/ ), we decided that we would also like to help trainee teachers fly beyond the clouds of Section 28. Our efforts were helped by Ofsted's new guidance last year on inspecting schools' actions to tackle homophobic and transphobic bullying. Bravo, Ofsted. Something else needed to be done to dispel those dark Section 28 clouds we thought we'd blown away in 2003.
The last Section 28 clouds in our own school were resoundingly dispelled by a beautiful piece of writing by one of our year 11 pupils, Max Wilkins, called 'The Truth':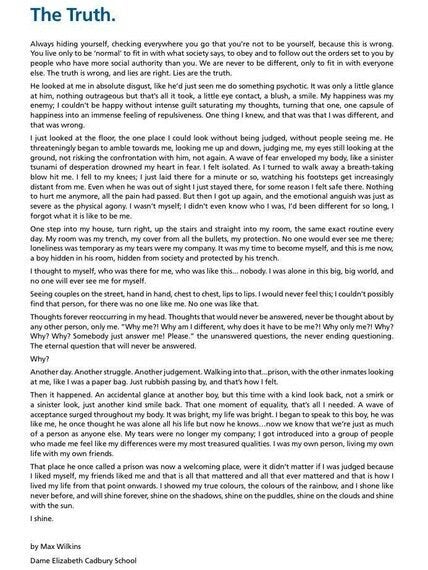 Max has since talked about his experiences to teachers at an anti-homophobic conference we hosted in June 2014 with inspirational deputy headteacher Shaun Dellenty of Alfred Salter School and founder of the fantastic organisation, Inclusion For All. Max also joined me to talk to over 150 Teach First trainees in July about his experiences of being bullied and our school has since been asked to run similar sessions with Teach First and other training providers across the West Midlands.
We aren't complacent. We know more can be done. We want to ensure our school is a happy and safe place for all, and that everyone in our school family feels supported to be themselves.
The sun is shining. The new academic year rolls ahead with all its possibility and hope. New books are opened, dates are written on boards, titles underlined. A new page of equality and hope is turned. And what is written is determined by our new generation of teachers.
Let's help them fly to help our kids soar.