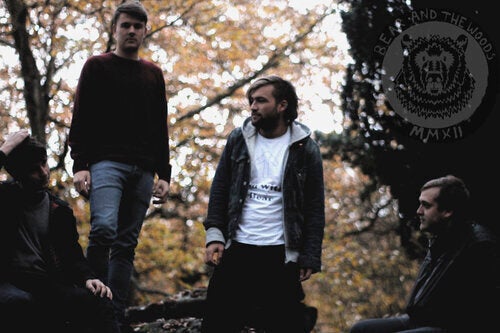 Photo credit: Gael Gobaille-Shaw
One of the first Bear & The Woods songs I heard was Jonah from their Sink or Swim EP. It had been recommended by a friend and as finding new music is my thing I was keen to give it a listen. My first thought was that it had a cracking melody, great literary references and just the right amount of desperation in its lyricism to keep me interested.
I suspect Bear & The Woods often get compared to Mumford & Sons or other folk tinged bands and I can see why. It's an easy (and boring) comparison to make and one that I think is particularly lazy. While the two bands may share the same love of melody, that's where any comparison should end.
With their last EP Folk & Roll I was genuinely taken aback by how accomplished it sounded. There's a grandiosity to Bear & The Woods coupled with dark lyricism that can at times be discomforting. But I think that is what great music should do. It should make you feel slightly on edge even with catchy melodies because it means it's tapping into something more than just sound waves. Folk & Roll doesn't sound like a band who only started a few years previous, to me it sounds like a band who are willing to play the long game. Breaking out of the suburbs ready to take on the great city lights.
Their latest single Ecce Homo is emphatic and eager. It has the raspy vocals and singalong choruses that are typical fodder for Bear & The Woods but, Ecce Homo shows a new maturity and a sharper twist on their earlier material.
Bear & The Woods put in the hard graft and have gone through hard times to put out consistently great material. Yet, I wonder what the future holds for the band? They are on a path, it's diverging and a choice will have to be made. In my mind it is just as likely that they'll be the source of their own destruction as any outside force and a shame that would be. Yet, despite the often heavy nature of their songs, defiant is always something that Bear & The Woods tunes have made me feel. While many bands before them have burnt out and I for one have hope that they'll continue plugging away and making music for the love of it.
With the future in mind I wanted to find out more about Bear & The Woods, touring, the DIY circuit and the inspirations that creep into their songs. So I caught up with the lead singer Bear for a chat about exactly that.
1) How does song writing generally work for Bear & The Woods? Is there a process or is it a lot more free form than that?
It's hard to say, to be honest. When I bring the songs to the band, the structure and most of the song is already written, and then it's a gruelling process of bar-by-bar, section-by-section until we're happy that every single note is exactly what we want. Before that, it's me on my own. I don't really have a system. Sometimes I'll start with a chorus and work back, other times a riff that I really like. I write a lot of melodies away from instruments, then try and work something out to fit the melody. Ecce Homo fell together fairly quickly from that lilting guitar riff, I just played it over and over until I went mad, then started penning lyrics.
2)Ecce Homo, your new single, is full of interpretative references. Where did you get the inspiration for the song?
A lot of my writing is cathartic, it's self-criticism and therapy all rolled in to one. Ecce Homo is particularly demonstrative of this. Like a lot of people, I suffer from depression and (until the start of this year) I was conducting a lot of aspects of my life in a way that I'm not proud of and wouldn't want to go back to. E.H. is about that moment when you look at yourself and think there needs to be a change. It's meant to sound drunk and lost. Its lots of partial sentences and repetition. It's about holding yourself accountable and judging your own actions in the way that others have and will.
3)For the video you've worked once again with Ben Morse. What was it like working with Ben and how was it shooting the video?
All credit to Ben. We absolutely love working with him. He's a consummate professional and a genuinely good guy. I mailed him a rough monitor mix and he got back to me straight away with a pitch for what you see in the video. It fitted perfectly with the track. He just got it. As a director, he's so easy going. He has a laugh on set (isn't afraid to get fake-blood spat on him), is spontaneous and up for suggestions and ideas that will really make the finished product. All of the people you see in the video are our friends, no one had any experience in acting or fake fighting, but Ben really brought out the actors in them. He's also good at reining it in, though, when a shot has to be perfect, he'll make sure he leaves with exactly what he wants. The guy is just a dude!
4) At the moment there are a lot smaller venues being threatened with closer. As a DIY band touring these smaller indie venues, how important is the 'toilet circuit' and touring more generally for you?
Interestingly enough, the whole issue of touring in general is a difficult one. It's very hard to get shows in other towns without the help of a booking agent (if you google artists vs promoters debates, you'll see all the sides of this argument and a whole lot of valid and invalid points that save me recycling opinions... and don't even get me started on P2P!). Independent venues are the life-blood of a music scene, though. I think it's easy to lose sight of what's on your doorstep. Incredible music from around the world is so readily available that people seem to forget that they can go out and find this kind of stuff in their own town. Live shows are invaluable to us, it's where we can meet the people who actually care about what we're doing face-to-face. It's the only way for people to really experience the sound and the only way to really reach people who care enough about DIY bands to help make a difference.
5) Finally, what's next for Bear & The Woods? Touring wise and is there an album in the works?
Well, this year we're heading to Boom Town Fair, which we can't wait for (alongside a few other smaller festivals that we can't announce yet), but before all that I'm hitting the road without the band to play a heap of stripped-back solo shows, including supporting Beans on Toast in Reading.
To be candid, I didn't expect BATW to make it through the end of last year. I was preparing solo shows as a way of carrying on without the guys, but something has definitely changed (both with my mental health, our feelings as a band, and people noticing us). We're booking up full-band shows from June and have got loads in the works (and a few announced already) and I'm planning a busking-tour with our label-mate [and fleeting viral sensation] Bruce Neil to fill-in around the solo dates to just get the music out there in a way that's very inclusive and indiscriminate.
In terms of an album, money has always been our biggest problem. As far as writing it goes, it's already half-way finished (I've thrown away more songs than I can count to get this far), but funding is the hard-part. We don't do this full-time and studio time is expensive. We're starting a Kickstarter campaign soon, so keep your eyes peeled for that!