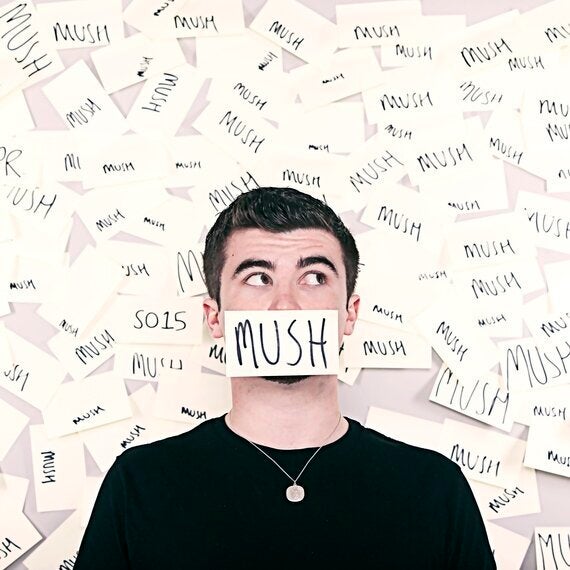 Photo credit: Chris Meany
Things are on the up for singer-songwriter Seán McGowan. He will shortly be signing a record deal and his new single Come Unstuck features Frank Turner on backing vocals. Things have never been better for the Southampton local.
Playing a sold out show at Aces and Eights there were more than a few familiar faces from London's independent music scene in attendance. Enter Shikari frontman Rou Reynolds, as well as rapper Itch and Bleach Blood's Jamie Jazz, both former members of The King Blues, stood standing in the cosy basement venue. This, along with the rapturous reception McGowan received is sign enough that his songs are starting to gain traction and a following is beginning to form. With his fiery songs, DIY attitude and no-nonsense approach to song writing, McGowan is bridging the gap between folk and punk. Reviving the well-worn protest song along with tales of everyday struggles and heartbreak all the while kicking up a hell of a fuss.
Just off tour with The Rifles where larger rooms were the norm, playing the small north London venue was a more familiar setting. 'It was nice to do quite an intimate show, to have everyone within breathing distance!' he says.
Teaming up with Get Cape, Wear Cape. Fly's Sam Duckworth, the last few months has seen him really focus on his song writing and the kind of musician he wants to be. 'I've kind of spent this whole journey learning rather than trying to fit into any scene, fuck it make your own one. I think that whole kind of idea and ideology is something that I'm drawn to' he tells me passionately.
His latest single Come Unstuck which is to be released on 7" vinyl, as well a standard download, is a tale of friendship, betrayal and hard times. The single is about a friend of McGowan's who was sent away to prison and it demonstrates aptly the sophisticated songwriter he's become. 'Come Unstuck was a song I wanted to write for a while. I had a lot of friends back then who were into a lot of trouble but they were all good people. I think everyone has been let down by a friend, you can get fucked over a 1000 times by a friend but once they're your friend you can forgive them for anything' he says.
It's this willingness to put his personal life into song that has proved so winning with fans, not that it's much of a choice for the young songwriter. 'If you wanna do something like this, I don't think it's fair to do anything other than tell the truth. You always worry about saying too much or not saying enough or wording something wrong' he muses.
McGowan, who only started releasing his own music in 2011, has accomplished a remarkable amount in such a short time. Achieving Radio 1 airplay, as well as touring with songwriting greats like Billy Bragg and the loveable folk drunk Beans on Toast, has all helped Seán earn his road legs and sharpen his song writing potential.
It was on tour with Beans on Toast that McGowan learned a valuable lesson or two with humorous high jinks ensuing. 'It was hilarious, there's no better way than learning how to tour by going on tour with probably the most seasoned artist going. I couldn't afford to get a hotel, some nights we would be staying in B & Bs. I particularly remember one in Hebden Bridge, the people were really nice, but I'd got to the point where it was like if I don't manage to sneak in and sleep on your floor I'm sleeping in my car! Luckily I did, I think I hid, hiding behind a curtain at one point with my feet hanging out!' he tells me laughing.
This summer will be a busy one for McGowan with the recording of his debut album at the forefront of his mind. He's given himself a month in which to track the album, with Sam Duckworth at the helm on producing duties and a full band backing him. Honesty, integrity and hard work are the foundations that McGowan stands upon. With a good head on his shoulders and the right people looking out for him, the next few years are his for the taking.
Sean McGowan- Come Unstuck
-----------------------------------------------------------------------------------------------------------
Come Unstuck is out now digitally and the 7" vinyl is available for pre-order from here: Seán McGowan