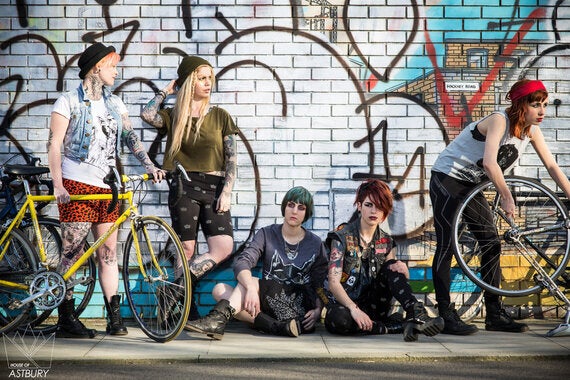 Photo credit: Sophia Baboolal
It had something to do with the right people at the right time. In a house in South-East London, by the way of a perfect storm of creativity and righteousness, House of Astbury was born. A clothing company that creates women's reflective cycling wear, House of Astbury makes clothing that is both fashionable and subversive.
The mission statement is simple; create women's street wear that is both practical as well as empowering. Not many would think cycling wear could be at the forefront of tackling street harassment, but as House of Astbury has shown, thinking creatively gets the best results.
Never ones to do things the ordinary way, I met up with founders Monika Zamojska, Ester van Kempen, Ren Aldridge and Liepa Kuraitė to talk about the genesis of House of Astbury, DIY fashion, and why cycling is punk as fuck.
House of Astbury began in early 2013 when a rabble-rousing group of punks moved into a house in Peckham. Having worked in the cycling industry for many years Monika was struck by the fact that cycling wear just wasn't that nice. Bulky and gawky looking, it was never any fun to wear. So teaming up with her new flatmates, all keen cyclists, together they decided to do something about it.
Reminiscing about the early days Monika tells me of how House of Astbury started. "I've worked in the cycling industry for years now and as one of my jobs I had a quick look at reflective clothing. I realised Ren knew screen-printing and Ester making clothing. I was like 'Oh my god this is brilliant'. We can come all together and come up with something great, come up with something amazing."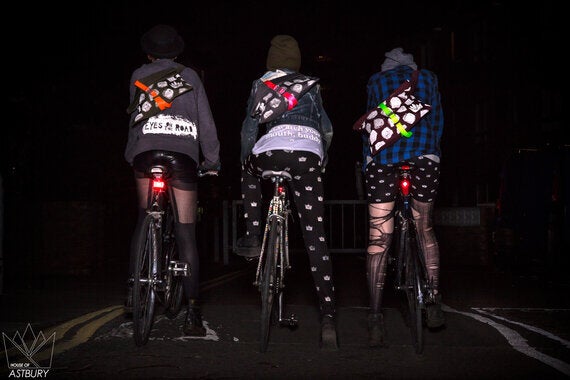 Photo credit: Sophia Baboolal
House of Astbury is not just about making good clothes but, as Ester explains to me, a multifaceted project with a definite social slant. "We have all the issues that we want to challenge but at the same time we want to make cycle wear [that can be worn] on a daily basis." The issue at the core of House of Astbury is street harassment. As avid cyclists, members of House of Astbury have experienced street harassment, from the casually sexist to the downright threatening.
"As a woman cyclist you do have a different experience than a man," says Liepa. She gives me the example of when her and a flatmate were cycling to university, a car began to drive slowly beside them as they cycled and the men inside started to condescendingly shout 'yeah you go girls'. No, it wasn't meant as a 'compliment' but an act of intimidation.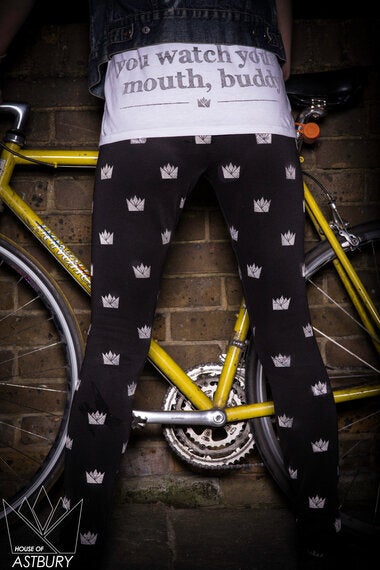 Photo credit: Sophia Baboolal
It was instances like that, which thrust House of Astbury into creation. The idea that clothes were more than mere material, that they could be an act of protest took hold. Ren Aldridge has long dealt with street harassment in her art and it was a chance meeting between her and the feminist group Hollaback! London that helped spark a successful collaboration. The House of Astbury/Hollaback! London t-shirt has been wildly popular. Featuring an image of Thelma and Louise on the front and on the back the printed slogan 'you watch your mouth, buddy', the statement can be seen clearly in the day and is illuminated at night when car lights are shone on it.
As Liepa points out the t-shirt automatically provides "a comeback on your back". Ester, agreeing, tells me how empowering women is a large part of what House of Astbury is all about. The response from women has been heartening, with orders coming in from all over the world and messages of support.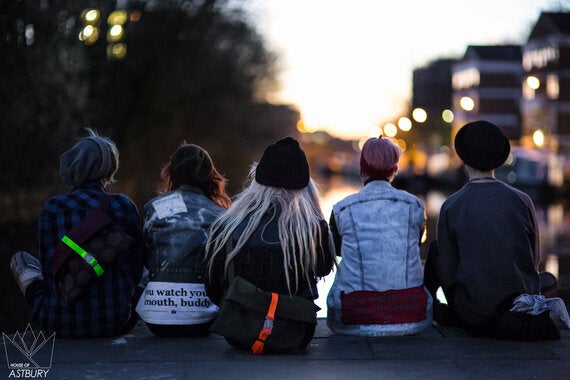 Photo credit: Sophia Baboolal
Yet that's not the only thing that makes House of Astbury interesting. Strong DIY influences can be seen in every aspect of its work. The founders of House of Astbury are all involved in the DIY punk scene, whether that be through playing in punk bands, putting on gigs or attending shows. It's an element that House of Astbury bring to cycling wear and something that can't easily be disconnected.
"It's the scene that we're in, the DIY punk scene is really important to us," Ester says. Continuing she says "the whole way of doing it I think that is the biggest inspiration." Ren is more matter a fact about it all, it was realistically, the only route they could take. "What other way would we do? I think because we're making stuff that aims to empower women, we as women, want to be in control of it. We have had offers from people who want to muscle in and take over and we've been like no! We don't want to be taken over."
House of Astbury has been a huge learning curve for everyone involved. Although Ester had experience in the world of Fashion, having worked for J.W. Anderson, it was still very much a process of trial and error. Many things went wrong in the trial stages, long nights of printing, sewing and designing. Yet, because they let it grow organically they've been able to adapt quickly to changing situations, and while things have naturally gone wrong, Ester believes they've been able to adjust and work with it.
The success House of Astbury has had so far means the possibility of further collections has grown. Collaborations are high on their list and they already have a few in the working stage. They've also had a number of businesses interested in stocking their products and they are constantly looking out for new ways to incorporate reflective elements into their designs. All this, coupled with the positive feedback they're getting from customers, means that the trail House of Astbury is blazing forth for women cyclists looks set to continue with renewed confidence.
-------------------------------------------------------------------------------------------------
*Edit: The previous article of the same name had the wrong photo credit. Apologies. This updated version is correct.