Atena Faraghdani was arrested in September. An Iranian Artist, Student and Civil Rights Activist, Atena was summoned to court on 10th January to face charges of 'propaganda against the regime, undermining national security, and insulting members of parliament by depicting them in cartoons.' After questioning, the charges of 'insulting the Army of the Guardians of the Islamic Revolution and insulting the Executive branch, Legislative branch, and Judicial branch' were also levelled against her for what she said during her one and a half month interrogation.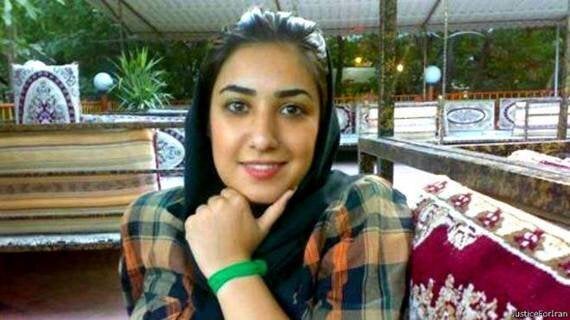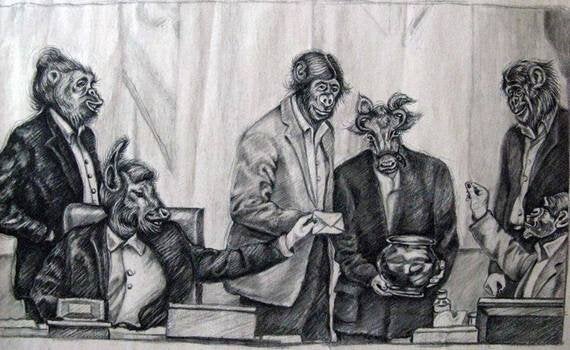 As Atena's case demonstrates, Student activists bear a heavy cost for their political activity in Iran. Once considered havens for critical thought and intellectual analysis, universities in Iran have become more and more repressed since 2009 when universities were viewed as a breeding ground for dissent due to the crucial role students played in the pro-democratic Green Movement which contested Mahmoud Ahmadinejad's electoral victory. Despite being heralded as a moderate and progressive leader in comparison with his predecessor, the current president Hassan Rouhani has made little progress in loosening the iron grip held over universities by the authorities; with universities regularly dismissing, arresting, torturing and locking up students and academics for peacefully expressing their views or opposing politicians.
Students who are imprisoned are forbidden from entering Higher Education in Iran once they are freed, this means that Atena, formerly a Masters of Art Student at the University of Alzahra cannot continue her studies when she is eventually freed.
In June 2014, Amnesty International published a 117-page report detailing and condemning the suppression of free speech and dissent within Iranian Higher Education Institutions entitled 'Silenced, Expelled, Repressed.' The report highlights the fact that Iran's persecution of students and academics contravenes international laws relating to academic freedom and freedom of expression.
In addition, Atena was charged with spreading 'propaganda against the regime,' and 'undermining national security,' owing to her continued association with Green Movement activists and members of the Baha'I faith which is outlawed in Iran for being anti-Islamic.
Despite her imprisonment, Atena refuses to be silenced. Proving to be both a brave and adept artist, Atena has continued producing artwork from the confines of her cell with makeshift items. Pictured below is piece of art that Atena produced from a paper cup with images brimming with revolutionary undertones. After prison guards discovered the artwork, Atena was violently strip searched and her wrist was severely injured during the ordeal.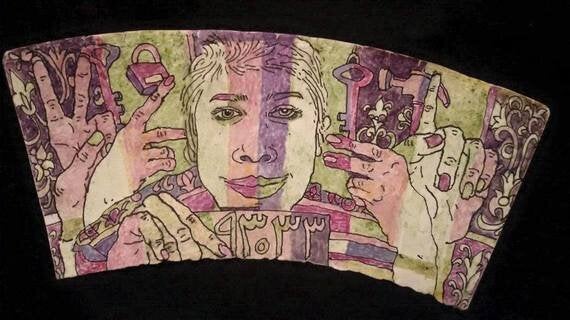 According to the Green activist twitter channel 'Green Quran,' Atena has been on hunger strike since 9th February in protest against the inhumane conditions of Gharchak Prison where she is currently incarcerated. Atena's parents were unable to visit their daughter owing to her being in such a critical condition as a result of her hunger strike yet as Atena's condition deteriorates, the injustice of the artist's imprisonment as well as Iran's thousands of other prisoners of conscience becomes more and more visible.
Atena has lost her right to education as a result of her political activity but most crucially she has also lost her freedom for the mere crime of daring to oppose the hypocrisy and injustice endemic in Iran's clerically-dominated politico-religious establishment through her artwork. Atena's case however is not unique and she is just one of many to feel the full force of the Iranian judicial system.
In an open letter addressed to the Supreme Leader Ayatollah Al Khamenei, written as she awaited trial, Atena summed up the poignant irony of her unjust detention;
'I must pay retribution for defending my beloved defenseless people.'
Popular in the Community