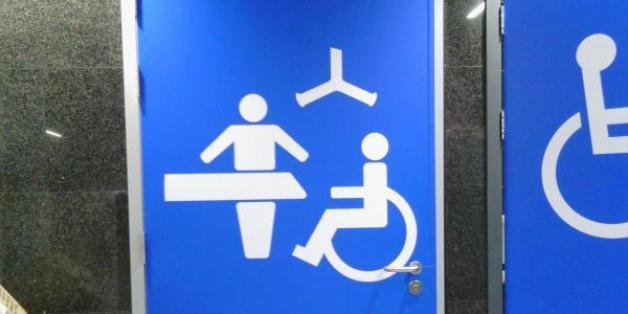 Changing Places

10 years ago, hundreds of thousands of people with a profound physical disability or complex needs, had a choice of either being changed on a dirty public toilet floor, or staying at home and not going out at all.
That's not a choice anyone should face, but sadly for around 250,000 people in England it's an everyday reality.
If you have a profound physical disability or complex needs, then a standard disabled toilet just doesn't cut it. Instead, you need a toilet with additional space and equipment like a hoist and an adult sized changing table; these specialised facilities are included in Changing Places toilets.
Without Changing Places toilets, individuals and families have to plan their lives around access to toilets; it's not a way to live. That's why the Consortium started the Changing Places campaign in 2006, when there was just a dozen or so Changing Places toilets - now there's 1000 and that number is growing.
Suddenly people are able to get out and support their football team, go to a theme park with their family, or just pop to the shops without having to worry about where the nearest toilet is. It may not be glamourous, but it has changed people's lives.
With so many milestones achieved in an incredibly short amount of time, it's been a toilet revolution! As of 2009, all new large scale buildings are encouraged to install Changing Places toilets (as per The British Standard), The Premier League promised to install Changing Places toilets in all it's football club stadiums by the start of the 2017 season and we have seen the rise of the MobilLoo, so now people can access a portable Changing Places toilet at festivals and outdoor events like London Pride and Silverstone races.
We have even seen Changing Places toilets go international with Germany, America and Australia all taking inspiration from the UK's success and creating their own schemes.
None of this would have been possible without the incredible Changing Places campaigners, who have worked tirelessly with the charities and groups that make up that Changing Places Consortium to fight for equal access for everyone.
Now at our landmark 1000th Changing Places toilet, I know that thanks to our campaigners the future for Changing Places toilets is brighter than ever. It will take a lot of work but we want to see a Changing Places toilet in every town in the UK, which will allow thousands of people and families to live the life they choose, without having to worry about toilets; surely this is something everyone deserves?
On behalf of everyone in the Changing Places Consortium I want to thank our campaigners. From parents and families, to individuals with profound physical disabilities and complex needs, Changing Places campaigners are some of the most dedicated and passionate people you will find. It is thanks to their hard work that there has been such unprecedented nationwide change, and I know their continued support will ensure that one day very soon, everyone will be able to get out and about with the dignity they deserve.
HuffPost UK Lifestyle has launched EveryBody, a new section calling for better equality and inclusivity for people living with disability and invisible illness. The aim is to empower those whose voices are not always heard and redefine attitudes to identity, lifestyle and ability in 2017. We'll be covering all manner of lifestyle topics - from health and fitness to dating, sex and relationships.
We'd love to hear your stories. To blog for the section, please email ukblogteam@huffingtonpost.com with the subject line 'EveryBody'. To flag any issues that are close to your heart, please email natasha.hinde@huffingtonpost.com, again with the subject line 'EveryBody'.
Join in the conversation with #HPEveryBody on Twitter and Instagram.