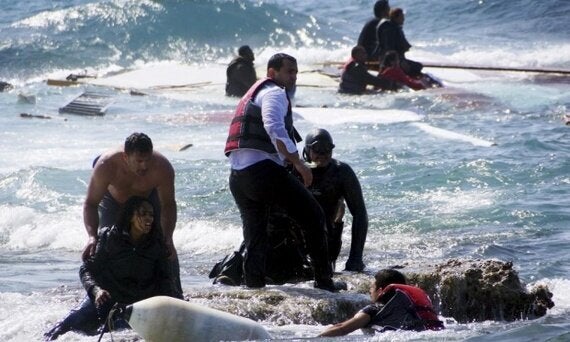 Photo by Argiris Mantikos/AFP/Getty Images
With over 1,000 lives lost in less than a week, that attitude is no longer simply callous but it is also blatantly and tragically wrong.
The decision to cancel Mare Nostrum was taken six months ago, at a lunch meeting of Europe's interior ministers, when the Home Secretary, Theresa May, is alleged to have argued that paring back the rescue missions would "telegraph a message" to deter migrants.
Estimates suggest that since then tens of thousands have attempted the journey and over 2000 have drowned in the process. More will come. No longer can we simply mourn lives lost or turn our backs (as has been the Tories' policy to date).
On Thursday, the leaders of all 28 European Union countries will meet in Luxembourg to discuss how, if at all, the EU will respond to these recent tragedies. We must watch this event closely to see what David Cameron will do: will he back restoring support for the search and rescue programme so that more children aren't washed up dead on the shores of the Mediterranean?
The President of the European Parliament, Martin Shultz MEP, has called for 'an urgent and comprehensive solution to this calamity', whilst Frederica Mogherini yesterday presented a 10-point plan for tackling the crisis to the Council. The migration and refugee question in the Mediterranean is not just an issue for individual countries but one that the European Union must treat as its own. The Mediterranean is the European Union's frontier and it is proving to be the deadliest border in the world. We must show solidarity and resolve in tacking this common challenge.
There is much more Europe can and should be doing to tackle the humanitarian crises that cause desperate people to flee their country of origin, and to cooperate with the authorities in our Mediterranean neighbourhood to take real action against the people smugglers who show such wicked disregard for the lives of those who simply want a safer, better life for their children; for whom a perilous journey with a high risk of death remains their best hope.
But our starting point and most immediate priority must be to recommit funding to the rescue operations. Now is the time for parliamentarians everywhere to stop standing to mourn the dead and to stand up to take action instead.
I hope on Thursday David Cameron will stand up not just against the criminal people smugglers (although this is sorely needed) but that he will also have the courage to stand up to reinstate a rescue programme in the Mediterranean. Surely too many lives have been lost now to make any other decision.