Beijing is not the first place you'd think of finding Turner Prize-winner Susan Philipsz. But the artist, who usually creates works of sound sculpture from Celtic or Western pieces of music, is part of a new trend. British artists exhibiting solo in Beijing this month include sculptor Tony Cragg and British-based artist Bashir Makhoul, and there'll be plenty more coming to take advantage of the growing Chinese market. Chinese economic growth is giving rise to a new generation of collectors here with a voracious appetite for contemporary art.
The timing for Philipsz's new exhibition in China's capital is telling, but the sound sculptor, as she refers to herself, is not simply following the crowd. In fact it is a meandering journey back to her home, retracing her family roots, that has brought the Berlin-based artist to China for the first exhibition of her new work, It Means Nothing to Me.
The work is her first collaboration with her now octogenarian father; a duet of the Celtic song The Ash Grove, which the father and daughter both grew up singing. China is of special significance to Philipsz's father, as he grew up in Burma, next door to a Chinese community, stories of which the artist has heard since her childhood. 'Location has always been key in my work,' Philipsz says to me the day before the the show's opening at Caochangdi's Mizuma & One gallery.
Whether it is the underbelly of three vaulting bridges that cross her hometown, Glasgow's River Clyde or the Guggenheim's rotunda in New York, the artist always plans her work in the knowledge of its location. Step into the white-walled interior of the gallery where It Means Nothing to Me is housed, and you'll be faced by a poster-sized framed photograph. The use of photography to accompany her sound work is an interesting addition for Philipsz, whose art is usually invisible, made purely of sound.
The photograph, showing a tin foil stick, driven into a dirty grass verge, is a reconstruction of a childhood memory. "My dad told my younger sister that if she ever saw a silver stick in the ground, it meant fairies had left money there," she says. So, in 1970s Glasgow, Mr Philipsz planted an aluminium foil-covered stick in a rough, grassy patch of turf littered with rubbish along the path to Sunday Church. When Philipsz's sister set eyes on the shiny pole, it was as if she had been transported to a fairyland. "You could see it in her eyes, but really he'd planted it next to a factory, and I remember a cigarette packet being there." The scene meant nothing to the artist as the elder child, and the uncompromising photograph - showing thick rough grass and crumpled cigarette packet with the unseen buried money - supports this reality.
The exhibition is dark, with only natural light illuminating the two black speakers standing a little lower than head height, facing each other from three or four metres apart in the centre of the space. From these come the untrained but lovely voices of an old man and younger woman; Philipsz and her father. The pace of the song is slow and transforms the space from a simple white box into something more sublime, as a story of love, death and loss unfolds.
Philipsz's dad was born in Burma to an English mother and Burmese father. Having grown up, as Philipsz describes, "isolated and separated," without being allowed to go to the local school because of the British blood that runs through his veins, "he went to a refugee camp when [Burma] was occupied during the war with Japan. Then it became a Communist country, so he had to make a decision whether to remain in Burma and choose a Burmese rather than a British nationality." Philipsz's father chose to keep his British citizenship. In his 20s he moved to Glasgow, never again to see many of the family members he grew up with. Burma came under the rule of a military junta led by the Communist Party of Burma in 1962. 'He doesn't have such fond memories of that time in Burma, but he does have fond memories of the Chinese community he lived next to," says Philipsz. "Those are the people that he saw most of. They were kind to him."
For It Means Nothing to Me, father and daughter recorded their versions of The Ash Grove separately, though in gallery they are played together, and in time. This isolated recording process was necessary for the artist to recall "a sense of solitude." Her father's voice is tuneful, with softer and faltering tones that betray his age. Played against the sweet but characteristically untrained voice of his daughter, the result is startlingly moving. The song is in the voice of a man walking through the shady ash grove where he first met his "dear one." But in the second verse it is revealed that she is now buried under the green turf, separated from him forever. 
Dig deeper into the song's history, Philipsz says, and you'll unearth even more sinister undercurrents. In the original Welsh version, The Ash Grove is a lament that sees a father grieving over a daughter he killed. Having intended to slay the lover he disapproved of, it is now his child who lies under the earth. The buried money that lies unseen in the photograph suddenly becomes that bit more menacing. There is a sense of separation, love, accidental loss and displaced melancholy. Here it is a reminder of the Burmese family her father was suddenly severed from and the Chinese community he remembers so fondly. It is a tale of change, of love and yet distance between the family generations, people who Philipsz herself is so far removed.
"He remembers lots of these sounds from the Chinese community,' Philipsz says of her father's life in Burma. 'He talked about the sound of funeral gongs, or rain on the corrugated iron roofs. He remembers lots of these sounds and I find this very evocative." The work also refers to these sounds, so that the relationship between this anglicised Welsh lament and Philipsz's father's childhood memories is located back to this Chinese community.  The original Welsh version of the song was meant to be accompanied by the harp, and so Philipsz has used what she considers to be the "Chinese harp" to form another element of the sound installation. After the unaccompanied voices' duet, the sound of the zither fills the room. Philipsz recorded herself plucking the strings in her studio in Berlin. Untrained in the instrument, she recorded each note individually, and these sounds resonate from four white speakers set up around the gallery walls.
Philipsz's father was one of her most important inspirations for becoming an artist, and she does talk of a happy, if sometimes difficult childhood. Her father would praise her drawings as a young girl, and it was his insistence on drawing his children that attracted her to art in the first place. With five brothers and sisters, life could be tough for her parents too, and they would sometimes escape from the stresses of life in music. "My mother, she would lock herself up in her room with the lights out and listen to Ravel and Debussy. Story-telling was also a part of growing up - it was uplifting and a wee kind for escape."
Looking at the darker themes that have invaded this work, she says, "I suppose that is something that always comes up in my work. Escapism, longing and separation are things I think have come from my parents' stories."  Philipsz's father's story has been, she thinks, subconsciously filtering into her work for a long time. Explaining why she chose now to collaborate with her father for a piece to be shown in China, she says, almost in a whisper, "He's eighty, and I don't know if he has much time left."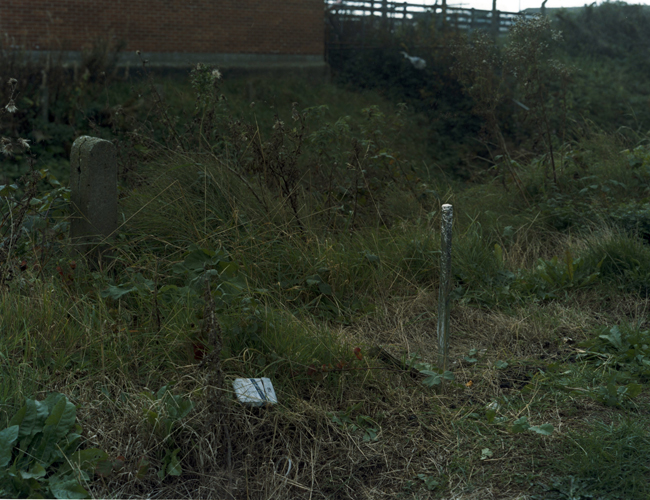 It Means Nothing to Me is on show at Mizuma & One Gallery in Beijing until April 15.